Sustained
by
Emma Chase
Series:
The Legal Briefs #2
Published by
Gallery Books
,
Simon & Schuster
Publication date:
August 25, 2015
Genres:
Adult
,
Contemporary Romance
,
Romance
Narrator:
Sebastian York
Length:
8 hrs and 21 mins
272 pagesFormat:
ARC
Source:
ARC via publisher
A knight in tarnished armor is still a knight.

When you're a defense attorney in Washington, DC, you see firsthand how hard life can be, and that sometimes the only way to survive is to be harder. I, Jake Becker, have a reputation for being cold, callous, and intimidating—and that suits me just fine. In fact, it's necessary when I'm breaking down a witness on the stand.

Complications don't work for me—I'm a "need-to-know" type of man. If you're my client, tell me the basic facts. If you're my date, stick to what will turn you on. I'm not a therapist or Prince Charming—and I don't pretend to be.

Then Chelsea McQuaid and her six orphaned nieces and nephews came along and complicated the ever-loving hell out of my life. Now I'm going to Mommy & Me classes, One Direction concerts, the emergency room, and arguing cases in the principal's office.

Chelsea's too sweet, too innocent, and too gorgeous for her own good. She tries to be tough, but she's not. She needs someone to help her, defend her…and the kids.

And that — that, I know how to do.
Affiliate Disclosure: This post contains affiliate links. In plain English, this means that I may receive a small commission (at no cost to you) if you purchase something through the links provided. This small income goes back into my blog, so I can continue to create fun content for you. I appreciate my readers and make it my goal to be upfront and honest. Thank you for supporting my blog!
Book Review:
Sustained was such an absolute delight to read! I picked it up with the intention of just getting a quarter of the way through it before heading to bed. Before I knew, I was halfway in and couldn't put it down. I finished the whole book in one sitting, which I rarely do.
From beginning to end, Sustained had me giggling and smiling with just the right amount of sexy and sweet. Sustained is my favorite Emma Chase book since Tangled!
Jake Becker is a connoisseur of one-night stands. He has them down to a science. He sounds like a jerk, right? He kind of was. But after he is pick-pocketed by a punk almost ten-year-old, he starts to change his tune. He drops the kid off at home and discovers that he is actually one of six children whose mother and father recently died in a car crash. Their aunt, Chelsea, is their legal guardian and at twenty-six, she dropped out of college to care for her nieces and nephews.
I loved how he didn't really have any intention of forming a bond with the kids, only to try to mack on Chelsea. But before he knew it, he started to feel protective of them. He wanted to take care of them and Chelsea and it kind of melted my heart a little bit.
Kids in books are typically not my thing, but I came to adore all six of the kids in this book. Becker didn't really know how to handle himself around the kids and it was so freaking hilarious.
I've been arrested—spent time in lockup with genuinely dangerous guys. I've been in street fights without rules where no one was coming to break it up—and I've won. I've conquered the insurmountable challenge of earning a law degree and dealing with self-centered jackasses who are my clients without committing aggravated assault.
It's a diaper. How hard could it be?
I carry Ronan to his room, lay him on the pad on his dresser, and look him in the eyes, "Work with me buddy, okay?"
Then, with one hand on his chest so he doesn't roll away, I Google it.
One of the things I liked about this book was that the author really focused on building the relationship between Chelsea and Jake. I felt everything.While Jake wanted Chelsea in that way becoming attached wasn't really his cup of tea. I always like it when the romance just sneaks up on the main characters.
There was also actual depth to Jake's character that really endeared me to him. He spends his weekends visiting his mentor at a nursing who was once a judge and now has Alzheimer's disease. He really looked up to him and was a great male role model and inspiration to Jake as a kid, being that he didn't have a father growing up.
"And he was my hero.
Everything I wanted to be. Everything my real father never was."
All in all, this book was just really freaking fun to read and I will probably read it again. I giggled through so much of the book, what with a dog named Cousin It and the toddler, Regan, Jake calls "One Word" because she only says "Hi." It was really heartwarming with some sexy times and I think you should read it!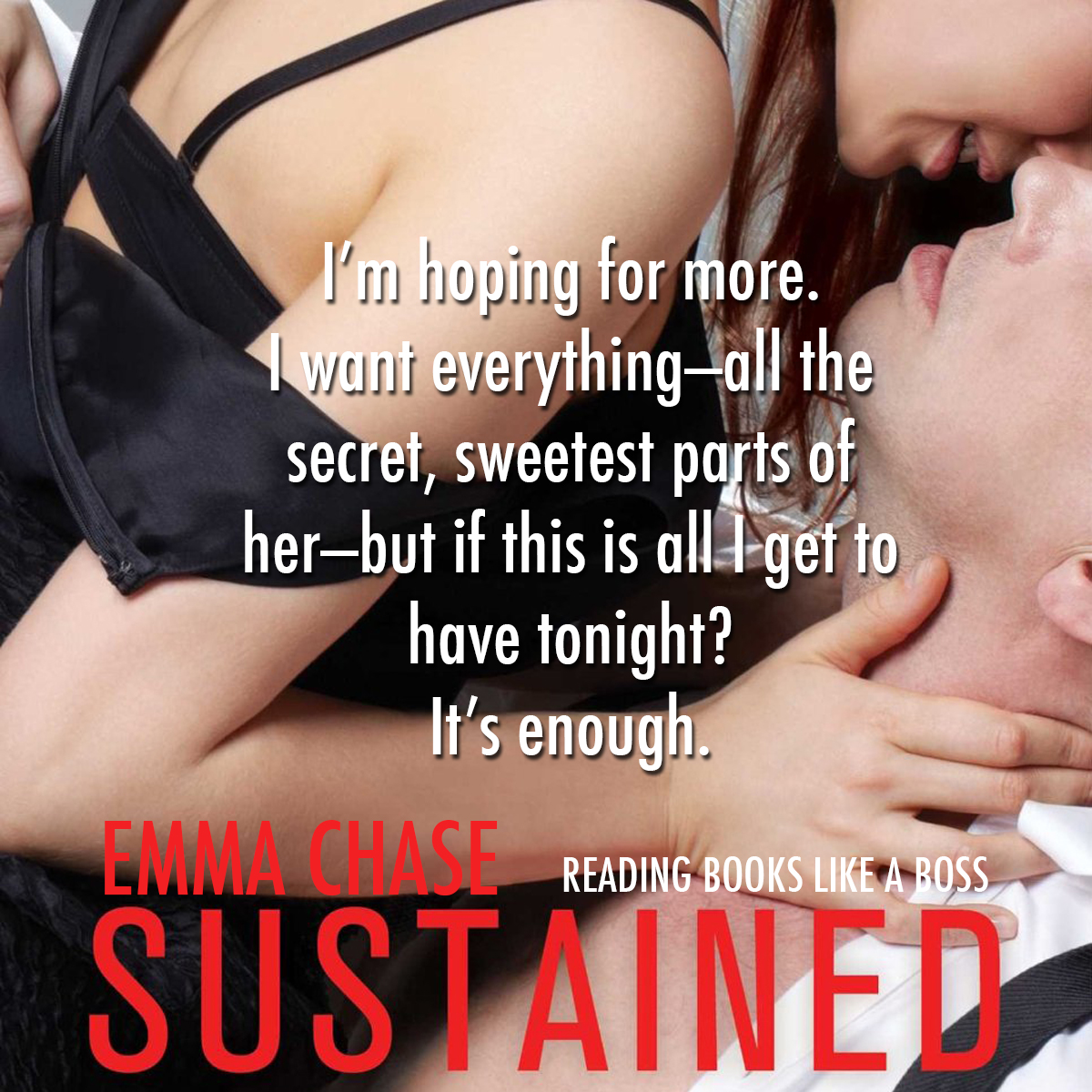 * I received an advanced copy in exchange for an honest review.
3 stars
GIVEAWAY: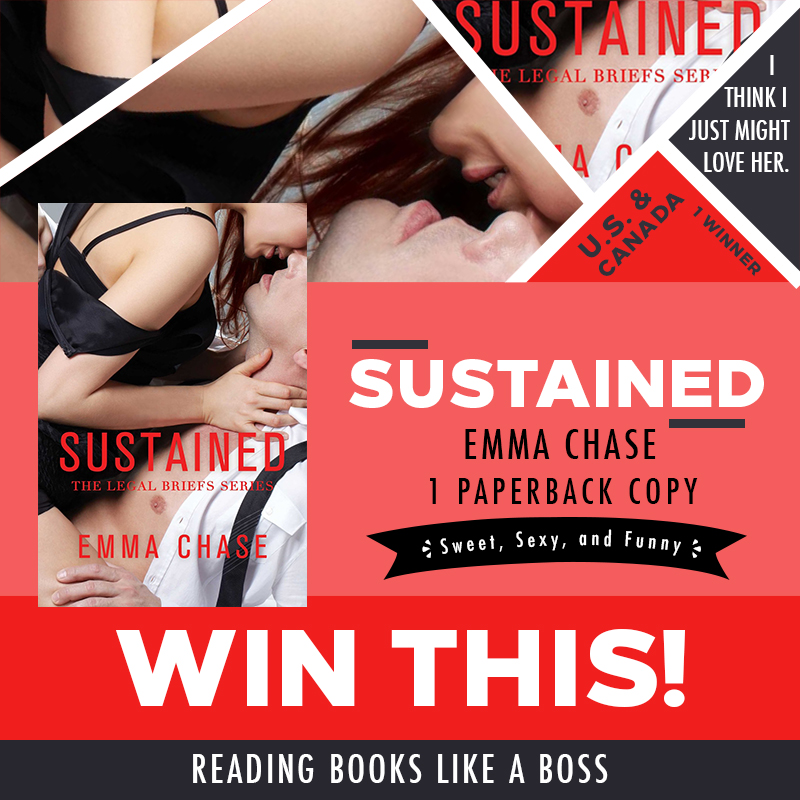 One Paperback copy of Sustained. Open to U.S. and Canada Only.
Must be 18 to enter. Void where prohibited by law.
Enter below for a chance to win.
I didn't add my blog info to the Rafflecopter. If you wish to follow my blog please do so. Though, you don't have to follow me to enter the giveaway. 🙂
Other Emma Chase Reviews: