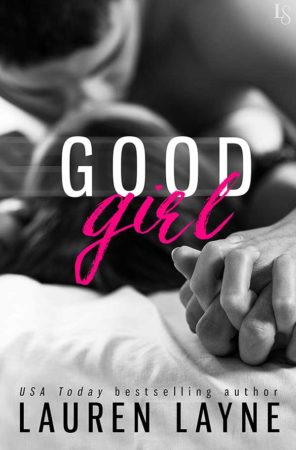 Good Girl
by
Lauren Layne
Series:
Love Unexpectedly #2
Published by
Loveswept
Publication date:
May 17, 2016
Genres:
Contemporary Romance
220 pagesSource:
Borrowed
enny Dawson moved to Nashville to write music, not get famous. But when her latest record goes double platinum, Jenny's suddenly one of the town's biggest stars—and the center of a tabloid scandal connecting her with a pop star she's barely even met. With paparazzi tracking her every move, Jenny flees to a remote mansion in Louisiana to write her next album. The only hiccup is the unexpected presence of a brooding young caretaker named Noah, whose foul mouth and snap judgments lead to constant bickering—and serious heat.

Noah really should tell Jenny that he's Preston Noah Maxwell Walcott, the owner of the estate where the feisty country singer has made her spoiled self at home. But the charade gives Noah a much-needed break from his own troubles, and before long, their verbal sparring is indistinguishable from foreplay. But as sizzling nights give way to quiet pillow talk, Noah begins to realize that Jenny's almost as complicated as he is. To fit into each other's lives, they'll need the courage to face their problems together—before the outside world catches up to them.
Affiliate Disclosure: This post contains affiliate links. In plain English, this means that I may receive a small commission (at no cost to you) if you purchase something through the links provided. This small income goes back into my blog, so I can continue to create fun content for you. I appreciate my readers and make it my goal to be upfront and honest. Thank you for supporting my blog!
GOOD GIRL is a steamy romance between two people who aren't looking for love but find it anyway. This was a fun one for me and is the perfect choice when you want a quick but sexy read!
Jenny Dawson went from being country music's squeaky clean "good girl" to a homewrecker when a huge movie star fabricates a phony affair between him and her. This lie turns Jenny into a Jezebel, when the liar's wife goes on a giant press sympathy tour. She seeks solace and anonymity in a rundown mansion in Louisiana owned by Noah, the wealthy (and hot) heir to the house. First impressions of Jenny lead him to tell a little fib and tell Jenny that his friend is actually the owner and he's just the caretaker.
This book was really cute. It has sort of a hate-to-love vibe to it combined with a secret identity storyline.  Maybe hate is too strong of a word for this one. It's more like annoyed to "OMG why does s/she make me feel this way." I really liked that vibe a lot!
Noah definitely didn't want start up another relationship after breaking up with his gold digging ex-fiancée. But Jenny's sassy attitude and his pure attraction was like a magnet. I liked Jenny's spunky personality. She didn't let Noah's brash attitude get her down and she spit back fire to every one of his digs.
This book didn't break any new ground. One of Noah's quirks in bed is that he didn't want to kiss Jenny, for free of giving the impression of intimacy (hello, Pretty Woman). I thought that was a little stupid because he knew how he felt about her and they were doing everything else. It just didn't translate very well in a book.
I'm enjoying this series of books about people who fall in love unexpectedly. I was actually seeking out this kind of storyline and BOOM here it is. Check out my review of the first book in the series, Blurred Lines.
* I borrowed this book from my local library.