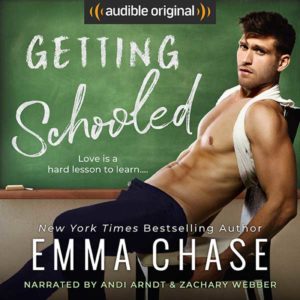 Getting Schooled
by
Emma Chase
Series:
Getting Schooled #1
Published by
Audible Studios
Publication date:
February 27, 2018
Genres:
Romantic Comedy
Narrator:
Andi Arndt
,
Zachary Webber
Format:
Audiobook
Source:
Publisher
Available in audio first, an extraordinary new romance by New York Times best-selling author Emma Chase!

Head of the class...

Garrett Daniels has this whole life thing figured out.

The cocky, charismatic former high school star quarterback is an idolized football coach and "cool" teacher in the hometown where he's not just a golden boy — he's platinum. He has good friends, a great house on the lake, and the best damn sidekick a man could ask for: Snoopy, the albino beagle.

Then...Callie Carpenter comes home.

And knocks him right on his tight end zone.

Back to school...

Callie has a pretty sweet life herself...on the other side of the country. But circumstances — that she'd prefer to never speak of again — have brought her back home, helping out her parents and substitute teaching at her old high school.

Now she's facing bickering, raging hormones, constant gossip, awkward weirdness, and drama galore...and that's just the teachers.

Just like old times...

When Garrett offers to show his former high school sweetheart the secrets of his winning teacher ways, Callie jumps at the chance - and then has to stop herself from jumping him.

Good friends are all they can ever be.

Or...these teachers just might end up getting schooled — by love.
Affiliate Disclosure: This post contains affiliate links. In plain English, this means that I may receive a small commission (at no cost to you) if you purchase something through the links provided. This small income goes back into my blog, so I can continue to create fun content for you. I appreciate my readers and make it my goal to be upfront and honest. Thank you for supporting my blog!
Fans of Emma Chase's funny and endearing characters will enjoy the first book in her new series, GETTING SCHOOLED. This released as an audio exclusive in February but for those of you who'd rather read it, you can get the eBook in June (preorder). While this wasn't one of my personal favorites from her, I really liked the charming lakeside setting and the leading guy.
In Getting Schooled, Emma Chase writes the "what if" than many readers ponder: If I could reconnect with my first love, would it work out? Garrett and Callie get to find that out. He's a popular teacher and coach of a champion high school football team. She's a newly appointed executive director of theatre across the country from her hometown. Seventeen years after graduating and leaving town, her eccentric parents' rather hilarious accident brings her back to town to care for them and back into Garrett's life.
If you're a fan of Chase's previous romantic leads, you'll really like Garrett. I found myself laughing a lot at Garrett's inner monologue and some of the situations he finds himself in. There's a scene where he's meeting with his principal (who's also the same principal he had in high school) and he's talking to her like he's a child in trouble. There was something about that scene that just make me laugh. I also really liked his relationship with his big family.
What I struggled with in this book was completely getting lost in the love story. This story relied heavily on the romantic notion of nostalgia and also on idea that we are the same person as we were at 18 years old. Almost immediately after Callie arrives in town, Callie and Garrett start a relationship. What would have helped me buy into the story would be if we were given time for Callie and Garrett to get to know who they are now, instead of reminiscing about old times and identifying how similar they are to their teenage selves. Garrett even had the same dog that he had when they were together as teenagers, which carried along the thread of sameness. I always personally struggle with feeling connected to a love story when we're given an immediate romance, instead of strong foundation and build-up. I also thought it was a little bit overkill (and a tad on the cheesy side) to have three epilogues at the end.
Audiobook comments: 
I loved the audiobook narrators for this audiobook! Narrated by two audiobook all-stars, Zachary Webber and Andi Arndt, audiobook lovers will be in audio comedic heaven after hitting play. Zachary Webber has such a resonant voice and his comedic delivery is flawless. He's been on the audiobook scene for a few years now and he's quickly become a favorite narrator of mine.
Andi Arndt is equally vibrant with her narration of Callie. Her performance is entertaining and really draws yo u into the story. I've been a longtime fan of hers, so anytime I see her narrating a book I know that the narration quality is going to be great.
* Thanks to Audible Studios for providing me with an audiobook copy for a review. Receiving this audiobook for free did not affect my review.