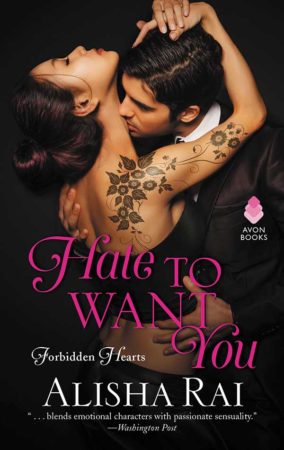 Hate to Want You
by
Alisha Rai
Series:
Forbidden Hearts #1
Published by
Avon
Publication date:
July 25, 2017
Genres:
Contemporary Romance
371 pagesFormat:
eBook
Source:
Borrowed
One night. No one will know.
That was the deal. Every year, Livvy Kane and Nicholas Chandler would share one perfect night of illicit pleasure. The forbidden hours let them forget the tragedy that haunted their pasts—and the last names that made them enemies.

Until the night she didn't show up.

Now Nicholas has an empire to run. He doesn't have time for distractions and Livvy's sudden reappearance in town is a major distraction. She's the one woman he shouldn't want . . . so why can't he forget how right she feels in his bed?

Livvy didn't come home for Nicholas, but fate seems determined to remind her of his presence—and their past. Although the passion between them might have once run hot and deep, not even love can overcome the scandal that divided their families.

Being together might be against all the rules . . . but being apart is impossible.
Affiliate Disclosure: This post contains affiliate links. In plain English, this means that I may receive a small commission (at no cost to you) if you purchase something through the links provided. This small income goes back into my blog, so I can continue to create fun content for you. I appreciate my readers and make it my goal to be upfront and honest. Thank you for supporting my blog!
Forbidden love. Dueling families. Unresolved issues. This book read like a modern day Dynasty with some Capulet/Montague vibes thrown in to spice things up. HATE TO LOVE YOU is a second chance romantic soap opera with two former flames at the center of the story.
Livvy Kane and Nicholas Chandler's families used to own and operate town grocery store for decades, until tragedy involving two families caused everything to crumble. Afterwards, Nicholas's father took advantage of Livvy's mother buying out her shares in the company. This stripped the Kane's of their wealth and mad the Chandler's even more affluent. So yeah, the Kane's and Chandler's don't get along.
This complicated Livvy and Nicholas's love affair as teens. Nicholas broke things off after everything that went down, leaving Livvy heartbroken. But for the next ten years, they met one day a year in secret to be together. That one day kept the spark alive. But now that Livvy is back in town after a decade, Nicholas hopes to put all the family drama behind him and tell her how she really feels.
This book reminded me a lot of JR Ward's Bourbon King series, with the steady pulse of family drama, meddling townsfolk, and forbidden love. I love reading forbidden love stories, especially like this one where this is this longstanding familial barrier keeping them apart. It added to the tension and stress.
Livvy is a tattoo artist who has a hard time letting Nicholas in after he hurt her so deeply. That combined with her own trust issues with her family made her a hard nut to crack. Her nomadic lifestyle has taken her all across the country but her heart led her back to her hometown. The things she has had to overcome has made her tough and resilient, which I liked about her. I really liked how honorable Nicholas was. He was prepared not to let money or intimidation lead his heart any longer, and he went after Livvy like he should have done years ago.
So I really liked overall plot but felt like the story's pacing was a little off.  There were some sex scenes but it took awhile to get there. The other thing that was a little hard to parse out was the family drama itself. I appreciated that the author didn't info drop but it took nearly the whole book for her to lay out the family tree (which was a little confusing) and reveal what went down.
* I borrowed this book from my library.