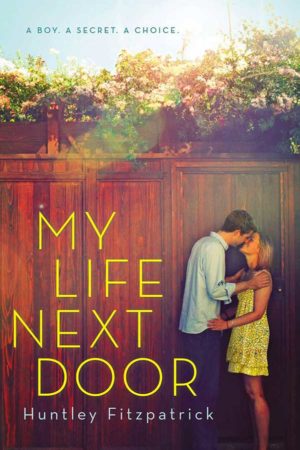 My Life Next Door
by
Huntley Fitzpatrick
Published by
Tantor Audio
Publication date:
June 14, 2012
Genres:
Romance
,
Young Adult
Narrator:
Amy Rubinate
Length:
10 hrs and 43 mins
400 pagesFormat:
Audiobook
Source:
Purchased
"One thing my mother never knew, and would disapprove of most of all, was that I watched the Garretts. All the time."

The Garretts are everything the Reeds are not. Loud, numerous, messy, affectionate. And every day from her balcony perch, seventeen-year-old Samantha Reed wishes she was one of them . . . until one summer evening, Jase Garrett climbs her terrace and changes everything. As the two fall fiercely in love, Jase's family makes Samantha one of their own. Then in an instant, the bottom drops out of her world and she is suddenly faced with an impossible decision. Which perfect family will save her? Or is it time she saved herself?

A dreamy summer read, full of characters who stay with you long after the story is over.
Affiliate Disclosure: This post contains affiliate links. In plain English, this means that I may receive a small commission (at no cost to you) if you purchase something through the links provided. This small income goes back into my blog, so I can continue to create fun content for you. I appreciate my readers and make it my goal to be upfront and honest. Thank you for supporting my blog!
Huntley Fitzpatrick's debut has so much heart and sincerity that I couldn't help but enjoy it. This young adult contemporary has deals with weighty issues but also has a sweet airy quality to it with the love story. If you're looking for a sweet (but not overly so) young adult romance then this one might be for you.
Samantha Reed, her rebellious sister, and her politician mother have lived next to the Garrett's for the last ten years. In her mother's eyes, this family is anything but classy and has always forbade her daughters from interacting with them. That's until Jase Garrett finds Samantha on the roof of her house late one night. The two become fast friends and then something more. Soon, Samantha realizes that the Garrett family has the kind of chaotic normal she's always wanted. Sam keeps her relationship with Jase a secret while her mother vigorously campaigns for a State Senate seat. Her love for Jase is called into question when Sam's mother crosses a line she can't take back, causing harm to someone close to Jase.
This story is a fresh twist on the status/class romance trope. Jase's family isn't rich. It's a group effort by every family member to help out financial and with babysitting the younger children (who are ADORABLE). Contrast that with Sam's family, her mother has a lot of money and they've never had to worry about putting food on the table. What's really admirable about Samantha is that she works two jobs when she doesn't have to and has a really strong work ethic. She doesn't take her money for granted. She falls in love with the whole Garrett clan almost instantly.
For me, the side characters almost stole the show in this book. I liked Samantha and Jase but I really loved the Garrett children and Tim. With so many kids as side characters, I thought Huntley Fitzpatrick did a good job with giving the Garrett kids distinctive traits and personalities. I loved George so much. His thirst for trivia at four years old was so freaking adorable. As brash and moody as she is, I really liked Alice a lot and how protect she was over her little brother.
When Sam's best friend's twin, Tim, was introduced I thought he was a giant garbage person. But he quickly became one of my favorite characters in this book. With his dry, smart witty humor, I was immediately drawn to him. I see that the sequel to this book, The Boy Most Likely To, centers around him and Alice!
There were only a few minor things that I didn't care for. I don't like it when characters lack subtlety or are overdone. That was the case with Samantha's mom. Her villain-like tendencies were done too heavily and I would've appreciated her character to be more nuanced. Readers who like endings with a little more breathing room may not love the ending. For me, it depends on the book but I really felt like this book ended really abruptly and I didn't really get the resolution I needed with Sam's mother and the Garrett family. While I really love sweet beta male characters, I felt like Jase was a little too one-dimensional for me, almost too perfect.
* I purchased this audiobook myself.