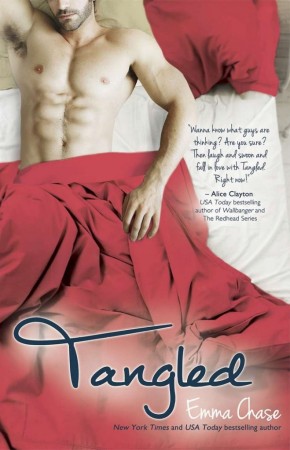 Tangled
by
Emma Chase
Series:
Tangled #1
Published by
Gallery Books
,
Simon & Schuster
Publication date:
May 20, 2013
Genres:
Adult Contemporary Romance
,
Humor
Narrator:
Sebastian York
Length:
8 hrs
240 pagesFormat:
eBook
Source:
ARC via author
Drew Evans is a winner. Handsome and arrogant, he makes multimillion dollar business deals and seduces New York's most beautiful women with just a smile. He has loyal friends and an indulgent family. So why has he been shuttered in his apartment for seven days, miserable and depressed?

He'll tell you he has the flu.

But we all know that's not really true.

Katherine Brooks is brilliant, beautiful and ambitious. She refuses to let anything - or anyone - derail her path to success. When Kate is hired as the new associate at Drew's father's investment banking firm, every aspect of the dashing playboy's life is thrown into a tailspin. The professional competition she brings is unnerving, his attraction to her is distracting, his failure to entice her into his bed is exasperating.

Then, just when Drew is on the cusp of having everything he wants, his overblown confidence threatens to ruin it all. Will he be able untangle his feelings of lust and tenderness, frustration and fulfillment? Will he rise to the most important challenge of his life?

Can Drew Evans win at love?

Tangled is not your mother's romance novel. It is an outrageous, passionate, witty narrative about a man who knows a lot about women…just not as much as he thinks he knows. As he tells his story, Drew learns the one thing he never wanted in life, is the only thing he can't live without.
Affiliate Disclosure: This post contains affiliate links. In plain English, this means that I may receive a small commission (at no cost to you) if you purchase something through the links provided. This small income goes back into my blog, so I can continue to create fun content for you. I appreciate my readers and make it my goal to be upfront and honest. Thank you for supporting my blog!
Book Review:
Tangled is a hilarious and feel-good story of a playboy's transformation into a whipped lovesick puppy.  Trust me when I say you will be laughing at and swooning over Drew Evans from page one!!
Do you see that picture of over there on the right hand side?  Go ahead, take a look at her.  That's me, Megan.  Although, that's not what I looked like after finishing Tangled.  No, the Megan that you would've seen after finishing this book looks nothing like that girl.  The post-Tangled Megan is disheveled and sad. Why am I sad?  Well, I didn't want this book to end.  I miss Drew Evans.  That's right you heard me.  I miss him.
Pause.  Let's rewind and go back to the beginning, shall we?
So, there I was minding my own business when this book starting blowing up all over  Goodreads and Facebook.  And I'm thinking,  "Sure, this one sound like all the other books – playboy falls in love.  Big deal" *eyeroll*  OH, HOW WRONG I WAS!  I was hooked from page one.  Sentence one.  Word one.  If you're a hipster reader and you try to avoid all the hyped-up books, I beg of you to give this one a shot.  Listen, I know all about your never-ending to-read lists, but trust me folks, this one is worth your time.
Where was I?
Oh yeah, I'm a mess and it's all Drew Evans's fault.  He did a number on me.  Emma Chase did a number on me with her male POV magical juju.  I know what you're thinking.  You're thinking, "Megan, get ahold of yourself.  Get a freaking grip.  He's just a fictional character."  Let me see if I can make you understand.  Have you ever had Hershey's chocolate?  Of course you have.  Well, have you ever been to a chocolatier and tasted the silky perfection of cinnamon infused dark chocolate?  Try looking at a Hershey's chocolate bar the same way.  You can't.  That's how I feel about this book.  I look at Tangled and Karina Halle's books in the male point-of-view and I AM RUINED.  I want these men.  All other male POVs are Hershsey's chocolate.  Drew and Dex, my two D's, are like fine chocolate.  Now do you understand why I'm so tore up about this?
So what is about Drew Evans that has me all jacked up?  Well, the story begins with Drew Evans lying on the couch.  He starts off rather defensively (like I did) trying to explain why he is such a disaster and why he isn't his usual suit-wearing, attractive, investment banker with the go-get-'em attitude.  He's sick or at least he thinks he's sick.  Similar to me after reading this book, he is in a glass case of emotion.  He hasn't been to work all week.  Instead, he's marinated in his own sadness and "sickness."  No, Drew Evans doesn't have the flu.  After a little coaxing from his sister, Alexandra, or as he calls her "The Bitch," he admits that he has fallen in love.  Not knowing exactly what to do with this unfamiliar emotion, Drew says he has the flu.  But the reader knows different.  My Drew Evans goes on to tell us about how he met Kate
What has Drew so sad?  Drew fell in love with an unavailable woman by the name of Kate Brooks.  Kate Brooks is engaged and has been for 7 years, mind you. SEVEN YEARS.  What does Drew have to say about this bit of news?
"Those two sentences tell me exactly what kind of man shithead Bill [Kate's fiancee] happens to be. Insecure, jealous, clingy."
This whole liking a girl business is new to Drew.  Watching Drew try to find his way in this new territory was incredibly funny, but also really endearing.  He didn't know how to handle all of these feelings.  He's used to wham bam thank you ma'am.  But with Kate he wanted more.
Kate just finished getting her Masters in Business Administration.  Lucky for her (as Drew would say), she runs into Drew Evans.  Kate and Drew are forced to work together on a project at work.  And although Drew can't get Kate out of his mind, he is still mad as hell when his father forces them to work together.  Strong and confident Drew feels threatened that by little Kate.  As time goes on, Drew begins to have feelings for her.  OH THE HORROR!!
This book was so hilarious.  Drew has got to one of the most hilarious male characters I have ever read.  His inner monologue and what doesn't go through his barely there filter was hysterical.  Not many books make me laugh out loud, but this did the job.  What are you waiting for ONE CLICK THIS!
Favorite Quotes
"It's simple guy logic: If a woman is angry? It means she cares. If you're in a relationship and a chick can't even be bothered to yell at you?
You're screwed. Indifference is a woman's kiss of death. It's the equivalent of a man not interested in sex. In either case—it's over. You're done."
"Edward Cullen can take his stupid heroine and OD on it. Kate is my own personal brand of Viagra."
"For a second, I'm stunned. She wanted this. Just as badly as I did. And I wasted all that time eating chicken Marsala—when I could have been eating her. God. Damn."
"I am a bad, bad boy. Think Kate will punish me if I tell her how bad I am?"
Audiobook Comments:
Tangled was one of my top reads of 2013.  This book took my Goodreads feed hostage. Prior to listening to this audio book, I hadn't heard of Sebastian York, which is an absolute travesty.  The moment I heard his voice I thought two things: 1.) Where have you been all my life and 2.) Holy crap on a cracker he IS Drew Evans.  I know that I am not the only woman on the planet swooning over Mr. York.  I will listen to any book, I mean ANY book he narrates.  His portrayal of Drew Evans was spot-on.
This audio book will go down as one of my favorites! Hands down.  It made me laugh, swoon, want to kick Drew Evans in the balls for being such an jerk, and hug him all at the same time.
**I received an audiobook from the publisher in exchange for an honest review.