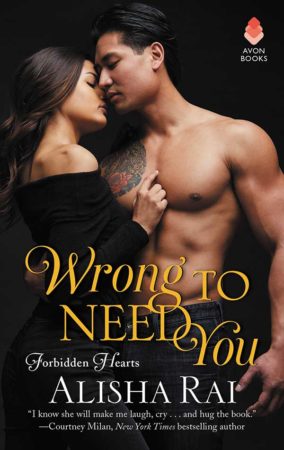 Wrong to Need You
by
Alisha Rai
Series:
Forbidden Hearts #2
Publication date:
November 28, 2017
Genres:
Contemporary Romance
368 pagesFormat:
eBook
Source:
Borrowed
He wasn't supposed to fall in love with his brother's widow…

Accused of a crime he didn't commit, Jackson Kane fled his home, his name, and his family. Ten years later, he's come back to town: older, wiser, richer, tougher—and still helpless to turn away the one woman he could never stop loving, even after she married his brother.

Sadia Ahmed can't deal with the feelings her mysterious former brother-in-law stirs, but she also can't turn down his offer of help with the cafe she's inherited. While he heats up her kitchen, she slowly discovers that the boy she adored has grown into a man she's simply unable to resist.

An affair is unthinkable, but their desire is undeniable. As secrets and lies are stripped away, Sadia and Jackson must decide if they're strong enough to face the past...and step into a future together.
Affiliate Disclosure: This post contains affiliate links. In plain English, this means that I may receive a small commission (at no cost to you) if you purchase something through the links provided. This small income goes back into my blog, so I can continue to create fun content for you. I appreciate my readers and make it my goal to be upfront and honest. Thank you for supporting my blog!
After getting sucked into this soap opera-esque romance, I had to see it through with Jackson's story. WRONG TO NEED YOU was equally entertaining as Hate to Love You, filled with family drama, unrequited love, and longing.
Jackson the elusive twin brother of Livvy (from Hate to Want You) and he has been in love with Sadia for over a decade. Like Livvy, he fled town after being accused of a crime he didn't commit, living all over the world as a chef. He's not kept in touch with anyone except his aunt and his twin. But his fierce protectiveness over his sister's heart leads him to stay in his hometown for a little bit. His own heart is pulled towards Sadia, his late brother's widow, whom he's secretly loved for years.
Like the last one in the series, I really liked the plot so much. It had so many dramatic elements that made me go, "Ooooo I have to read it!" Secret longing, unrequited love, emotional unavailability, strong heroine, protective hero. I absolutely love Jackson (and Sadia too).  Both have their own baggage, but despite Jackson's name being slung through the mud he's come out strong and made something of himself. He is fiercely loyal and protective over Livvy and later Sadia. He jumped in without question to help Sadia and her son get through a tough time and didn't leave her side. I loved that.
This book's forbidden factor was like a super shiny thing that I just had to grab. He's in love with his late brother's widow. Whoa! And I might add that he didn't exactly end things with his brother on good terms. And and and he was in love with Sadia before Paul was. Crazy! I really liked seeing that play out. I was a little disappointed plotwise to see that Sadia was oblivious to his feelings in the past and present. If she had known how he felt in the past, it would have been crazy angsty.
This book dragged in parts for me, and like the last book, the pacing felt off. Sadia and Jackson didn't get together until 75% of the book. The family tree and titles given to involved people were nonsensical to me (i.e. Grandpa John when he wasn't actually a grandpa). Perhaps it was a cultural thing or maybe the title was given to signify a close, strong bond to a non-family member. In any event, it wasn't explained and it was confusing to me. This wasn't a huge plot point, but just something that I felt needed to be parsed out more.
* I borrowed this book from my local library.