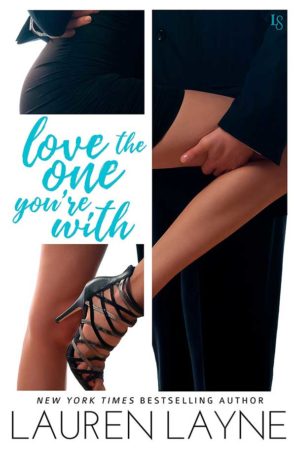 Love the One You're With
by
Lauren Layne
Series:
Sex Love & Stiletto #2
Published by
Loveswept
Publication date:
December 9, 2013
Genres:
Contemporary Romance
228 pagesFormat:
eBook
Source:
Borrowed
Lauren Layne's Sex, Love & Stiletto series simmers to a boil as two high-powered magazine writers find love amid a war of words.

As a leading columnist for Stiletto, Grace Brighton has built a career warning women about rotten, cheating liars. She just never suspected her fiancé would be one of them. After Grace takes a heart-mending hiatus, her first assignment is to go on a couple of dates with a counterpart from the men's magazine Oxford and report her impressions. Grace 1.0 may have been instantly smitten with the gorgeous correspondent, but Grace 2.0 has sworn off relationships for six months, and she's not falling for his outstanding bod and trophy-winning kisses . . . or is she?

Jake Malone wants to get back to the fly-by-night, who-knows-what's-next guy he used to be, and he knows exactly how to do it. Oxford is adding a travel section, and Jake—with no wife and no kids and a willingness to live anywhere, eat anything, do everything—is perfect for the job . . . except that his playboy reputation makes his new editor nervous. To get the gig, he must agree to a fluffy joint article with Stiletto. But after just one date with snooty, sumptuous, sensational Grace Brighton, Jake starts taking this assignment a whole lot more seriously.
Affiliate Disclosure: This post contains affiliate links. In plain English, this means that I may receive a small commission (at no cost to you) if you purchase something through the links provided. This small income goes back into my blog, so I can continue to create fun content for you. I appreciate my readers and make it my goal to be upfront and honest. Thank you for supporting my blog!
Two magazine columnists work together on a cover story for their magazines to find out which of them knows the opposite sex better in Lauren Layne's LOVE THE ONE YOU'RE WITH. Their public romance doesn't tell the whole story as the two start to develop feelings that run deeper than the words they write.
Newly-single Grace Brighton has gone from relationship expert to man hater. Grace 2.0 is a hardened version of the relationship columnist at Stiletto her best friends know and love. She has written off men until a story assignment forces her to get up-close and personal with Jake Malone from Oxford, the male counterpart to her magazine. Their assignment is to go on five dates and write about it. "After each his-and-hers article is printed, [readers] can vote for who's ahead in knowing the opposite sex." The last thing Jake wants to do is write another stupid flimsy article, but his boss promises to give him his dream assignment as a travel writer upon completion. Neither of them expect to fall hard.
This book was fun (like all the previous Lauren Layne books I've read have been). Grace and Jake go from pseudo-rivals to something more. I liked the secret rendezvous and the time they spent getting to know each other. There is a good dose of fun banter between the two of them, as they both try (and fail) to fight off the attraction brewing between them. It was fun seeing them both come to the realization that they love each other.
I didn't find myself flying through this book (or the previous book) as I have some of Layne's other books. I think it was because I didn't fall in love with Jake and Grace and that affected my overall enjoyment. Also Grace's internal dialogue (the 1.0 and 2.0 stuff) was got old and annoying after awhile.
This is still a fun series and I'm excited to read on!
* I borrowed this book from my local library.