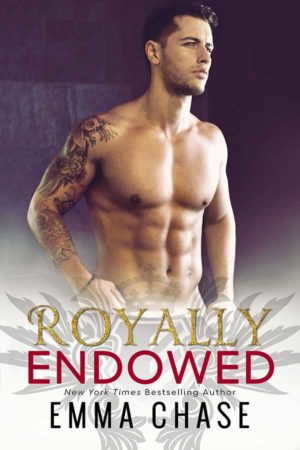 Royally Endowed
by
Emma Chase
Series:
Royally #3
Published by
Self-Published
,
Simon & Schuster Audio
Publication date:
June 15, 2017
Genres:
Contemporary Romance
Length:
7 hours and 32 minutes
275 pagesFormat:
Audiobook
,
eBook
Source:
Borrowed
Logan St. James is a smoldering, sexy beast. Sure, he can be a little broody at times—but Ellie Hammond's willing to overlook that. Because, have you seen him??

Sexy. As. Hell.

And Ellie's perky enough for both of them.

For years, she's had a crush on the intense, protective royal security guard—but she doesn't think he ever saw her, not really.

To Logan, Ellie was just part of the job—a relative of the royal family he'd sworn to protect. Now, at 22 years old and fresh out of college, she's determined to put aside her X-rated dreams of pat-downs and pillow talk, and find a real life happily ever after.

The Queen of Wessco encourages Ellie to follow in her sister's footsteps and settle down with a prince of her own. Or a duke, a marquis…a viscount would also do nicely.

But in the pursuit of a fairy tale ending, Ellie learns that the sweetest crushes can be the hardest to let go.
***
Logan St. James grew up on the wrong side of the tracks, in a family on the wrong side of the law. But these days, he covers his tattoos and scars with a respectable suit. He's handsome, loyal, brave, skilled with his hands and…other body parts.

Any woman would be proud to bring him home to her family.

But there's only one woman he wants.

For years he's watched over her, protected her, held her hair back when she was sick, taught her how to throw a punch, and spot a liar.

He dreams of her. Would lay down his life for her.

But beautiful Ellie Hammond's off-limits.

Everybody knows the bodyguard rules:
Never lose focus, never let them out of your sight, and never, ever fall in love.
Affiliate Disclosure: This post contains affiliate links. In plain English, this means that I may receive a small commission (at no cost to you) if you purchase something through the links provided. This small income goes back into my blog, so I can continue to create fun content for you. I appreciate my readers and make it my goal to be upfront and honest. Thank you for supporting my blog!
The third installment in Emma Chase's Royally series may be the best of the series with less cheesy moments but it wouldn't be one I would reread nor would it be a favorite book of mine. Royally Endowed is a spin on the classic forbidden off-limits romance trope and features a non-royal couple.
The book is a combination of flashback and present storytelling. You get to see Olivia's little sister, Ellie, grow from a high school student to a college graduate. After Olivia finds love with Nicholas, they order a security detail for a teenage Ellie. Enter a super hot security guard Logan. Ellie is smitten from the beginning, which quickly turns into more than just a crush. But Logan refuses to go there with Ellie because if he allows himself to fall for her, he won't be an effective security guard. See the tension here?
The formatting of the book with the love story being told through a series of flashbacks, showcasing the cute and important moments of Ellie and Logan made the book feel long and boring. Ellie spends most of the book longing for Logan, while he spends that time trying to fight his feelings. While I like that sort of romantic tension, it didn't quite work here.
Ellie's character is a free-spirited girl but that's really all I can recall about her. Much like my issues with Sarah in book two, I wanted more character development instead of a stock manic pixie dream girl.
This series has left me feeling so disappointed. To me, it didn't feel like it had Emma Chase's touch. I can appreciate her wanting to depart from her normal cocky and hilarious heroes and try something different, but this series was cheesy, lacked depth, and felt hollow. Chase recently announced a fourth book in the Royally series, but I'm done after book three.
* I borrowed this audiobook from the library.