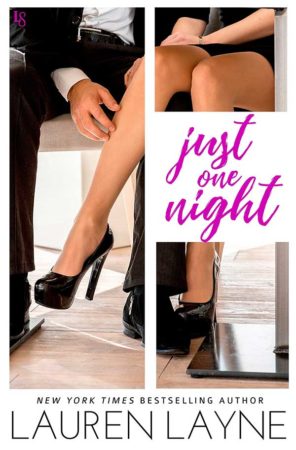 Just One Night
by
Lauren Layne
Series:
Sex Love & Stiletto #3
Published by
Loveswept
Publication date:
April 22, 2014
Genres:
Contemporary Romance
252 pagesFormat:
eBook
Source:
Borrowed
In Lauren Layne's sizzling Sex, Love & Stiletto series, New York's hottest "sexpert" has been living a lie—and it's up to one man to keep her honest…all night long.

Riley McKenna knows sex—good sex, bad sex, kinky sex…Her articles in Stiletto magazine are consistently the publication's most scandalous—and the most read. But Riley has a secret…all that sexy talk? Not an ounce of it comes from personal experience. Her own bedroom escapades are more limited than even her best friends know. When her editor requests that all columnists write something more personal for Stiletto's anniversary issue, Riley turns to the one man she's always been able to count on and calls in the favor of a lifetime.

Sam Compton would do anything for Riley McKenna. Anything except be her experimental sex toy. He refuses her request. At least until she tells him that it'll either be him or she'll go to someone else. And that, Sam can't accept. Reluctantly he agrees to her terms—one night of completely meaningless sex in the name of research. Riley thinks she's prepared for what awaits her in Sam's bed. After ten years of writing about sex, actually doing it shouldn't be that different, right? So wrong. What starts as "one time only" becomes "just one more time." And then one more. And before they know it, Riley and Sam learn first-hand that when it comes to love, there's no such thing as just one night.
Affiliate Disclosure: This post contains affiliate links. In plain English, this means that I may receive a small commission (at no cost to you) if you purchase something through the links provided. This small income goes back into my blog, so I can continue to create fun content for you. I appreciate my readers and make it my goal to be upfront and honest. Thank you for supporting my blog!
Lauren Layne's Sex, Love, and Stilettos series continues in this fun, sexy romance.  Like its two predecessors, JUST ONE NIGHT helps Stiletto's popular columnists find love. But unlike Julie and Grace, who met their guys through their assignments, there's only ever been one guy for Riley.
Sam Compton has starred in Riley's dreams since her teenage years. Riley is sent into a frenzy when her new assignment is write something more personal, which sounds easy. But it's not so easy when what you've been writing in Stiletto has been a lie.
I liked seeing Riley slowly reveal the real Riley, especially through her interactions with Sam. Everyone has a certain perception of Riley as this uninhibited sex kitten. I was quite surprised to find out what deep dark secret Riley was hiding from everyone in her life! It definitely added an interesting and unexpected twist to this love story.
Sam Compton already knew what would kill him one day: Riley McKenna.
Or more precisely, it was keeping his hands off Riley McKenna that would kill him.
Because a heterosexual man didn't spend a decade in the company of a woman who looked like Riley without touching her.
Not unless he wanted to die a slow, torturous death by sexual frustration.
Riley's brother is Sam's best friend, and years ago he made a promise not to go near his little sister. He's been able to keep that promise, but Riley's proposition to be featured in her latest article just may force him to break that promise. I was certainly the devil on his shoulder shouting, "Break the promise! Break the promise!" The whole "I can't touch her because she's my friend's sister" thing is a little overdone and I wish there had been something more keeping them apart all these years.
This book certainly fit the "fun and light" vibe that I've been reading for most of the year. What I liked the most was watching Sam and Riley fall for each other while trying to deny what they were feeling. But this one didn't elicit a strong emotional reaction that I was hoping. It felt slow in several parts and the ending was anti-climactic.
* I borrowed this book from my local library.