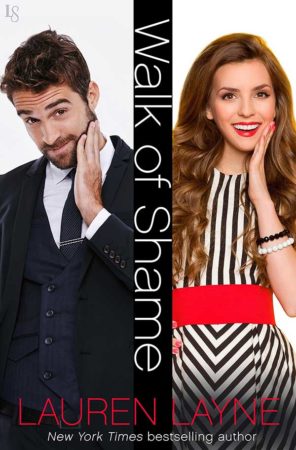 Walk of Shame
by
Lauren Layne
Series:
Love Unexpectedly #3
Published by
Loveswept
Publication date:
April 18, 2017
Genres:
Contemporary Romance
,
Romantic Comedy
218 pagesFormat:
eBook
Source:
Borrowed
Pampered heiress Georgianna Watkins has a party-girl image to maintain, but all the shopping and clubbing is starting to feel a little bit hollow—and a whole lot lonely. Though Georgie would never admit it, the highlights of her week are the mornings when she comes home at the same time as her uptight, workaholic neighbor is leaving to hit the gym and put in a long day at the office. Teasing him is the most fun Georgie's had in years—and the fuel for all her naughtiest daydreams.

Celebrity divorce attorney Andrew Mulroney doesn't have much time for women, especially spoiled tabloid princesses who spend more time on Page Six than at an actual job. Although Georgie's drop-dead gorgeous, she's also everything Andrew resents: the type of girl who inherited her penthouse instead of earning it. But after Andrew caps one of their predawn sparring sessions with a surprise kiss—a kiss that's caught on camera—all of Manhattan is gossiping about whether they're a real couple. And nobody's more surprised than Andrew to find that the answer just might be yes.
Affiliate Disclosure: This post contains affiliate links. In plain English, this means that I may receive a small commission (at no cost to you) if you purchase something through the links provided. This small income goes back into my blog, so I can continue to create fun content for you. I appreciate my readers and make it my goal to be upfront and honest. Thank you for supporting my blog!
My reading journey through Lauren Layne's Love Unexpectedly series has been just what I needed. WALK OF SHAME features a serious lawyer and a very non-serious New York socialite whose relationship epitomizes the whole opposites attract thing. *cue Paula Abdul music* My friend Nereyda has been wanting me to read Lauren Layne's books for years I tell you. YEARS! My Lauren Layne binge has been rewarding so far.
"You're staring," Marley whispers.
"He hates me," I mutter, deciding to have more tiramisu after all.
"Nope. He just doesn't know what to do with you."
Andrew was so annoyed that he was drawn to her. It didn't make sense to him and I loved that about their love story. She's sort of everything he wasn't looking for in a nice red bow. The same can be said of Georgie. Georgie is one of those heroines who's kind of a hot mess but it's sort of an endearing trait because she's somewhat oblivious to it.
Georgie and Andrew balance each other out. He's the yin to her yang, the sour to her sweet, the vanilla to her chocolate. You see where I'm going. Andrew thrives on structure, routine, and discipline, whereas Georgie lives life by the seat of her pants.
And yet, sitting here with two people who somehow share the same air, the same life, but barely seem aware of the other person's presence, I can't shake the sense that while maybe I don't need someone to need me, I really, really wouldn't mind spending time with someone who at least wants me.
I really liked the storyline in this book, but when I finished I just didn't feel as fulfilled as I hoped. After giving it some thought, I think my biggest problem was Georgie's lack of character development. Did she have hopes and dreams? What did she want to do with her life? What are her likes and dislikes (aside from designer shoes and clubs)? Conversely, did she plan on just being a club hopper and charity planner? I wanted her to have more of an arc. I think I would've liked her a lot more if, by the end, she had some grasp on what to do with her life. Or at least some acknowledgement from her that that was something she should be considering. Instead, at the end, she's still staying out late with her friends and coming home early in the morning. It seemed a little immature and really stilted her character growth. Andrew, on the other hand, had some growth. He let Georgie into his life of routine and structure, introducing her to his family and making small sacrifices for her. I don't mean to gripe on the female character, while praising the hero. But this was just an observation, one that would have made the book a little strong in my opinion.
Even though Georgie wasn't a strong point, their love story a sexy battle of wills that I really enjoyed. She whittles away at his emotional walls, tests his boundaries, and injects color into Andrew's gray life. Their first kiss was freaking great—a little jealousy goes a long way, am I right? I liked seeing them go from annoyed neighbors to friends to lovers.
All in all, this was a really fun read, as was the rest of the Love Unexpectedly series. I plan on reading more from Lauren Layne! Any suggestions?
* I borrowed this book from my local library.