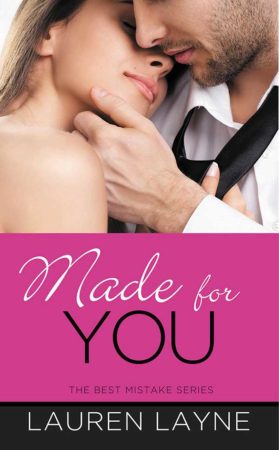 Made For You
by
Lauren Layne
Series:
The Best Mistake #2
Published by
Forever
Publication date:
October 28, 2014
Genres:
Contemporary Romance
320 pagesFormat:
eBook
Source:
Borrowed
When the Wrong Guy is Oh-So-Right

Will Thatcher is exactly the type of sexy playboy good girls like Brynn have always avoided. And yet there was still something about him she just couldn't resist. When Will moved across the country three years ago, Brynn vowed it was time to put him behind her. She never thought Will might have other plans . . .

Back in town, Will intends to get what he's always wanted-gorgeous, unforgettable Brynn. For years, he tormented the untouchable ice princess in a desperate bid for her attention. Now he has a new plan, and he'll do anything to rewrite their stormy past. This time, he's out to show Brynn that the imperfect man might be the best mistake of her life . . .
Affiliate Disclosure: This post contains affiliate links. In plain English, this means that I may receive a small commission (at no cost to you) if you purchase something through the links provided. This small income goes back into my blog, so I can continue to create fun content for you. I appreciate my readers and make it my goal to be upfront and honest. Thank you for supporting my blog!
In romance novels, it's more commonplace to see the heroine floundering and falling all over the hero, with him being clueless or blind to her feelings, than the other way around. In Lauren Layne's MADE FOR YOU, we meet Will and Brynn, two frenemies with a long history of hating each other. But you all know what they say about line between love and hate, right?
I had such a blast reading this book. I read this book in one sitting; I simply couldn't put it down. I was all in and invested from the beginning. (Sidenote: I hadn't read the first book in this duo but I gathered that it was about Sophie, Brynn's sister, and Gray. I don't believe this book is too spoilery as there isn't a ton of plot points given about that couple, other than to say that they're married).
So here's the part where I tell you all the devilishly good plotty things that will  pretty much force you to read it, like it did me. First off, the synopsis caught my eye right away. Read it. Second, who doesn't love a good hate-to-love storyline? Brynn and Will have quite the lengthy history of disliking each other, which is always a nice segue way into the love part. Third, Will comes back to Seattle after being away for years. He left town for a mysterious reason, the timing of which coincided with a passionate encounter with his female nemesis, Brynn.
Another thing that made this book so devourable was the fact that Will was all in with Brynn from the beginning. He tells his best friend (and Brynn's little sister) that he's in love with Brynn. That might make you think that the tension would be deflated, but it's not, dear reader. It was sort of refreshing to see the guy work hard to get the girl, to win her heart and try to change the landscape of her feelings. It was also really fun to see Brynn come to terms with her feelings towards a man shift away from hate and towards like, and maybe even love.
One of the things that really made me love (and respect) Will's character was that he gave Brynn 100% control of her feelings. He didn't spend his time trying to force Brynn into conforming to what he wanted. He let her float through her story of self-discovery. Brynn goes through a personal crisis. Does she really love her job? It is necessary for her to be so ritualistic, self-contained, and rigid? Or is there room for more fun and relaxation in her life? Will gives her space to sort through all of those, all the while laying his heart in her hands.
I'm going to go back and read Sophie and Gray's story now since I loved this one so much. Thank you to my local library's "similar reading recommendation" feature for suggesting this book. My previous positive experience with this author also nudged me to try it.
In a nutshell, I'd recommend this book to readers who love dialogue with good banter, tension-filled moments, couples getting second chances, and hate-to-love romances.
* I borrowed this book from my local library.