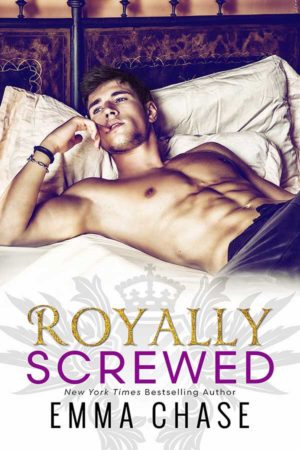 Royally Screwed
by
Emma Chase
Series:
Royally #1
Published by
Simon & Schuster Audio
Publication date:
October 17, 2016
Genres:
Contemporary Romance
Narrator:
Andi Arndt
,
Shane East
Length:
9 hrs and 39 mins
294 pagesSource:
Purchased
Nicholas Arthur Frederick Edward Pembrook, Crowned Prince of Wessco, aka "His Royal Hotness," is wickedly charming, devastatingly handsome, and unabashedly arrogant―hard not to be when people are constantly bowing down to you.

Then, one snowy night in Manhattan, the prince meets a dark haired beauty who doesn't bow down. Instead, she throws a pie in his face.

Nicholas wants to find out if she tastes as good as her pie, and this heir apparent is used to getting what he wants.

Dating a prince isn't what waitress Olivia Hammond ever imagined it would be.
There's a disapproving queen, a wildly inappropriate spare heir, relentless paparazzi, and brutal public scrutiny. While they've traded in horse drawn carriages for Rolls Royces and haven't chopped anyone's head off lately―the royals are far from accepting of this commoner.

But to Olivia―Nicholas is worth it.

Nicholas grew up with the whole world watching, and now Marriage Watch is in full force. In the end, Nicholas has to decide who he is and, more importantly, who he wants to be: a King... or the man who gets to love Olivia forever.
Affiliate Disclosure: This post contains affiliate links. In plain English, this means that I may receive a small commission (at no cost to you) if you purchase something through the links provided. This small income goes back into my blog, so I can continue to create fun content for you. I appreciate my readers and make it my goal to be upfront and honest. Thank you for supporting my blog!
I've enjoyed some of Emma Chase's novels. But more recently, I've been 0-2 for her. I've seen several of my book friends enjoy this book and some who hadn't. Instead of being the romantic comedy I expected, ROYALLY SCREWED ended up being a erotic sex fest void of the sweet story and the charismatic hero I'd hoped for.
When Emma Chase's readers pick up one of her books, they are expecting to meet an outspoken and hilarious male lead who falls for a woman not afraid to challenge them. Usually, this is combined with a really compelling story and, sure, peppered through are steamy scenes. This wasn't what happened here.
This Cinderella-like plot where the everyday girl meets a real life price appealed to me and I like it when it's done well. There were a few things that kept me from enjoying this. First, the author did little with the formulaic plot to make it unique. Second, the characters were forgettable. Lastly, the romance was developed largely through far too many explicit sex scenes that had me asking, "Is this a romantic comedy or erotica?"
The basic storyline here isn't entirely new, which is fine. Tropes are kind of like the framing in a house, a starting point. I wish the author would have done more to this story to make it more distinctive and memorable. Here, the royal family and its tragic past seems to mirror the British royal family, down to the death of their beloved mother and princess.
Even though some of Chase's heroes are caricatures and overdrawn, I can at least laugh at their humor and the predicaments in which they find themselves. Nicolas wasn't funny to me at all. He lacked the normal magnetic charisma found in some of Chase's other male leads. There was very little development of his character from beginning to end. In fact, it was Olivia who had the balls here and forces him to do the right thing. As I'm writing this review, I can't really tell you anything compelling or memorable about Nicholas or Olivia, other than they both like to have sex all the time.
I'm no prude. I don't mind a good steamy romance novel, but when I read Emma Chase, I am largely expecting funny and steam, not a book filled with sex scene after sex scene. When the characters weren't having sex, they were thinking about it. If I had to listen to Nicholas discuss his swollen member one more time, I was going to scream.
Emma Chase writes every little girl's fantasy with a dirty twist, but this book was too problematic for me.