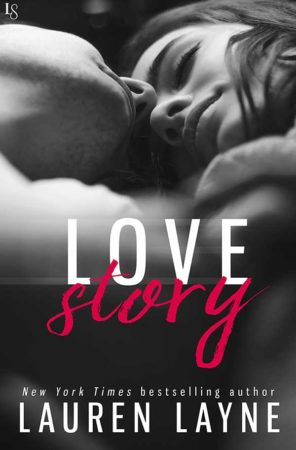 Love Story
by
Lauren Layne
Series:
Love Unexpectedly #3
Published by
Loveswept
Publication date:
February 14, 2017
Genres:
Contemporary Romance
210 pagesFormat:
eBook
Source:
Borrowed
When Lucy Hawkins receives a job offer in San Francisco, she can't wait to spread her wings and leave her small Virginia hometown behind. Her close-knit family supports her as best they can, by handing over the keys to a station wagon that's seen better days. The catch? The cross-country trip comes with a traveling companion: her older brother's best friend, aka the guy who took Lucy's virginity hours before breaking her heart.

After spending the past four years and every last dime caring for his sick father, Reece Sullivan will do just about anything to break free of the painful memories—even if it means a two-week road trip with the one girl who's ever made it past his carefully guarded exterior. But after long days of bickering in the car turn into steamy nights in secluded motel rooms, Reece learns that, when it comes to Lucy, their story is far from over. And this time, they just might have a shot at a happy ending.
Affiliate Disclosure: This post contains affiliate links. In plain English, this means that I may receive a small commission (at no cost to you) if you purchase something through the links provided. This small income goes back into my blog, so I can continue to create fun content for you. I appreciate my readers and make it my goal to be upfront and honest. Thank you for supporting my blog!
A road trip between two former flames who hate each other? Count me in! While LOVE STORY has some frustrating moments, I ate this second-chance hate-to-romance up.
Lucy and Reece were the best of friends from childhood until Reece broke her heart. After graduating college, Lucy plans a solo road trip from her home in West Virginia to her new job in California but her plans take an unexpected detour when it's revealed that Reece, the guy she'd like to punch, is her road trip buddy. Reece has spent the last four years trying to forget Lucy but he can't seem to shake how she still makes him feel. Buried underneath both of their mutual disdain for each other is a whole truckload of unresolved sexual tension. And that, folks, is entertaining.
I liked how Lauren Layne didn't go the normal route with the "brother's best friend" trope. As teens, Lucy and Reece kept their romance a secret, mostly because it started (and ended) before they had a chance to come out as a couple. Usually, the couple will keep it a secret because (apparently) the brother will always disapprove. That wasn't the case in this story, which was sort of refreshing.
I enjoyed reading this book. I liked the back-and-forth tension-filled banter between Lucy and Reece. I'm a fan of these sorts of "double love stories" that you see in many second-chance romances. Watching Lucy and Reece fall in love in the past was sweet and seeing them reconnect as adults was equally as fun.
I'm finding that this series has a nice mix of sweet and sultry moments. I really like a good balance, so the story shows through. The sweet moments in this book are the flashbacks to when Reece and Lucy are kids. Their friendship began after Lucy finds a tear-soaked Reece at his mother's wake. After that, they become each other's confidants. I liked seeing their past friendship develop into something more. In the present, there is so much underlying tension and lingering feelings, which I really enjoyed. Despite being angry with one another, they still care about each other enough to check in and make sure they're both okay.
Reece and Lucy try desperately to ignore the elephant in the room, which was a big part of what bothered me. The root of the conflict in this book is a misunderstanding which leads to a miscommunication spanning years. Then when everything hits the fan, they continue to not talk about the root of the problem. That was really annoying.
This series has hit the spot for my search for fun romances with a nice blend of sexy and sweet. If you're on the market for something like that, check out Layne's Love Unexpectedly series. LOVE STORY was a decent addition to the series.
* I borrowed this book from my local library.