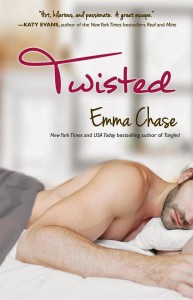 Twisted
by
Emma Chase
Series:
Tangled #2
Published by
Gallery Books
,
Simon & Schuster
Publication date:
March 25, 2014
Genres:
Adult
,
Romance
Narrator:
Charlotte Penfield
,
Sebastian York
Length:
7 hrs and 2 mins
272 pagesFormat:
Audiobook
Source:
ARC via publisher
There are two kinds of people in the world. The ones who look first, and the ones who leap. I've always been more of a looker. Cautious. A planner. That changed after I met Drew Evans. He was so persistent. So sure of himself – and of me.

But not all love stories end happily ever after. Did you think Drew and I were going to ride off into the sunset? Join the club. Now I have to make a choice, the most important of my life. Drew already made his –in fact, he tried to decide for the both of us. But you know that's just not my style. So I came back to Greenville. Alone. Well, sort of alone....

What I've come to realize is that old habits die hard and sometimes you have to go back to where you began, before you can move ahead.

TWISTED picks up two years after Tangled's end, and is told from Kate's POV.(
Affiliate Disclosure: This post contains affiliate links. In plain English, this means that I may receive a small commission (at no cost to you) if you purchase something through the links provided. This small income goes back into my blog, so I can continue to create fun content for you. I appreciate my readers and make it my goal to be upfront and honest. Thank you for supporting my blog!
I absolutely loved Tangled by Emma Chase.  Drew Evans is one of the most hilarious and charming book characters.  So I was elated to see that we would get more of him in Twisted, along with his girlfriend Kate Brooks.
"…I can't live without you, Kate. I don't even know how to try."
Twisted is told in Kate's point of view and takes place two years after Tangled ended.  At this point in their relationship, Drew and Kate are still very much in love.  And in case you were wondering, Drew Evans is just as crass and wonderful as ever.  But the honeymoon phase of their relationship is over.  There was a huge misunderstanding and breakdown in their communication.  Both were at fault and it took most of the book for them to realize what actually happened as opposed to what either of them had perceived.
Many people were Kate Brooks haters after finishing Tangled, while I didn't dislike her at all.  Even in Twisted, I didn't entirely dislike her.  Like Drew, she jumped to conclusions that led to a HUGE train wreck.  She even started to instigate fights in the beginning, which I didn't like.  I don't want to reveal what happened, but Kate and Drew had to separate for a short time in this book.  I loved going back to Kate's hometown and meeting her mother.  In Tangled, Kate told Drew about her mother's diner and how it was always a dream of hers to be able to take care of her mother someday.
Surprisingly enough, I loved getting more of Dee Dee and *gasp* Billie in this book.  Kate was going through a lot emotionally in this book and I loved how she could count on her friends to help get her through this.  Dee Dee is absolutely hilarious and the type of friend you want to have your back when you've been wronged.  Dee Dee doesn't take any crap from anyone and is a viper if anyone tries to hurt her friend.  I LOVED her so much.  This book got me really super excited for Tamed (out now), which is Matthew and Dee Dee's story.
"…Fucking prick."  She holds her hands up.  "But it's okay. Don't panic. I'll take care of everything. We have this new fuel at the lab that's ready for animal testing. He won't know what hit him—I can slip it right through the vents.
She turns to Billy. "You're in charge of the garden hose and duct tape." Then she looks at me. "I'll need your keys and security."
I shake my head. "Delores, you can't gas Drew to death."
"It might not kill him. If I had to guess, I'd say the odds for survival are fifty-fifty."
Twisted was enjoyable, but I felt like this book could have been a novella. So much of the book was drawn out over many, many pages (or in my case hours). The miscommunications and manufactured drama is something that kept me from loving this story.   I would have liked to have more distinction between Kate's narrative voice and Drew's, as Kate's voice was nearly identical to Drew's.  Many times, I felt like I was reading Tangled, but with a female narrator as opposed to just reading a separate book.
What made this book was the epilogue.  Once Kate and Drew resolved their problems and that was cleared up, we got a glorious (and I do mean Glorious) epilogue in DREW'S POV! It was aboslutely hilarious! We got to see the whole cast of characters, inclueding Alexandra a.k.a. "The Bitch" whose scene was so funny!  I would like to see more of her in the future.
"I….ah…I'm coming down with Tourette's."
Delores looks confused. Alexandra's eyes narrow.
"Asslickingturdballmotherfuckerbitch. See?"
Shamu turns away. "Whatever."
Huh. That was disappointing. The pregnancy must be wearing her out.
I loved the ending of this book and the place that Drew and Kate were in their relationship.  I loved seeing Drew be so tender towards Kate in the epilogue.  It's such a stark contrast to his usual sarcastic self.  The depth of his loves really came through in the epilogue and I got a little bit misty at a certain scene.
Audiobook Comments:
I really liked the Charlotte Penfield, the female narrator of this book.  Kate Brooks has a great sense of humor and the narrator's delivery of Kate's sassy lines were great.  I did find her voice to be a little bit slow, so I had to listen to her on 1.25 speed.  Otherwise, it tended to drag on a bit.  Have I mentioned how much I loved the epilogue? I was shocked when one of my favorite narrators popped in for a cameo.  Yes, my Sebastian York narrated the epilogue and it was great. I missed him as Drew so much!!
* I received this audio book from the publisher in exchange for an honest review.
3 stars