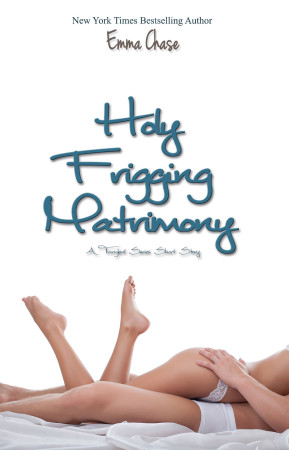 Holy Frigging Matrimony
by
Emma Chase
Series:
Tangled #1.5
Publication date:
December 4, 2013
Genres:
Contemporary Romance
,
Humor
40 pagesFormat:
eARC
Source:
ARC e-book
What does Drew Evans have to say next? Find out in this forty page short story, filled with his sexy charm, unique advice and hilarious one-liners.

Marriage: the final frontier. Steven went first. He was kind of our test subject. Like those monkeys that NASA sent off into space in the fifties, all the while knowing they'd never make it back.

And now another poor rocket is ready to launch.

But this isn't just any posh New York wedding. You've seen my friends, you've met our families, you know you're in for a treat. Everyone wants their wedding to be memorable. This one's going to be un-frigging-forgettable.

Holy Frigging Matrimony takes place about a year after Tangled's end and is from Drew's POV.
Affiliate Disclosure: This post contains affiliate links. In plain English, this means that I may receive a small commission (at no cost to you) if you purchase something through the links provided. This small income goes back into my blog, so I can continue to create fun content for you. I appreciate my readers and make it my goal to be upfront and honest. Thank you for supporting my blog!
* Holy Frigging Matrimony is a Tangled series short story.
Mini-Review:
This summer Tangled had me laughing so hard.  I couldn't enough of Drew Evans.  Being inside his mind was refreshing albeit a little scary.  He worked his way into my heart with his in-your-face honesty and hilarious internal monologue. I'm sure I'm not the only one who is feeling Drew Evans withdrawal symptoms.  Thank heavens Emma Chase released this short story to tide us all over until Twisted (Tangled #2) is released on March 25, 2014!
I missed Drew and Kate's antics.  Most of all, I missed Drew's dirty mind.  This story did not disappoint in terms of Drew's inappropriateness. It is filled with Drew Evansisms.
"You smell like sex and sweat…and me. It's hot. Eau de Cum kicks Chanel Number Five's ass."
"I don't wanna go. I want to defile the prestigious Plaza Hotel by having you ride me like a slutty mermaid in the bathtub."
Ahem….see what I mean?
Even though he's crass, he's really sweet to Kate.  The fire between Kate and Drew has not died in the year since we last saw them.  Both of them are still very much in love with each other.  But Drew's mouth gets him in trouble with Kate when he makes a spectacle of himself in front of Kate's family and friends.
There are also special appearances by some of the amazing side characters from Tangled.  We get to see Delores, who rather fondly calls Drew "Goatfucker", and Matthew.  And of course the STD, Billy.  But I was most happy to see The Bitch (Drew's sister) show up and (once again) smack some sense into him.  She's always good for that.
Holy Frigging Matrimony is a tease! This story leads you to believe one thing is going to happen and then something totally different happens.  Although, if you read the synopsis of book 2, you would be in on the joke.  Nice try, Chase, nice try.  This was a great companion to Tangled and a pleasure to read.  I can't wait to see what Twisted has in store for Kate and Drew! It looks like there is going to be trouble in paradise!
3 stars
Read my Tangled Review