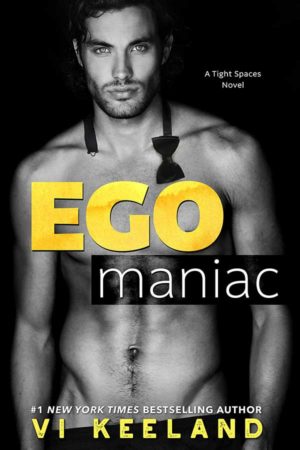 Egomaniac
by
Vi Keeland
Published by
Self-Published
Publication date:
January 15, 2017
Genres:
Contemporary Romance
300 pagesFormat:
eBook
Source:
Borrowed
The night I met Drew Jagger, he'd just broken into my new Park Avenue office.
I dialed 9-1-1 before proceeding to attack him with my fancy new Krav Maga skills.
He quickly restrained me, then chuckled, finding my attempted assault amusing.

Of course, my intruder had to be arrogant.
Only, turned out, he wasn't an intruder at all.

Drew was the rightful occupant of my new office. He'd been on vacation while his posh space was renovated.
Which was how a scammer got away with leasing me office space that wasn't really available for rent.
I was swindled out of ten grand.

The next day, after hours at the police station, Drew took pity on me and made me an offer I couldn't refuse. In exchange for answering his phones while his secretary was out, he'd let me stay until I found a new place.
I probably should have acted grateful and kept my mouth shut when I overheard the advice he was spewing to his clients. But I couldn't help giving him a piece of my mind.
I never expected my body to react every time we argued. Especially when that was all we seemed to be able to do.

The two of us were complete opposites. Drew was a bitter, angry, gorgeous-as-all-hell, destroyer of relationships. And my job was to help people save their marriages.
The only thing the two of us had in common was the space we were sharing.
And an attraction that was getting harder to deny by the day.
Affiliate Disclosure: This post contains affiliate links. In plain English, this means that I may receive a small commission (at no cost to you) if you purchase something through the links provided. This small income goes back into my blog, so I can continue to create fun content for you. I appreciate my readers and make it my goal to be upfront and honest. Thank you for supporting my blog!
A Craigslist scam brings together a psychologist who helps couples save their marriage and a cynical divorce attorney whose profession end marriages. A sizzling attraction forms between these two office opposites and then love blossoms slowly.
This book was positively entertaining! Like Bossman (My Review), I love the way Vi Keeland writes her male heroes. Drew is all cocky, confident, and collected on the outside, but on the inside he's vulnerable and a big softy. He has a big heart and loves the people he cares for hard, stopping at nothing to ensure their safety. There were so many moments that had me all swoony, like how he defended Emerie to his ex.
Emerie and Drew's chemistry was electric. They have a clear magnetic attraction from the beginning but they get to know each other over time. Seeing these two opposites slowly fall for each other was part of the fun! Emerie had a more optimistic view on love and marriage, counseling couples away from the brink of divorce. While Drew's last trainwreck of a relationship has caused him to distance himself from love and commitment.
This book had a slower start for me. Unlike Bossman, I wasn't totally committed from the beginning. I'm willing to suspend disbelief in my contemporary romance novels to a point. The whole Craigslist scam and Drew allowing her to stay was a little farfetched and convenient, but I went with it.
I'm on a roll with Vi Keeland lately (2 for 2). I'm reading Sex, Not Love next and cannot wait to dive in. Between this one and Bossman, I'm living for Vi Keeland's blend of sexy and sweet. I'm all for possessive, arrogant heroes, but I need them to also have a sweet side. Keeland's heroes strike that perfect balance.
* I borrowed this book from the library.