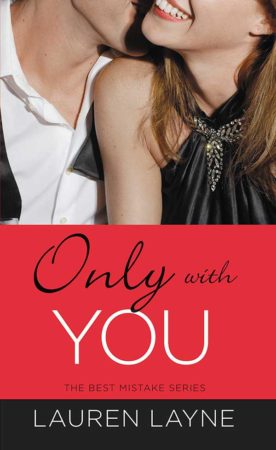 Only With You
by
Lauren Layne
Series:
The Best Mistake #1
Published by
Forever
Publication date:
July 29, 2014
Genres:
Contemporary Romance
260 pagesFormat:
eBook
Source:
Borrowed
Love is the Biggest Gamble of All . . .

Cocktail waitress Sophie Dalton doesn't exactly have a life plan. She's perfectly happy being everyone's favorite party girl. But when a Las Vegas bachelorette party goes awry and an uptight businessman mistakes Sophie for a prostitute . . . well, Sophie wonders if it's time to reevaluate her priorities. Swearing off her thigh-high boots for good, Sophie slinks back home with damaged pride-and a jackpot of a hangover.

Yet what happens in Vegas doesn't always stay there. On a trip to Seattle to open a new office, Grayson Wyatt meets his latest employee-who turns out to be the same woman he recently called a hooker. Wealthy and gorgeous, Gray is a man used to getting what he wants. And it doesn't take long to figure out that smart, sassy, sexy Sophie is everything he's been looking for. As their late nights at the office turn into hot morning-afters, they realize their Vegas misunderstanding may lead to the real thing . . .
Affiliate Disclosure: This post contains affiliate links. In plain English, this means that I may receive a small commission (at no cost to you) if you purchase something through the links provided. This small income goes back into my blog, so I can continue to create fun content for you. I appreciate my readers and make it my goal to be upfront and honest. Thank you for supporting my blog!
Office romance lovers run to your library or your favorite retailer and read this book! This 2-book series was such a delightful surprise. In ONLY WITH YOU, Lauren Layne shows us what happens when two polar opposites with some killer chemistry are forced to work in close quarters. Hint: huge fireworks.
I read this 2-book series out of order, which you can do without too much of a problem with spoilers. I mean, we know the couples get their HEA. How Sophie and Gray met was hinted at in book two, Made for You (and in the synopsis), so I was super pumped to see how unstructured Sophie wins Mr. Super Serious Gray's heart.
Sophie and Gray meet in an elevator, but it's not exactly a steamy passion-filled encounter you might expect. There is no "screw the paperwork" moment followed by a passionate kiss. Gray mistakenly assumes that she's an escort, deflating all the sexual tension in Sophie's eyes. Sophie is on her way to her best friend's bachelorette party dressed to the nines in her festive trashy-themed get-up. She looks more like Julie Robert á la Pretty Woman than the twenty-something cocktail waitress that she is. Being used as a pin cushion for a wildly attractive woman in an elevator isn't how Gray thought this business trip would go.
Imagine Sophie's surprise when, at the next Sunday dinner with her parents, the man her sister brings home is Mr. Elevator! No joke! I was smiling throughout this whole scene because she was totally giving him the eye like, "Please don't tell my parents I was dressed like a prostitute" and Gray was like, "Please don't tell your sister you know me already." Though Sophie's embarrassment doesn't end there. Her sister outs her to everyone as unemployed. After Gray's misassumption, she quit her job as a cocktail waitress, hoping to turn over a new leaf and find her passion. As the new CEO of a hotel company, Gray is down a secretary and the whole Dalton family is elated when he offers Sophie a job. The only two not so happy about it is Sophie and Gray.
This book features a blend of a couple great romantic tropes: opposites attract and workplace romance. Gray's past in the romance department has turned him into the serious, stoic type. But Sophie brightens up his drab world and slowly he starts to smile and laugh more. She shows him that it was okay to laugh and love again.
One thing I forgot to mention in my review of Made For You that's also true in this book is how great the relationship development was in these books. There is a large amount of time in the book devoted to seeing this couple form friendships and bonds that run deeper than sex. They learn each other's quirks and meet their friends. In Only With You, Sophie meets Gray's brother and sister and, later, his best friend and his wife. All these things added sweet moments and gave Gray a vulnerability, where you got to see the guy instead of the CEO.
Lauren Layne is becoming one of those comfort authors for me. You know, the ones where you seek out when you're looking for a sure thing. Generally, I know what I'm going to get—good chemistry, fun storyline, and nice balance of sexy and sweet.
Whew I had a lot to say in this review. I could probably say more but I'll leave it at that. This series is Megan approved! I may have to reread it again!