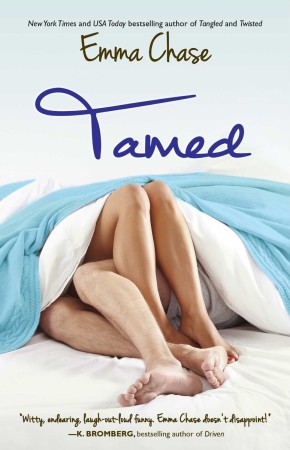 Tamed
by
Emma Chase
Series:
Tangled #3
Published by
Gallery Books
,
Simon & Schuster
Publication date:
July 15, 2014
Genres:
Humor
,
New Adult
,
Romance
272 pagesFormat:
eARC
In the third unforgettable book by New York Times bestseller Emma Chase, Matthew Fisher—the best friend of Drew Evans from Tangled and Twisted—wants to settle down, but he'll have to overcome the mistrust of the colorful and unique Dee Dee Warren.

Stop me if you've heard this one before: girl meets player, they fall in love, player changes his ways.

It's a good story. But it's not our story. Ours is a lot more colorful.

When I met Dee, I knew right away that she was special. When she met me, she thought I was anything but special—I was exactly like every other guy who'd screwed her over and let her down. It took some time to convince her otherwise, but it turns out I can make a convincing argument when sex is at stake.

You might know where this story's headed. But the best part isn't where we ended up.

It's how we got there.
Affiliate Disclosure: This post contains affiliate links. In plain English, this means that I may receive a small commission (at no cost to you) if you purchase something through the links provided. This small income goes back into my blog, so I can continue to create fun content for you. I appreciate my readers and make it my goal to be upfront and honest. Thank you for supporting my blog!
Book Review:
After meeting Dee in Tangled, I looked forward to learning more about her. We learned that she dresses very scantily clad and that she is a rocket scientist. Say what?  She is a firecracker and a walking contradiction.  Overall, I thought this story was okay. I really liked how sweet Matthew was and the scenes with Alexandra.
If you've read Tangled, then you know that Matthew and Dee are together.  But you don't really know what events transpired to bring them together.   We learn all of the gritty details in Tamed and even get some behind-the-scenes peeks at Billy and Kate's break up.  Matthew knew from the moment he met Dee when she came to see Kate at the office that she was going to be different.
"My life changed about four weeks ago. On a normal, average day—when I met a girl who was anything but average."
Matthew knew soon after meeting Dee that she was something special. He asked her out on a date and to his utter surprise he wanted to call her immediately to schedule another date, breaking the Three-Day Rule. I liked that Matthew had to chase Dee a little bit.
"She's unusual—different—in all the best kinds of ways. She's brutally honest, emphasis on the "brutal."…She's wild and beautiful—like an undomesticated thoroughbred that runs best without a saddle.
And that's where I almost went wrong. I wanted to tame her. I thought that I had the patience for it, but I pushed too hard and pulled too much on the reins. So she broke them."
Matthew is different from Drew in a lot of ways. He's way less egotistical and not nearly as stubborn.  He was kind, sincere and wanted to prove to Dee that he was not like the guys she had been with in the past, that he would be faithful to her and treat her with respect.
Dee had major trust issues due to a string of bad relationships and lingering family issues.  Dee didn't make the chase easy on Matthew. At every turn, she was set to run, which annoyed me a little bit.  There were times where I felt like she was too hot and cold.
Some of my favorite moments were the moments with Alexandra a.k.a. The Bitch.  She got a lot of page action in this book and there were some signature Bitch moments.  Her character has this sort of simmering intensity that I love. You don't really know exactly what's brewing behind her death glare, but you sure has hell don't want to get caught in her crosshairs.
"To the outside world, Alexandra is a refined body—but simmering below the surface is a ferocious, protective person who'll pull her hair back, take her earrings off, and open up a major can of whoop-ass on anyone she perceives as a threat to the people she loves."
I just love that description because I think Chase captures that so well in the few Alexandra scenes.  I really liked the bond that she and Matthew had.  They were almost like brother and sister, except that the Bitch didn't feel the need to mother Matthew like Drew had.
I was entertained throughout the whole story and never felt compelled to put the book aside. I would recommend this book for fans of romantic comedies.  This one will make you laugh and give you the feels.
3 stars
* I received a copy via NetGalley in exchange for an honest review.