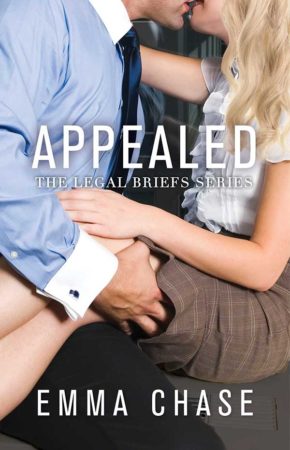 Appealed
by
Emma Chase
Published by
Gallery Books
Publication date:
January 19, 2016
Genres:
Contemporary Romance
Narrator:
Deacon Lee
Length:
6 hrs and 42 mins
304 pagesFormat:
Audiobook
Source:
Borrowed
When Brent Mason looks at Kennedy Randolph, he doesn't see the awkward, sweet girl who grew up next door. He sees a self-assured, stunning woman...who wants to crush the most intimate--and prized--parts of his anatomy beneath the heels of her Louboutins.

When Kennedy looks at Brent, all she sees is the selfish, Abercrombie & Fitch catalogue-worthy teenager who humiliated her in high school in order to join the popular crowd. A crowd that made those years a living hell for her.

But she's not a lovesick social outcast anymore--she's a Washington, DC, prosecutor with a long winning streak. Brent is the opposing attorney in her next case, and Kennedy thinks it's time to put him through a little hell of his own.

But things aren't exactly working out the way she planned. Brent has his sights set on Kennedy, and every fiery exchange only makes him want her more--and makes her wonder if he's as passionate in the bedroom as he is in the courtroom. In the end, they may just find themselves in love...or in contempt of court.
Affiliate Disclosure: This post contains affiliate links. In plain English, this means that I may receive a small commission (at no cost to you) if you purchase something through the links provided. This small income goes back into my blog, so I can continue to create fun content for you. I appreciate my readers and make it my goal to be upfront and honest. Thank you for supporting my blog!
I enjoyed Overruled and Sustained, the first two books in Emma Chase's Legal Brief series, so I wanted to give the final book in the trilogy a try. While it certainly offered the same steam factor as the previous books, the plot was too generic and full of cliches that didn't go any place new.
APPEALED is a hybrid of a hate-to-love story and second-chance romance. Brent and Kennedy grew up together as best friends. But a misunderstanding puts an end to their love story before it even began. Nearly fifteen years later, the two collide in the courtroom on opposite sides of a criminal trial. Kennedy is the vicious federal prosecutor who has a bone to pick with the guy who broke her heart. Brent is the cocky ladies man, shocked to see the girl who stole his heart years ago and never gave it back.
I got excited about this novel in the beginning because I love both of the aforementioned tropes employed in this novel. The combination of both of those is almost always entertaining and sure to deliver a good amount of angst. I liked the novel in the beginning but then it went downhill from there.
Some of the sexy dialogue in this novel is cringeworthy. At one point, Brent tells Kennedy to pinch her nipples "like it's her job" and then later they shower together with him cleaning all her "nooks and crannies." Gross, seriously. Both of those things were the proverbial cold bucket of water on a steamy moment, killing the mood.
As a lawyer myself, some of Brent and Kennedy's court antics would never fly in even with most patient and kindest judges.  I'm willing to let some of the unbelievability go, but like I've said in many reviews, there needs to be a thread of believability or I'm taken completely out of the story.
This novel would have benefitted from more originality and character development and less reliance on cliched character traits and plot devices. All elements of this book felt didn't feel like anything I haven't read before. This combined with the novel's rather ridiculous conclusion—Brent using his family's money and connections to meet up with a mob boss and make a deal with him not to come after the woman he loves was just too much—made the story a flop for me. I've enjoyed some of her other novels but this one missed the mark entirely.
* I borrowed this book from my local library.