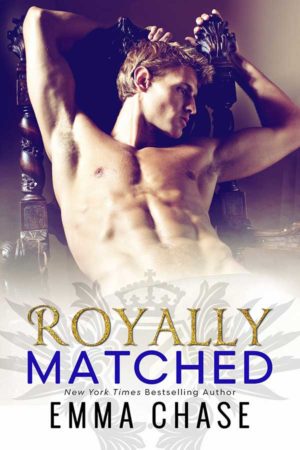 Royally Matched
by
Emma Chase
Series:
Royally #2
Published by
Self-Published
,
Simon & Schuster Audio
Publication date:
February 21, 2017
Genres:
Contemporary Romance
Narrator:
Andi Arndt
,
Shane East
Length:
8 hours and 53 minutes
275 pagesFormat:
Audiobook
Source:
Borrowed
Some men are born responsible; some men have responsibility thrust upon them. Henry John Edgar Thomas Pembrook, Prince of Wessco, just got the motherlode of all responsibility dumped in his regal lap. He's not handling it well.

Hoping to help her grandson rise to the occasion, Queen Lenora agrees to give him "space" - but while the Queen's away, the Prince will play. After a chance meeting with an American television producer, Henry finally makes a decision all on his own:

Welcome to Matched: Royal Edition.

A reality TV dating game show featuring twenty of the world's most beautiful blue bloods, all gathered in the same castle. Only one will win the diamond tiara; only one will capture the handsome prince's heart. While Henry revels in the sexy, raunchy antics of the contestants as they fight for his affection, it's the quiet, bespectacled girl in the corner - with the voice of an angel and a body that would tempt a saint - who catches his eye. The more Henry gets to know Sarah Mirabelle Zinnia Von Titebottum, the more enamored he becomes of her simple beauty, her strength, her kind spirit...and her naughty sense of humor.

But Rome wasn't built in a day, and irresponsible royals aren't reformed overnight. As he endeavors to right his wrongs, words take on new meanings for the dashing Prince. Words like duty, honor, and, most of all, love.
Affiliate Disclosure: This post contains affiliate links. In plain English, this means that I may receive a small commission (at no cost to you) if you purchase something through the links provided. This small income goes back into my blog, so I can continue to create fun content for you. I appreciate my readers and make it my goal to be upfront and honest. Thank you for supporting my blog!
I didn't exactly love Royally Screwed (My Review), the first in Emma Chase's Royally series, but I still wanted to give the other books in the series a try (See my review of Book #3). As a lover of The Bachelor, I really wanted to read this one with Prince Henry going on Matched, a royal Bachelor-esque reality show.
After his brother gave up the crown to marry a non-royal, Henry is now first in line to be king. The problem is Henry doesn't quite know what to do with the pressure that comes with being king. He's the brother who always has a lady and is prone to bringing negative attention to the crown. When his grandmother banishes him to a castle far away, he accepts a producer's offer to find love on television. What he doesn't expect is to fall in love with a woman behind-the-scenes, not one of the women on the show. This is what intrigued me the most!
I did like some parts of this book. I love seeing a player fall on his knees a girl he wouldn't normally go for. Here, Henry falls for, Sarah, the shy sister of one of the contestants. She loves to read and is more of a wallflower. One thing I liked about the romance was the attempt at creating a progression from friends-to-lovers. Henry meets Sarah when seeks the privacy of her room, hiding from the noisy cameras in his room. Sarah and Henry talk and get to know each other, so it was fun to see that develop. I would have liked to actually see more of that time on the page, though instead of telling the reader about it.
Are there other readers like me who demands stronger character development in romance? Sarah and Henry's characters were exaggerated and overdone. Sarah is the quiet, shy one and I felt as though the reader is constantly reminded of her love of reading and books. I can't really recall anything distinctive about her or Henry's personalities. Henry is just another "player-type" stock character, with very little nuance. Also, the character's names in this book was eyeroll-inducing. Sarah's last name is Von Titebottum (pronounced tight bottom). And yes, Henry does compare that to her booty. The other side characters had similarly ridiculous names. I think it's supposed to be funny but it wasn't.
Sarah has a traumatic past and clearly has some sort of post-traumatic stress disorder, evidenced by moments of blackouts called "fugue states" where she freezes but maintains awareness after being triggered. The abuse she suffered and this disease is glossed over and not addressed with much respect or care.
While I liked elements of the plot, all of it together was very cliched. I don't mind tropes and cliches if the authors puts a new spin on them to make them unique but that wasn't done here. I felt like I've read these characters a million times and with this book there was nothing special or memorable about the characters or the plot. The final nail in the coffin was a weak conflict towards the end that was rooted in miscommunication. It felt very flimsy and was carelessly put together. I expect more from Emma Chase. I'm hoping the next series she releases is more satisfying.
* I borrowed this audiobook from my local library.