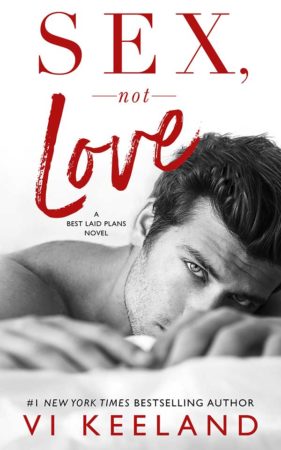 Sex, Not Love
by
Vi Keeland
Published by
Self-Published
Publication date:
January 14, 2018
Genres:
Contemporary Romance
341 pagesFormat:
eBook
Source:
Borrowed
My relationship with Hunter Delucia started backwards.

We met at a wedding--him sitting on the groom's side, me sitting on the bride's. Stealing glances at each other throughout the night, there was no denying an intense, mutual attraction.

I caught the bouquet; he caught the garter. Hunter held me tightly while we danced and suggested we explore the chemistry sparking between us. His blunt, dirty mouth should've turned me off. But for some crazy reason, it had the opposite effect on me.

We ended up back in my hotel room. The next morning, I headed home to New York leaving him behind in California with the wrong number.

I thought about him often, but after my last relationship, I'd sworn off of charming, cocky, gorgeous-as-sin men. A year later, Hunter and I met again at the birth of our friends' baby. Our attraction hadn't dulled one bit. After a whirlwind trip, he demanded a real phone number this time. So I left him with my mother's--she could scare away any man with her talks of babies and marriage--and flew back home.

I'd thought it was funny, until the following week when he rang the bell at Mom's house for Sunday night dinner. The crazy, gorgeous man had won over my mother and taken an eight-week assignment in my city. He proposed we spend that time screwing each other out of our systems.

Eight weeks of mind-blowing sex with no strings attached? What did I have to lose?

Nothing, I thought.
It's just sex, not love.
But you know what they say about the best laid plans...
Affiliate Disclosure: This post contains affiliate links. In plain English, this means that I may receive a small commission (at no cost to you) if you purchase something through the links provided. This small income goes back into my blog, so I can continue to create fun content for you. I appreciate my readers and make it my goal to be upfront and honest. Thank you for supporting my blog!
There was something about this book that just made me so happy. SEX, NOT LOVE is a steamy love story but it also has so much heart and sweetness to balance out the sexiness. Once again, Vi Keeland delivers a romance with two leads that had my heart skipping a beat and the pages flying. I cannot wait to read her next one!
Vi Keeland's synopsis gives you a good setup for the book's whole plot. Even though we're given this roadmap in the synopsis, I still couldn't turn the pages fast enough. I really appreciate when an author can create good chemistry and, like the last couple of books I've read from Keeland, she creates believable and addictive chemistry here.
Natalia managed to put off Hunter's advances for quite a long time, but he's persistent and determined to get to the root of Natalia's emotional disconnect. As you can imagine, their sex-only policy goes out the door when they start to feel a whole lot more for each other than just physical attraction. I love getting to that part in this type of trope when both realize that the game is over and that they feel something because angst! Hunter's reaction is to the feelings he's managed to suppress for so long is to panic and shut it down.
I really liked both Natalia and Hunter's characters. Sometimes with romances, authors can rely too heavily on stock characters. But in Sex, Not Love I felt like Keeland did a decent job with developing Hunter and Natalia's stories. I believed their backstory and why the characters reacted the way they did.
The novel's ending where the guy gets the girl and the girl gets the guy was really swoony. Though he didn't just get Natalia, he also got her stepdaughter too. I really liked the dad role that Hunter fell easily into; it only made me like him more. Like I said before, this romance was really sexy but there was a balanced sweetness there—not too sweet to melt the enamel off my teeth but enough to leave me giddy.
Has anyone read Keeland's latest, THE NAKED TRUTH? I bought it on release but haven't read it yet.
* I borrowed this book from my local library.