"Around the Book Blogosphere" is a feature to share posts from other book blogs or other book-related websites that I have enjoyed reading.  Book blogging is all about sharing the love, right?
✥  ✥  ✥
SWIFTOBER CONTINUES!

I am having so much fun following Novel Sounds' Swiftober posts. I know I shared her post last week, but dang, they're really good.
✥  ✥  ✥
BOOK BOYFRIEND ELECTION: THE POLLS ARE OPEN!!
Check out My Book Muse's Post for an EPIC Giveaway.  Cast your vote in the Google Doc HERE!

✥  ✥  ✥
DOES SKIMMING MEAN YOU DIDN'T READ

The ladies at Cristina's Book Reviews write the best discussion posts.  This week they talk about skimming books.  Personally, there are times when reading I find myself skimming.  I'm still reading the content, I just may not be reading every word super carefully. I still know what is going on in the story. I usually skim when I'm bored.
What are your thoughts on skimming? Do you skim read?
✥  ✥  ✥
A THOUSAND PIECES OF YOU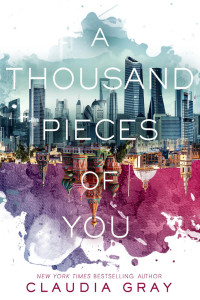 You guys know how I love Belle of the Literati, right?  Well, she wrote a FANTASTIC review of one of my most anticipted YA reads, A Thousand Pieces of You by Claudia Gray.
I think you all need to check out her review.  She's throwing around all of my favorite things like alternate dimensions, fate, and destiny.  HOLY CRAP! This book sounds so good!  It releases on November 4th!
✥  ✥  ✥
Pre-Order A Thousand Pieces of You
Add on Goodreads
✥  ✥  ✥
SECRET GIFTS
Have you ever left something behind in a library book for the next reader to see? Cristina's Book Reviews wrote a quick post on this and I thought it was such a great idea.  I've seen instances where a publisher will do a "Traveling ARC" and each blogger will write something in the book.
I think this would be fun to do with a library book or even a book and pass it along to some of your book friends. It would be like a chain buddy read. 🙂
What do you think? 
✥  ✥  ✥
A BOOK FOR FANS OF FRIENDS TO LOVERS TROPES!
Read an Excerpt & Review at A Love Affair With Books
✥  ✥  ✥
NEW K.A. LINDE SERIES!
Read about it HERE.
✥  ✥  ✥
IS BOOK BLOGGING DYING!
Nereyda from Mostly YA Book Obsessed wrote a very thoughtful post on The Future of Book Blogging. She made a lot of great points!
I'd like to know what you all think about the current state of the book blogging community and its longevity.
I can tell you that I will be blogging about books until it's no longer becomes fun for me. I blog because I love books, plain and simple. I don't make any money at it, though I wish I could because it would support my book buying habits.  😉
✥  ✥  ✥
UGLY LOVE BOOK TRAILER
If you can't see the book trailer click here.
Mollie has done it again! She made a beautiful book trailer for Ugly Love by Colleen Hoover (My Review)!!  I've waxed poetic before about how much I love Mollie from Tough Critic Book Reviews. She doesn't post as much anymore, but I find her reviews to be refreshing and respectfully honest.  She also makes badass book trailers.  I'm not even a huge book trailer fan, I find some to be cheesy, but Mollie's are so thoughtful and beautifully done.  My favorite one is still the one she did for The Sea of Tranquility by Katja Millay.
Subscribe to her channel on Youtube! Seriously!
THE ARGUMENT FOR AUTHOR-READER INTERACTIONS!
 I'm sure most of your saw the concerning and creepy article penned by author Kathleen Hale last weekend. The blogging world was (and still is) very much abuzz with her confessions of stalking a reviewer who 1-starred her book.  For some, this has put a chilling effect author/reader interactions.
Into the Hall of Books wrote a very thoughtful post on why relationships between authors and readers should continue.
Check it out
✥  ✥  ✥
KILLER QUEEN:  NICHOLAS TURNER INTERVIEW
It's no secret that I love Painted Faces and Killer Queen by L.H. Cosway.  This week, Under the Covers Book Blog interviewed my favorite drag queen and sexy man, Nicholas Turner.  Here is a little snippet:
What first attracted you to Freda? And what made you fall in love with her?
I saw her in a picture and thought, my, my, aren't those a glorious set of breasts. When I met her in person I was instantly smitten with her smart mouth. I don't recall the exact moment at which I knew I loved her, aside from when my good friend Phil slapped me across the face and told me so. Perhaps I loved her from the very beginning and didn't even realize it.
✥  ✥  ✥
PLAYING IT SAFE by Barbie Bohrman

Check out Vilma's Book Blog for an Exclusive Excerpt from Barbie Bohrman's newest release, Playing it Safe!! I read Bohrman's Promise Me and really liked it!
✥  ✥  ✥
SPOILERS SUCK!!!!
 My Book Muse had a great post this week about spoilers.  She listed some books that have been ruined for her due to spoilers and now she won't read them. I'm sad to see Mud Vein by Tarryn Fisher on her list because that is one of the most beautiful books I've ever read. I would have been major pissed to have that one spoiled.
Have you ever been spoiled?  Would you go back and read the book(s) that have been spoiled?
✥  ✥  ✥
THE RE-READ CHALLENGE!
Kelly from Belle of the Literati and Hannah from Soo Obsessed With are doing a fun re-read challenge.  I know you may think, "Ain't Nobody Got Time For That." But give it a chance.  More Info on the Challenge is here.
✥  ✥  ✥
COVER REVEALS
* Click on the links to check out some of the cover reveals you may have missed! *
✥  ✥  ✥
Reviews I enjoyed reading!
Share the link to some of your favorite posts in the comments!
✥  ✥  ✥
ENCORE!!
Natasha is a Book Junkie shared an Exclusive Excerpt from Love, In Spanish by Karina Halle.  All you Mateo lovers should definitely check out her post!!
Check out this AWESOME BOOK SALE of Charles Sheehan Miles's Thompson Sisters series.  Krystle from K&M Book Haven has been telling me I need to read this series for a LONG TIME!
See what you missed this week!!