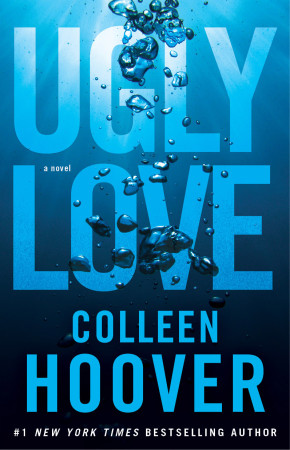 Ugly Love
by
Colleen Hoover
Published by
Atria
,
Simon & Schuster
Publication date:
August 5, 2014
Genres:
New Adult
,
Romance
Format:
eBook
Source:
Purchased
When Tate Collins meets airline pilot Miles Archer, she knows it isn't love at first sight. They wouldn't even go so far as to consider themselves friends. The only thing Tate and Miles have in common is an undeniable mutual attraction. Once their desires are out in the open, they realize they have the perfect set-up. He doesn't want love, she doesn't have time for love, so that just leaves the sex. Their arrangement could be surprisingly seamless, as long as Tate can stick to the only two rules Miles has for her.

Never ask about the past.
Don't expect a future.

They think they can handle it, but realize almost immediately they can't handle it at all.

Hearts get infiltrated.
Promises get broken.
Rules get shattered.
Love gets ugly.
Affiliate Disclosure: This post contains affiliate links. In plain English, this means that I may receive a small commission (at no cost to you) if you purchase something through the links provided. This small income goes back into my blog, so I can continue to create fun content for you. I appreciate my readers and make it my goal to be upfront and honest. Thank you for supporting my blog!
Review:
"I feel it. All the ugly parts. It's in my pores. My veins. My memories. My future."
Colleen Hoover has a gift for writing couples with this addictive chemistry.  Every one of her couples has a signature "something" that makes them memorable and unique.  Tate and Miles had that something, that Hoover something.  She left her seal on them and I want more.
Twenty-three year old Tate moves back to San Francisco to pursue a master's degree in nursing.  She moves in with her brother, Colin.  Tate expects to live with her brother for a short time. She expects to go to work and move on with her career and her life. She doesn't plan on giving Colin's next door neighbor her heart.
Tate and Miles are undeniably attracted to one another.  Miles doesn't want a relationship.  He doesn't want to fall in love.  Both are looking for sexual gratification and come up with an arrangement.  Miles has two conditions:  Tate cannot ask about his past and she must realize that she will never be a part of his future.  Tate agrees to both, albeit reluctantly.  In between her busy work and school schedule and Miles's busy flying schedule, the two of them attempt a no-strings attached relationship.
"You don't want to be attracted to me, but you are. You want to have sex with me, but you don't want to date me. You also don't want to love me. You also don't want me to love you."
What follows is some of Hoover's sexiest and steamiest scenes yet.  This book is a departure from Hoover's more tame New Adult romances.  Tate and Miles's sex scenes were scorching without being tasteless and tacky.  So many new adult books are bordering on erotica but I found the scenes in this book to be perfect.  But beyond the sex, I felt an emotional connection between Miles and Tate.
"He's just lying with me, asking me personal questions about my name, and I love it so much more than any other day we've ever spent together."
Ugly Love is told in multiple points of view, alternating back and forth between the past and the present.  In the past chapters, Hoover delves into Miles's backstory, revealing what caused him such deep pain that rippled into his present.  In the present, the reader is taken on a crazy ride on the Tate/Miles train of pain.  I loved how Hoover wove together moments from Miles's past chapters into the present chapters.
"But when you kiss someone because of who she is, the different isn't found in the pleasure. The difference is found in the pain you feel when you're not kissing her. It doesn't hurt when I'm not kissing any of the other girls I've kissing.  It only hurts when I'm not kissing [her]."
****
"I like…" He opens his eyes and looks at me. "I like kissing you, Tate."
Miles Archer is a tortured soul.  His past haunts him at all hours of the day.  One of my favorite types of heroes are the guys who don't lay everything out there for me.  I like the mystery in not know what is going on in their head.  Miles was so guarded with his feelings and what he revealed to Tate.  He kept everything under lock and key but there were a few moments where he opened his vault and his true feelings seeped through. I loved getting those little glimpses.
I also really liked Tate.  I know that many found Tate to be weak and spineless.  I don't dispute that entirely.  She was weak.  She allowed herself to be put in an arrangement that didn't make her happy.  She was left scrounging for the pieces Miles was willing to give her.  She didn't have the strength within herself to say no to him, something we were all hoping she would say.  She couldn't and wouldn't say no.  I see that it made a lot of people angry that she couldn't walk away and salvage the little self-respect that many said she lacked.
I know I want so much more than what he's giving me and he wants so much less than what I want to give him, but we're both just taking what we can get for now.
But here's the thing:  I didn't find Tate's weakness to be this terrible monster.  I actually found it to be quite human and realistic.  I know there are real women who have put themselves in similar situations and who would stay in that sort of arrangement. I don't always need emotionally strong female characters in novels.  But I do need the author to make me understand that character's choices.  I understood how Tate's character could make those bad choices.  I didn't always agree with them and that's okay. Tate was strong in some instances and weak in many others.  To an outsider, she made a lot of bad choices, but her character would make those bad decisions, would put herself in less than respectful situations.  Tate made the choices Tate would make.
EDIT:  I would also like to add that I think if it were any other guy but Miles, I would've been angry (i.e. if the guy was a complete loser).  Tate saw Miles's heart and true character underneath his pain and fell in love with the person buried under all of his baggage.
I would have liked this book to be longer just to flesh out a couple of things. Miles was mentally traumatized for six years and I didn't find it believable that one night would fix his problems and bring the "old Miles" back to life.  I thought that his mental trauma needed to be dealt with in a more realistic way.  Overall, I thought the ending of the book was rushed.  I would have preferred if the book didn't quite end with all the bows neatly tied up.  Even so, I loved Tate and Miles's relationship and the heated moments between them.
Audiobook Comments:  I really love Grace Grant as a narrator for Tate. She has such a crisp clear voice and her emotional inflictions are perfect. I think her performance as Tate was wonderfully done. Her voice also works well on faster speeds as well.  Miles's chapters were narrated by Deacon Lee (who I believe is also Jason Carpenter).  I think the tone of his voice is perfect for the Miles's age, but I wasn't in love with his voice overall. I thought at times he sounded a bit robotic with his delivery.  His performance was done well, however, despite the tone of his inflictions.  His voice is also worked well on speeds above 1x.
3 stars