Mud Vein
by
Tarryn Fisher
Published by
Self-Published
Publication date:
April 6, 2014
Genres:
Contemporary Romance
,
Psychological Thriller
,
Romantic Suspense
Format:
eARC
Source:
ARC via author
When reclusive novelist Senna Richards wakes up on her thirty-third birthday, everything has changed. Caged behind an electrical fence, locked in a house in the middle of the snow, Senna is left to decode the clues to find out why she was taken.

If she wants her freedom, she has to take a close look at her past. But, her past has a heartbeat…and her kidnapper is nowhere to be found. With her survival hanging by a thread, Senna soon realizes this is a game. A dangerous one. Only the truth can set her free.
Affiliate Disclosure: This post contains affiliate links. In plain English, this means that I may receive a small commission (at no cost to you) if you purchase something through the links provided. This small income goes back into my blog, so I can continue to create fun content for you. I appreciate my readers and make it my goal to be upfront and honest. Thank you for supporting my blog!
Spoiler-Free Review:
Mud Vein is a life changing book.  It is a book that you don't read, you absorb it.  You savor it.  Tarryn Fisher's words spoke to me, the deepest part of me.  After I finished this book, I couldn't even move on to something else.  Instead, I immediately reread it.  Mud Vein left me with this indescribable feeling that I don't want to wash off with other words.  Instead, I want to keep swimming in the sea of Senna Richards and her darkness.  Mud Vein is one of my all-time favorite books.
Tarryn Fisher's intention is for the reader to go into this book completely blind, which is why the synopsis is somewhat vague.  I will keep my review spoiler-free so that you have the best reading experience.
"Maybe the chances that you'll find each and every one of your soulmates is slim. But sometimes you're lucky enough to stumble across one. And you feel a tug. And it's not so much a choice to love them through their flaws and through your difference but rather you love them without even trying. You love their flaws."
Mud Vein is a story about a woman's journey to find the truth, her truth.  On her thirty-third birthday, Senna Richards awakens in a mysterious room.  It doesn't take long for her to realize that she's been drugged and kidnapped.  Peering out the window, she sees "all the snow in the world," tipping her off that she's far, far away from her Seattle home.  And she is not alone.   She's trapped in the cabin with the one person from her past that painted her black and white world with color, the one person she fought so hard to push away.
Senna Richards is one of the most heartbreaking yet captivating characters I have ever read.  Her past holds her prisoner.  Bound by hurt, abandonment and self-destruction, she holds the reins to her emotions, to her surroundings, and to all people she chooses to let in and out of her life.  She writes to the tune of white and black walls, to music with no words, and boxes away any feeling at all so that she doesn't have to feel pain.
"Things distracted me. Or maybe they complicated me. I didn't like to live with color. I wasn't always like that. I learned to survive better."
I fell for Senna Richards. I fell for her darkness and the shards of light that peeked through her cracks. I fell for her vulnerability and her strength.  Perhaps most the most tragic thing about her is that she was blind to the truth that was right in front her.  Fisher takes you on an emotional journey through Senna's past, through the pain and through her hurt.
"You've been silent your whole life. You were silent when we met, silent when you sufferent. Silent when life kept hitting you. I was like that too, a little. But not like you. You are a stillness. And I tried to move you. It didn't work.  But that doesn't mean you didn't move me. I heard everything you didn't say. I heard it so loudly that I couldn't shut it off. Your silence, Senna. I hear it so loudly."
Her life of isolation is put to the test when she is reacquainted with the one person from her past that fills her with color, sound and feeling. Isaac Asterholder holds onto a piece of Senna's past that she tried so desperately to bury deep, lock away, and forget about.  Isaac is Senna's fellow captor in the cabin in the middle of nowhere.  Senna met Isaac at moment of time in her life when she was falling in every sense of the word.  He carried her burdens for her.
"Birds are the only things that grow wings. We're just left to muck through the mire like a bunch of emotional cave men."
"Not if you have someone to carry you."
Fisher's intentional style of storytelling gripped me from the very beginning.  The way in which she reveals Senna's story was perfectly executed and exquisitely timed.  The most incredible thing about this book is what it does to your heart. I could feel every fear, moment of anger, intense feelings of love, painful hunger and sadness that Senna felt. This book made me feel not only for the characters but for myself.  Mud Vein made me look at myself and my life.  This book has words on the surface but it has a pulse and it has a heartbeat. It is living and breathing and its veins hook straight into your heart.
If I had to recommend one book to you this year, it would be this one.  This book is an experience you need to have.
5 stars
* I received a copy from the author in exchange for an honest review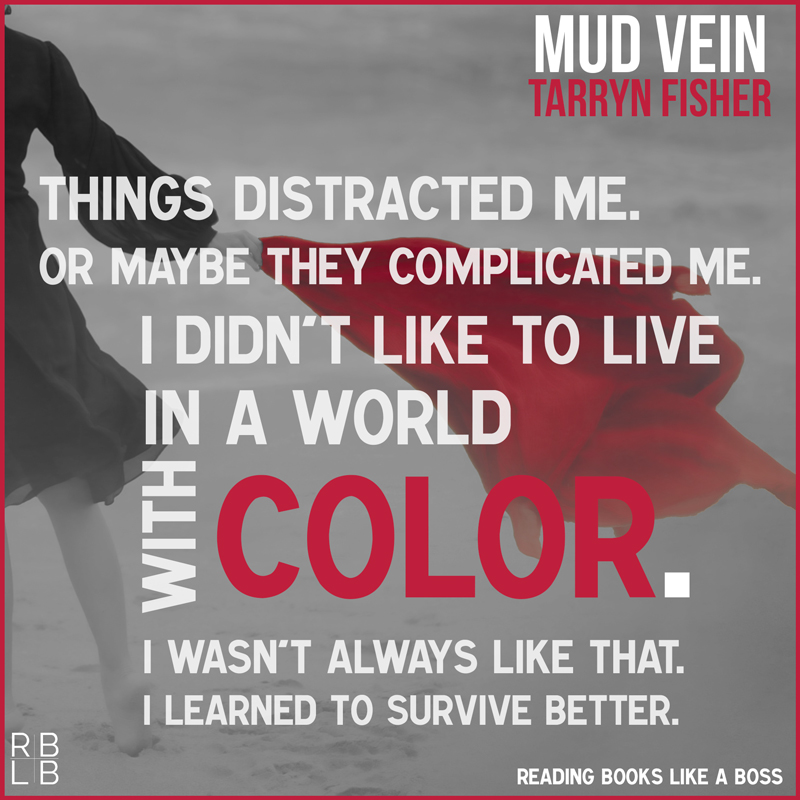 EXCERPT
When we are finished, Isaac clears the table and washes our plates. I stay where I am, stretching my arm across the wood and resting my head on the table to watch him. My head is spinning from the whiskey and my eyes are watering. Not watering. Crying. You're not crying, Senna. You don't know how. 
"Senna?" Isaac dries his hands on a dishtowel and straddles the bench to face me. "You're leaking fluid otherwise known as tears. Are you aware of this?"
I sniff pathetically. "I just hate croutons so much…"
He clears his throat and squashes a smile.
"As your doctor I'd advise you to sit up."
I sniff and straighten myself until I am in a sort of upright slump.
We are both straddling the bench, now, facing each other. Isaac reaches out both thumbs and uses them to clear my cheeks of tears. He stops when he is cupping my face between his hands.
"It hurts me when you cry." His voice is so earnest, so open. I can't speak like this. Everything I say sounds sterile and robotic.
I try to look away, but he holds my face so that I can't move. I don't like being this close to him. He starts seeping into my pores. It tingles.
"I'm crying, but I don't feel anything," I assure him.
He pulls his lips into a tight line and nods.
"Yes, I know. That's what hurts me the most."
✥ ✥ ✥ ✥ ✥
 ✥ ✥ ✥ ✥ ✥
Mud Vein Playlist
✥ ✥ ✥ ✥ ✥
About the Author: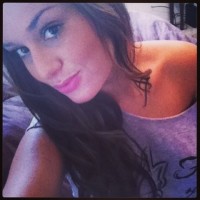 I am a real life villain, truly. I drink sick amounts of Starbucks. Most of the time my hair smells like coffee. I was born in South Africa, and lived there for most of my childhood. I moved to Seattle just for the rain. Rome is my favorite place in the world so far, Paris comes in at a close second. I read and write more than I sleep. When I was eleven, I wrote an entire novel about runaway orphans, using only purple ink. I am addicted to Florence and the Machine and will travel to see concerts. I love scary movies and giraffes. I spend way too much time on Facebook. Meet you there?…
Facebook | Twitter | Website | Goodreads
GIVEAWAYS GALORE!!
Win one of two e-copies of Mud Vein by Tarryn Fisher.  Copies provided by the author
3 SIGNED paperback copies of MUD VEIN, 2 – $10 Amazon or B&N Gift Cards (winners choice), 1 – Love Me With Lies bracelet.  Prizes furnished by Tarryn Fisher.
WIN A DATE WITH TARRYN FISHER
Join Tarryn on for a Fan Chat.  April 27th from 8-10pm EST.
(click on the banner to join the event on Facebook)