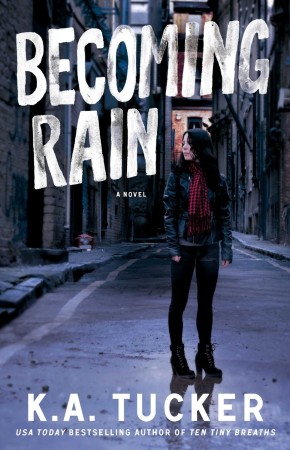 Becoming Rain
by
K.A. Tucker
Series:
Burying Water #2
Published by
Atria
,
Simon & Schuster
Publication date:
March 3, 2015
Genres:
Romantic Suspense
Narrator:
Elizabeth Louise
,
Josh Goodman
Length:
11 hrs and 28 mins
386 pagesFormat:
eARC
Source:
ARC via NetGalley
Luke Boone doesn't know exactly what his uncle Rust is involved in but he wants in on it-the cars, the money, the women. And it looks like he's finally getting his wish. When Rust hands him the managerial keys to the garage, they come with a second set—one that opens up the door to tons of cash and opportunity. Though it's not exactly legal, Luke's never been one to worry about that sort of thing. Especially when it puts him behind the wheel of a Porsche 911 and onto the radar of gorgeous socialite named Rain.

Clara Bertelli is at the top of her game—at only twenty-six years old, she's one of the most successful undercover officers in the Washington D.C. major crime unit, and she's just been handed a case that could catapult her career and expose one of the west coast's most notorious car theft rings. But, in order to do it, she'll need to go deep undercover as Rain Martines. Her target? The twenty-four-year old nephew of a key player who appears ready to follow in his uncle's footsteps.

As Clara drifts deeper into the luxurious lifestyle of Rain, and further into the arms of her very attractive and charming target, the lines between right and wrong start to blur, making her wonder if she'll be able to leave it all behind. Or if she'll even want to.
Affiliate Disclosure: This post contains affiliate links. In plain English, this means that I may receive a small commission (at no cost to you) if you purchase something through the links provided. This small income goes back into my blog, so I can continue to create fun content for you. I appreciate my readers and make it my goal to be upfront and honest. Thank you for supporting my blog!
Book Review:
Becoming Rain is a suspenseful read, centering around the world of illegal car sales. As soon as I started reading this book I couldn't wait to get further into it because it's about an undercover cop who fall sin love with her target. This book was really enjoyable to read, but it took me a really long time to get into this one and there were several moments that were just really slow.
Clara Bertonelli's dream is to work for the FBI and this undercover job shadowing Luke Boone, a wealthy nephew of a known criminal and future head of an illegal car sales business, could help her reach her dreams. Her job is easy. Make Luke want her by playing the part of the gold-digging girl, Rain Martines,  he usually takes home and make him talk. But the more time she spends with him, the more she likes him and realizes that he is acutally a good guy who is just starting out working on the dirty side of things for his uncle.
This book is about Luke Boone, Jesse's friend in Burying Water. I would highly recommend you read Burying Water before diving into this one because it provides a lot of set up for the organized crime storyline and you get more background on Luke.
I really liked Rain/Clara a lot! She had a strong moral compass and just wanted to do the right thing. Her internal struggle between doing what was best for her career and following her heart was what propelled me to keep reading. I wanted to know what she chose. The whole book I was just waiting to see what was going to happen when it's revealed that Rain is actually an undercover agent. And while I was excited about that moment, I knew it was going to be so sad for Luke because dang it, I liked him, too.
Luke was brought up in this world of crime and it really wasn't until recently that his uncle started to clue him in on what was really going on. I felt for him too because he was sort of used as a pawn. His uncle put him in dangerous situations without fully revealing the intricacies of the situation.
The romance in this one was a very slow burn, just like the previous novel in the series. Slow burns are the best! This one was filled with a ton of tension because Clara was forced to hold back due to her job but she didn't want to hold back. She fell hard for Luke and her unwanted reluctance to kiss him or go further created this great tension!
* I received a copy from the publisher in exchange for an honest review.