What I'm Digging is a weekly feature in which I share my bookish finds with you. This can range from jewelry to clothes to home decorations. I find so many neat bookish things on Pinterest, Etsy, and elsewhere. I thought I would share my finds with you. Who doesn't love book-related goodies?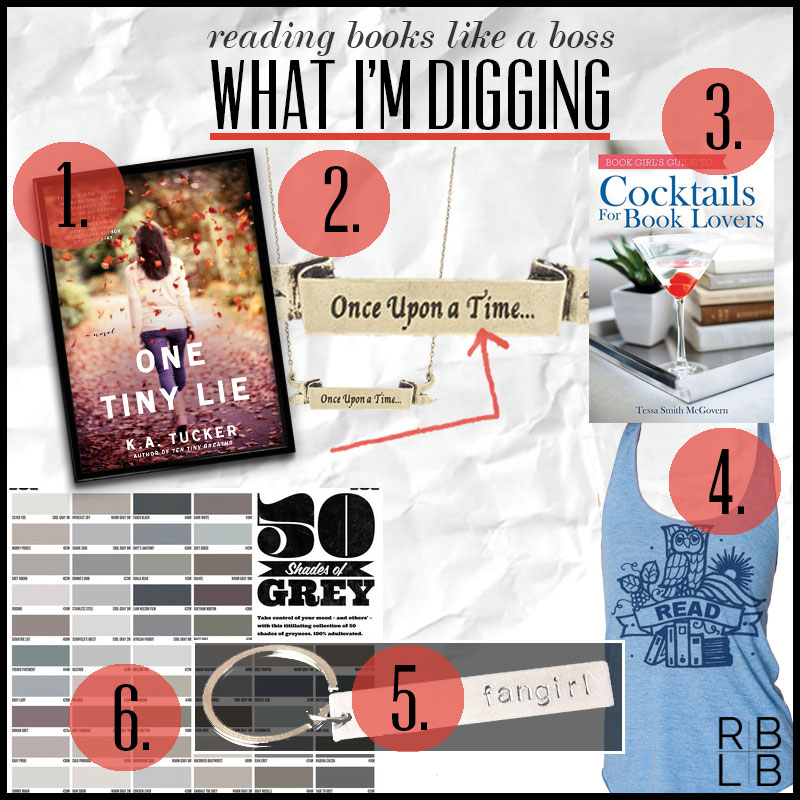 1.) One Tiny Lie by K.A. Tucker
I freaking loved this book.  Ashton is my kind of hero. He's a little brooding and a little tortured. I also loved Livvie and her journey of self-discovery! The two of them together are a magnetic and hot!
Add on Goodreads
$7.59, Amazon
2.) Once Upon a Time Necklace
Thanks to my friend, Steph from No BS Book Reviews for pointing this awesome necklace out! I want one for myself!
$14.99, Modclock
3.) Cocktails for Book Lovers
Okay, seriously?  A book that combines drinking and books?  I need this! One-click!
$9.30, Amazon
4.) Owl READ tank top
 All the cool kids wear things with owls on it and reading is cool, so you should probably buy this tank top and you'll be cool too.
$18.00, Etsy (Seller: skipnwhistle)
5.) Fangirl Keychain
Shout out to my friends Maura and Belen. When I saw this keychain with the word, "Fangirl" I thought of you and your love for Rainbow Rowell's book of the same name. 🙂
$9.00, Etsy (Seller: GeekTags)
6.) Literally Fifty Shades of Grey Poster
I've seen this before and thought it was funny.  I absolutely love this series. It reignited my love for reading a couple of years ago.  I should get this print out of pure appreciation.
$9.97, Bookish England
Which of my picks this week would you choose?  Have you found any fun book-related goodies lately?