What I'm Digging is a feature in which I share my bookish finds with you. This can range from jewelry to clothes to home decorations. I find so many neat bookish things on Pinterest, Etsy, and elsewhere. I thought I would share my finds with you. Who doesn't love book-related goodies?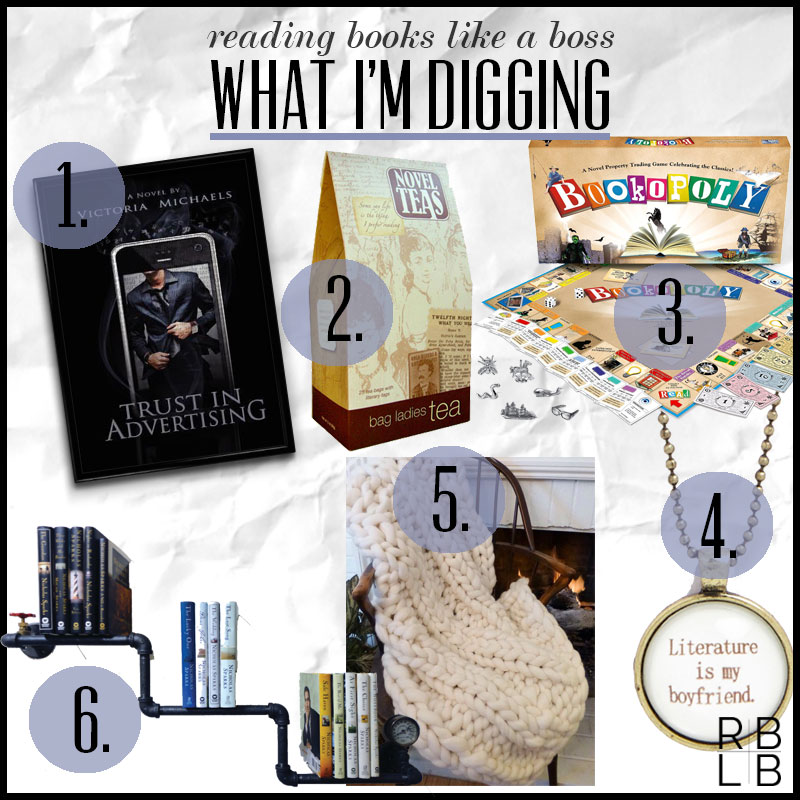 1.) Trust in Advertising by Victoria Michaels
I read Trust in Advertising a couple of years ago and really enjoyed it. The heroine gets a job at an ad agency.  Her boss is her high school crush and he's not exactly nice to her.  It's a fun read!!
Add on Goodreads
$3.99, Amazon
2.) Book-themed Tea!
Tea lovers, you can read your favorite book and curl up with these book-themed tea. It's aptly named Novel Teas.
"Novel Teas contains 25 teabags individually tagged with literary quotes from the world over, made with the finest English Breakfast tea."
$12.50, Bag Ladies Tea
3.) Bookopoly Board Game
I know Monopoly isn't for everyone but I happen to love it! "The Classic property trading game you all have come to know and love, only this time with a Book theme."
$55.00, Amazon
4.) Literature is my Boyfriend Necklace
$12.99, Modcloth
5.) Cozy Reading Blanket
I want to light a fire and cozy up with this blanket and a book, don't you?
$180.00, Etsy (Seller: ColorwaysGallery)
6.) Industrial Pipe Bookshelf
This bookshelf is so unique! Each shelf is handmade and made in 'Merica. 🙂
$139.97, Etsy (Seller: Mobeedesigns)
Which of my picks this week would you choose?  Have you found any fun book-related goodies lately?