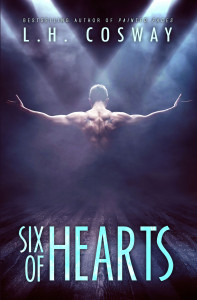 Six of Hearts
by
L.H. Cosway
Series:
Hearts #1
Published by
Self-Published
Publication date:
July 26, 2014
Genres:
Contemporary Romance
,
New Adult
,
Romance
Format:
eARC
Source:
ARC via author
Step right up and meet Jay Fields: Illusionist. Mentalist. Trickster.

I think in triangles. You think in straight lines.

I show you a table and make you believe it's a chair.

Smoke and mirrors, sleight of hand, misdirection. I trick and deceive.

But most of all, I put on a good show.

The world thinks I killed a man, but I didn't. Bear with me. It's all a part of the plan.

Revenge is what I want. I want it for me and I want it for her.
I want it for all six of us.

She doesn't remember me, but she's the reason for everything. She'll be my prize at the end of all this – if I can hold onto my willpower, that is. Maybe I'll slip up a little, have a taste, just a small one.

So go ahead and pick a card. Come inside and see the show. Look at my hands, look so closely that you can't see what's happening while you're so focused on looking. I'll be destroying your world from right here in the spotlight.

You'll never see me coming until it's too late.

I've only got one heart, and after I've pulled off my grand deception I'll hand it right to her.

So, sit back, relax, and let my girl tell you our story. You're in for one hell of a ride.

**Suitable for readers 18 years and over. Contains sex scenes and adult language.**
Affiliate Disclosure: This post contains affiliate links. In plain English, this means that I may receive a small commission (at no cost to you) if you purchase something through the links provided. This small income goes back into my blog, so I can continue to create fun content for you. I appreciate my readers and make it my goal to be upfront and honest. Thank you for supporting my blog!
"I might tell you that you're mine. But you need to understand that it goes both ways. I belong to you, too."
L.H. Cosway is one of my go-to authors.  When I saw that the hero in her next book was an illusionist, I was completely intrigued.  I was also a little creeped out.  David Blaine is creepy and couldn't picture falling in love with a guy like that.  But Jay Fields is nothing like David Blaine.  He oozes sex appeal, is incredibly discerning, and has a big heart. Six of Hearts was an entertaining, magical and so full of emotion. I couldn't put it down.
Jay Fields makes his living by tricking people, by making people believe one thing is something else entirely. He finds himself in a world of trouble when one of the volunteers in his televised "Buried Alive" stunt dies of a heart attack hours after leaving the show.  Afterwards, an Irish newspaper places the blame on Ja,y accusing him of causing the man's death.  But were these two incidents connected? Is Jay responsible for this man's death?
With his public image complete smeared, Jay decides to take down the newspaper that for the lies they printed. Jay finds a local solicitor, Hugh Brandon, who is a seasoned attorney but maybe not the best man for such a high-profile case.  There, Jay meets Matilda Brandon, daughter of Hugh and his legal secretary.  As luck would have it Hugh is looking to rent out a room in his house and Jay just happens to be looking for a place to stay.  Despite driving a car worth more than 100,000 euros, he chooses to live modestly until he can find a place of his own. Matilda Brandon acquired quite the attractive housemate.  GAH!
Matilda Brandon is a little bit socially awkward when it comes to guys.  She isn't some naive innocent woman (thank heavens). She is on the quest that most are on – to find that sort of toe-curling, butterfly-inducing love.  So when she sees this man who is the physical embodiment of sex appeal walking down the street she is quite taken aback.  She freaks when she sees him in his father's law office.  And then dies when her father agrees to let him move in.
"Do you like me? I ask, hating how insecure I sound.

"Of course I like you. I enjoy your company a lot."

"I don't mean in a friends way," I bolster on disappointedly. Someone liking me as a friend isn't the kind of epic love I'v3e been waiting for my entire life for.

His hand goes to my arm as he leans his head on my shoulder, his breath hitting the back of my neck. "You have no idea," he whispers.

A minute passes and this his heat is gone. I turn around just in time to see him shutting the door behind him.
Cosway always writes couples very well.  In both Painted Faces and Still Life With Strings, she cultivates their relationship and developing feelings in a way that makes me believe that the characters are compatible on a basic level.  As a reader, I am able to feel and experience the feelings develop along with the characters.
Matilda and Jay click from the very beginning, despite their differences.  I absolutely loved their terms of endearment for one another – Watson and Holmes.  Jay calls Matilda Watson for her incessant curiosity, and Matilda calls Jay Sherlock for his investigational skills, which become more and more known as the story goes on.
The building emotional intensity between Matilda and Jay is what propel the story forward and kept me frantically turning the pages. It's that emotional connection between the characters and the building sexual that left me wanting MORE MORE MORE!
"Wow. You're good," I breathe. "I know you took it, I just can't figure out when or how."

His smile grows wider as he chews his food. Then his voice deepens as he replies cheekily, "You don't know the half of how good I am."
The longer they denied the physical attraction that was building between the two of them, the more I wanted them to give in to one another.  There were so many "almost" moments that left me with the biggest smile on my face, yet frustrated (in a good way) for the characters.
"When have you seen me shuffle a deck?"

"In those videos I watched of you, remember?"

He seems pleased with that answer. "Be honest, you watch them every night before you sleep, don't you?"

"I do not! I only watched them that one time."

"Liar. You love watching me do my tricks. They're liking your own little version of porn. I bet you have a fucking great time watching…in bed."
Jay Fields' endgame took years to plan.  At the end, I loved him more for what he went through to achieve his goal.
**I received a copy from the author in exchange for an honest review.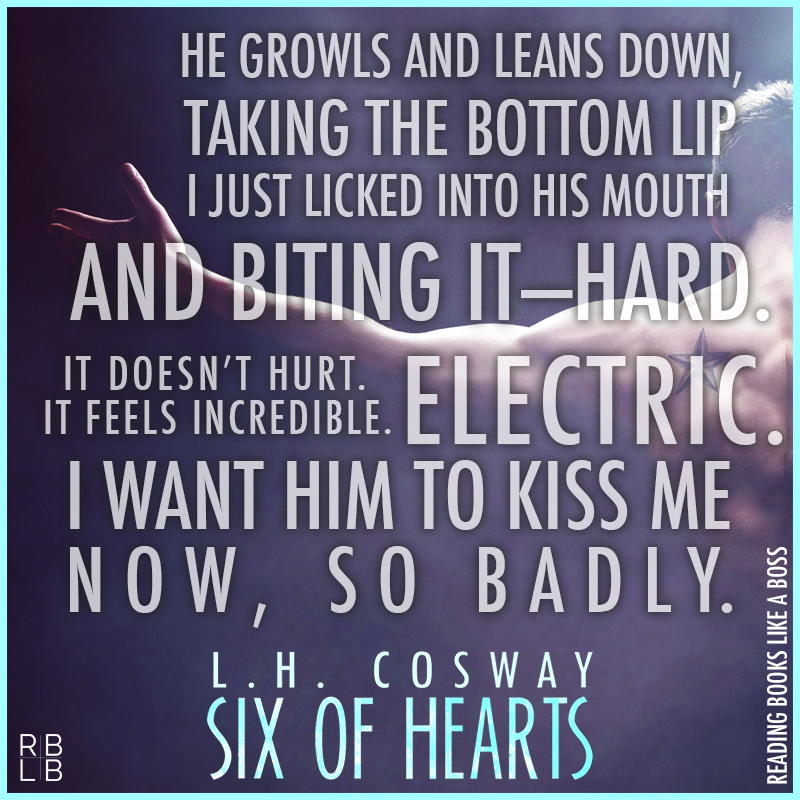 INTERVIEW WITH AUTHOR L.H. COSWAY:
Your heroes are always so distinctive:  There was Nicholas/Vivica Blue, a straight drag queen in Painted Faces (one of my all-time favorites); Shane, a virtuosic violinist in Still Life With Strings; and in Six of Hearts Jay Fields is a mysterious illusionist.  How do you decide what professions to give your characters?
I've always been a big fan of fringe artists, people who do weird and wonderful things to make a living, so that's where Nicholas and Jay's professions came from. And classical music is a big love of mine, so I thought I'd write about a violinist, hence Shane.
Can you tell us a little bit about what inspired you to write Six of Hearts?  Did you have a dream or what? LOL!
I didn't have a dream. I'm not Stephenie Meyer, lol. I tend to spend (waste) a lot of time dreaming up random scenarios though. So usually my books grow from just one scene. With Six of Hearts, I could see this girl in her twenties at a bar going on a blind date, but she gets stood up. Then her guy friend who's a magician turns up. He knows she's been stood up so he starts performing a trick out on the street to lift her spirits. She sits at the bar, laughing reluctantly at his crazy antics. This particular scene evolved into the one where they go to meet Matilda's friend Michelle at a bar for the first time.
Your books are always so vivid.  There are so many moments in each of your books where I could visualize everything and feel the emotions of the characters.  For example, the concert scene in Painted Faces, the reveal of Shane's position in the orchestra, and magic show scene in Six of Hearts.  Do you usually come up with those scenes or are they more a product of your characters?  Can you tell us a little bit about that?
I tend to have a whole bunch of scenes that I know are going to happen at the beginning, middle and end of a book. Then the rest come to me as I'm writing. As the characters interact, I start to see all these things that are going to happen between them, so in a sense they are a product of the characters.
The three books of yours that I've read take place in Dublin, Ireland. How has Dublin inspired your writing?
I've lived in Dublin city for the better part of ten years now, so it's really got a personality all of its own for me. I find it a lot easier to write about places that I know intimately. I like to be able to picture where the characters are at any particular time. I feel like I know every single nook and cranny of Dublin, so it really inspires me to write. When I think of the first scene in Still Life with Strings on Grafton Street, it feels like the most real scene I've ever written. Almost to the point where I sometimes think it might have actually happened. This is probably because I walk through this street almost on a daily basis and there are so many characters just like Shane and Jade there.
Can you tell us your favorite scene(s) to write in Six of Hearts (without spoilers, of course)?
I loved writing the chapter about Jessie's birthday party where Jay was all grumpy and jealous. I also enjoyed the one where Jay performed on the street for his fans. I could feel his affection for the people who support him and his need to give them something in return.
Can you tell us what you have in the works next?  We're dying here!!
My next full-length book will be a romance set in a travelling circus. It's not about Jay and Matilda, but it is Six of Hearts related 😉 That's all I'll say for now! I'm also going to be writing a romantic comedy later this year with Penny Reid that I'm really excited about since she is just flippin' amazing.
Finish the sentence:  One book I wish I had written is….
The Picture of Dorian Gray by Oscar Wilde.
What is one thing that most people don't know about you?
I used to be in a rock band.
Whoa! Really? That's kind of awesome!  Who is your favorite book couple and why?
Gah! How to choose? Can I pick two? Okay, here are my two faves. Quinn & Janie from Penny Reid's Neanderthal Seeks Human because to me they complement each other perfectly. He's all cool, dark and brooding and she's all awkward and hilarious. And secondly, Perry & Dex from Karina Halle's Experiment in Terror series, because those two literally feel like real people to me now. I feel like I know them, which is quite spooky.
I LOVE Dex and Perry too!! What books have you read recently and LOVED?
Reclaiming The Sand by A. Meredith Walters was a beautiful book and made me cry. Very Wicked Things by Ilsa Madden-Mills was also amazing. She does New Adult so well.
What is your guilty pleasure?
The flashy outfits worn by ballroom dancers. I just can't get enough.
Lightning Round:
Night owl, or early bird?
Night owl in winter, early bird in summer.
Chocolate or Vanilla?
Chocolate.
Beer or wine?
Wine.
Unicorns or Dragons?
Dragons!
BIG NEWS!!!! I just found out that L.H. Cosway is writing a book in Nicholas's (from Painted Faces) POV called KILLER QUEEN!  Commence FREAK OUT!!!
By entering this giveaway, you are agreeing to my terms and conditions.  Good luck!