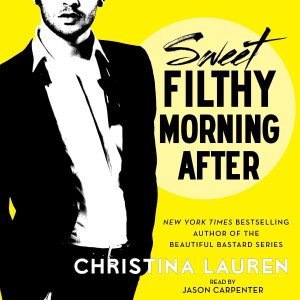 Sweet Filthy Morning After
by
Christina Lauren
Series:
Wild Seasons #1.5
Published by
Gallery Books
,
Simon & Schuster
Publication date:
October 14, 2014
Genres:
New Adult
,
Romance
Narrator:
Jason Carpenter
Length:
30 min.
Format:
Audiobook
Source:
Purchased
This audio exclusive short tells of events from Sweet Filthy Boy from a new perspective.
.
Affiliate Disclosure: This post contains affiliate links. In plain English, this means that I may receive a small commission (at no cost to you) if you purchase something through the links provided. This small income goes back into my blog, so I can continue to create fun content for you. I appreciate my readers and make it my goal to be upfront and honest. Thank you for supporting my blog!
Book Review:
I read Sweet Filthy Boy this past summer and fell in love with Ansel. I'm such a fan of sweet and caring heroes. Ansel was just that: thoughtful, sweet, swoon-worthy with a hint of naughty.  I wasn't alone in my book boyfriend crush.  Many others loved him too, so I was elated when Christina Lauren released Sweet Filthy Morning After!
I would recommend that you read Sweet Filthy Boy prior to listening to this audiobook. I don't think you would fully appreciate this short story without reading that one first.  This audiobook is Ansel's point-of-view of when he met Mia and the morning after a night of drunken debauchery.  I loved how transfixed he was with Mia from the beginning. It's clear that he felt strongly for her from the very beginning. Listening to this
"I can't believe for even a heartbeat that I forgot what happened with Mia. The first thing I noticed was her mouth, full and round, lips the color of cherries and so red it was almost obscene.  It sounds cliche that my first reaction was to think of sex, but Jesus it's all that came to mind thinking of those lips.
Yeah, he was pretty much saying thing like that the whole time.
"Green eyes met mine and there wasn't a chance in hell I was going to be able to pull my feet from where they seemed to be bolted to the floor, let alone remember my own name. I'd seen a hundred girls look at me like that from across a room, but it had never felt like that, like the air had ignited in the space between us and the breath had been knocked from my lungs. I didn't blink, didn't breathe, didn't hear a decibel of the pounding bass or the drunken shouts of the people around me. I'd been reduced to butterflies in my stomach and the growing weight of my own smile as it stretched across my face."
It's hard to rate this short story because it's so short, so I am going to give it the same rating as Sweet Filthy Boy. Sweet Filthy Morning After is really a part of Sweet Filthy Boy and is about the length of a chapter.
Audiobook Comments: This audiobook is narrated by Jason Carpenter.  I read on xoxoafterdark.com that Jason Carpenter was raised speaking French, so he was the PERFECT choice from my sweet French Ansel.  The narration was done so well.  His French accent was so…well..HOT!  I've listened to other books narrated by Jason Carpenter and I've found his voice inflictions strange, but I didn't notice it in this one.
3 stars