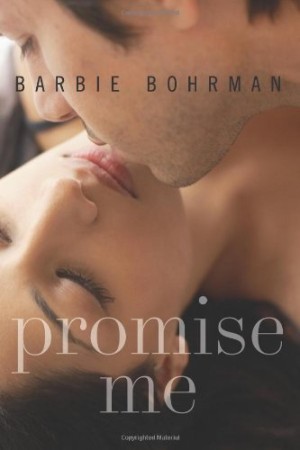 Promise Me
by
Barbie Bohrman
Published by
Amazon Publishing
,
Montlake Romance
Publication date:
June 11, 2013
Genres:
Contemporary Romance
,
New Adult
322 pagesFormat:
eBook
Source:
ARC via author
Sabrina Chandler must go back home to face her past and confront her once best friend and ex-boyfriend who betrayed her in the worst way possible.

Returning to her past also means coming face to face with the boy who was standing in the shadows one fateful night. The same boy she made a promise to and who unknowingly walked away with her heart.

Can she move forward with her life when her heart is still 10 years in the past?
Affiliate Disclosure: This post contains affiliate links. In plain English, this means that I may receive a small commission (at no cost to you) if you purchase something through the links provided. This small income goes back into my blog, so I can continue to create fun content for you. I appreciate my readers and make it my goal to be upfront and honest. Thank you for supporting my blog!
Book Review:
"The way I feel when I'm around you, I've never felt anything like it before. I want to be a part of you…your life, because everything…every little piece of me was always meant to be yours."
Promise Me is a story of moving on after heartbreak, forgiveness, and second chances.  After finishing the prologue, I knew I was going to enjoy this book.  Promise Me is Barbie Bohrman's debut novel and I will certainly be reading her next one.  Any author who references J.J. Abrams multiple times is a must read.
Sabrina had her heart broken in high school after catching Chris and Lisa, her then-boyfriend and best friend, kissing at a party that they thought she wasn't going to be attending.  Tyler sees her crying and drives her home as tears fall down her cheeks.  He takes care of her and makes her promise him that she will cut Chris and Lisa out her life and move on until she can get out of town. That night she felt this charge, this connection with Tyler that she never had with Chris, but she never got a chance to pursue any sort of relationship with Tyler.  That was 10 years ago.  Now, she's working in an art museum in Miami far away from the ghosts of her past in her hometown of Skippack, Pennsylvania.  The comfort she's attained after avoiding her past erodes away quickly when she gets an invite to her 10-year high school reunion.  After all these years, she longs to see Tyler again to see if there was something between them.
Sabrina spent the last 10 years running away from her past.  She's built a comfortable life with her best friend and roommate, Julia, in Miami.  Sabrina is very goal-oriented when it comes to her career, but because of what happened in high school, she is less focused when it comes to her dating life.  She's dated since Chris but never found anyone that made her feel like Tyler did that night many so many years go.  Sabrina reluctantly goes to her high school reunion hoping to see Tyler.  To her surprise, Tyler shows up in a delicious tailored suit.  When they see each other it was almost as if no time had passed.  They immediately hit it off and Tyler invited her back to his hotel room.  Awwwwh yayah!
I LOVE TYLER!  I rooted for him from the beginning, but Tyler had a little competition in the form of Sabrina's boss, Alex.  In my mind, Alex was no match for Tyler.  Tyler has everything you want in a book boyfriend – charm, striking good looks, and a deep devotion for the woman he loves.  He is the type of guy that will do whatever it takes to prove himself.  After high school, he worked his way up in the restaurant business.  Now, he owns a successful restaurant and is doing very well. Perhaps, he worked so hard just in case Sabrina came back.  That's what I want to believe.  I'm a romantic.
"No girl could have ever compare to you anyway.  You were…and still are, way out of my league."
One of my favorite moments was when when Sabrina's mom goes off on Lisa in public.  Sabrina never told her mother what happened between Chris and Lisa until she came home for the first time.  Her mom was livid and laid the smackdown on Lisa, mega bitch number 1.  It was very satisfying for me as the reader to see Lisa put in her place – first by Sabrina's mom and then later by Sabrina at the reunion.  Aside from Lisa, the other main conflict/mega bitch was Ava, a woman working at Tyler's restaurant.  At one point, I want to scream and slap the ever-living crap out of her.  She was ruining all of my happiness!!!
I absolutely must mention how much I LOVED Julia.  She is the best friend that ever girl wants – the brutally honest friend who DGAF what anyone thinks or says about her.  She is quite the spit fire and cracked me up! I really admired her loyalty to Sabrina.  She was armed and ready to spit verbal venom on anyone who hurt her best friend.
"He's a piece of shit and deserves to have his dick shrivel up and fall off. But, there is a whole other level of bottom feeders, and that's where your girl Lisa is for what she did to you."

Julia on waxing:  "When he finally strips you down you won't have to worry if it looks like you have a Chewbacca trapped between your legs."
**I received ARC from the author in exchange for an honest review.
 Favorite Quotes:
"In matters of the heart, it's always messy."
"When I saw you tonight for the first time after all these years, I was blown away. But seeing you in my shirt is probably the sexist thing I've ever seen in my life."