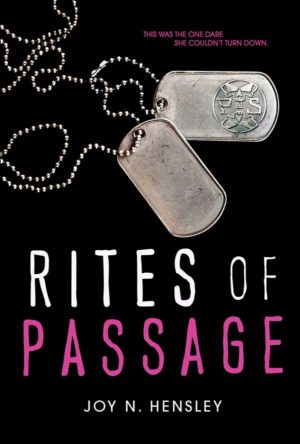 Rites of Passage
by
Joy N. Hensley
Published by
Harper Teen
Publication date:
September 9, 2014
Genres:
Romance
,
Young Adult
421 pagesFormat:
eARC
Source:
Publisher
Sam McKenna's never turned down a dare. And she's not going to start with the last one her brother gave her before he died.

So Sam joins the first-ever class of girls at the prestigious Denmark Military Academy. She's expecting push-ups and long runs, rope climbing and mud-crawling. As a military brat, she can handle an obstacle course just as well as the boys. She's even expecting the hostility she gets from some of the cadets who don't think girls belong there. What she's not expecting is her fiery attraction to her drill sergeant. But dating is strictly forbidden and Sam won't risk her future, or the dare, on something so petty... no matter how much she wants him.

As Sam struggles to prove herself, she discovers that some of the boys don't just want her gone—they will stop at nothing to drive her out. When their petty threats turn to brutal hazing, bleeding into every corner of her life, she realizes they are not acting alone. A decades-old secret society is alive and active… and determined to force her out.
At any cost.

Now time's running short. Sam must decide who she can trust... and choosing the wrong person could have deadly consequences.
Affiliate Disclosure: This post contains affiliate links. In plain English, this means that I may receive a small commission (at no cost to you) if you purchase something through the links provided. This small income goes back into my blog, so I can continue to create fun content for you. I appreciate my readers and make it my goal to be upfront and honest. Thank you for supporting my blog!
RITES OF PASSAGE is a compelling and addictive read with a painfully honest view of what it's like inside a high school military academy. The author herself went to military school, so it's safe to say what we're getting is a front row sea of the sorts of things that can happen.
On a dare, Sam attends Denmark Military Academy as one of the first girls to ever attend the class. But not all of her fellow classmates want her there. A secret society tries to take her out by force, with beatings and sabotage. Could her brother, who's the head of the school, be involved? Sam and her drill sergeant team up to uncover who's responsible and rid the DMA of danger and corruption.
I've had this book on my to-read list for years. I remember how much Paula and Nereyda enjoyed this book back when it released. As a lover of forbidden romances, I've always had this one on my "finish as soon as I'm done with reviewing commitments" list.
Sam is one of the strongest (physically and emotionally) young adult heroines I've read in a long time. She endures horribly painful conditions at the hands of her classmates. Most would have waived the white flag and gone home, but not Sam. She gets shot in the side with a rubber bullet and finishes a races. Badass. I admired her so much and she is such a great example for young readers of fighting against adversity.
Drill is Sam's drill sergeant. When you think of drill sergeant's you probably think they spend the day yelling at all the recruits. But in this one that's the job of Corporal Matthews. Drill is above Matthews in terms of rank and helps keep him in check. But Drill can't physically be around at all times, giving Matthews free reign to be a horrible person—and boy does he take advantage of that.
I really liked Drill a lot. He was Sam's protector; well as far as Sam would let him be his protector. She can protect herself. He was sweet and thoughtful and I loved the lengths he would go to help Sam. They had to keep their feelings for each other a secret since it's against school rules for recruits to date superior officers.
The forbidden nature of their romance had me even more excited but I felt like their romantic relationship came out of nowhere. They had next to no interaction with each other before they were admitting that they had feelings. I wish there had been a little more build up. But once I got over the beginnings, I absolutely loved them working together within the school to find out who keeps trying to hurt Sam.
There are several heated moments between Drill and Sam, filled with so much tension and restraint. I loved it! But I thought we would get something in the end with them giving in to their feelings and finally getting to have a moment to simply be with one another. Unfortunately, that didn't happen because…reasons. I can sort of get why the book ended the way it did because Sam's journey through this school was the main focus, not the romance. But that doesn't mean I have to be completely satisfied!
I'd love a follow-up to this novel considering what happens at the end. Hensley definitely leaves the door open for more! I'd definitely recommend this one for die hard lovers of forbidden romances and strong heroines. I'm waiting patiently for Joy N. Hensley's next novel!
* Thanks to Harper Teen for providing me with a copy of this book for review. Sorry it took me so long to finally get to it!