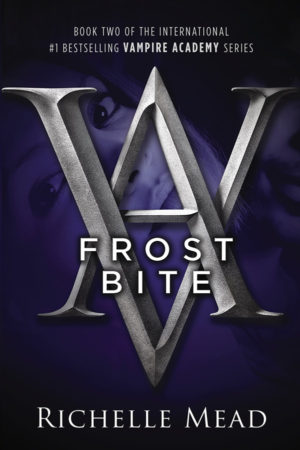 Frostbite
by
Richelle Mead
Series:
Vampire Academy #2
Published by
Razorbill
Publication date:
April 10, 2008
Genres:
Paranormal Romance
,
Young Adult
352 pagesFormat:
eBook
Source:
Purchased
Rose loves Dimitri, Dimitri might love Tasha, and Mason would die to be with Rose…

It's winter break at St. Vladimir's, but Rose is feeling anything but festive. A massive Strigoi attack has put the school on high alert, and now the Academy's crawling with Guardians—including Rose's hard-hitting mother, Janine Hathaway. And if hand-to-hand combat with her mom wasn't bad enough, Rose's tutor Dimitri has his eye on someone else, her friend Mason's got a huge crush on her, and Rose keeps getting stuck in Lissa's head while she's making out with her boyfriend, Christian! The Strigoi are closing in, and the Academy's not taking any risks.... This year, St. Vlad's annual holiday ski trip is mandatory.

But the glittering winter landscape and the posh Idaho resort only create the illusion of safety. When three friends run away in an offensive move against the deadly Strigoi, Rose must join forces with Christian to rescue them. But heroism rarely comes without a price…
Affiliate Disclosure: This post contains affiliate links. In plain English, this means that I may receive a small commission (at no cost to you) if you purchase something through the links provided. This small income goes back into my blog, so I can continue to create fun content for you. I appreciate my readers and make it my goal to be upfront and honest. Thank you for supporting my blog!
Richelle Mead ramps up the action, angst, and intense emotions in FROSTBITE. By the end, I didn't know whether to be happy or sad. I guess I should stop wasting time and read the next book.
In FROSTBITE, the threat of the Strigoi increases, forcing Moroi and dhampirs to begin to think outside the box in order to protect everyone. Tensions rise between Rose and Dimitri when Dimitri's friend and royal Moroi, Tasha, returns to the Academy, leaving Rose with a broken heart. Rose moves on with someone else, but her heart still aches. Most importantly, we meet one of my favorite characters—Adrian Ivashkov—whose charisma and tangible. The scenes with Adrian are so addictive.
Richelle Mead is a master at making you fall in love with her characters. I care so deeply for Rose in this one, even though she's snarky, a little reckless at times, and more than a little impulsive. Underneath her hard exterior, she's vulnerable. Rose goes through a lot with her mother, her friends, and the desires of her heart that I just couldn't help but feel terrible for her.
Packed in with the emotional moments are more than a few funny ones. With the introduction of Adrian, the laughs were plentiful. The scenes with Rose and Adrian are especially entertaining with their verbal sparring matches. I couldn't help but laugh.
So where does FROSTBITE leave our two lovers, Rose and Dimitri? I'm not going to say. But I will say there is angst, longing, heartbreak, and a little bit of hope. I devoured this book in no time. While I loved all of it, I was transfixed by the Rose and Dimitri scenes. I love the way Mead has built their love story. The scenes are packed with loads of unspoken feelings and meaningful looks.
Does anyone else die a little bit inside when Dimitri calls Rose "Roza" or is that just me? The Russian version of her name is a term of endearment, something he mutters when emotions run high. When Dimitri calls her that, you know that Rose has to know exactly how he feels about her!
I'm so happy I decided to reread this series! I am having an absolute blast experiencing the emotions all over again!