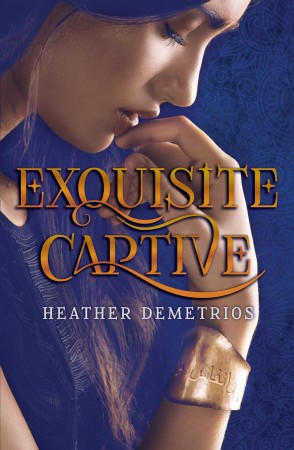 Exquisite Captive
by
Heather Demetrios
Series:
Dark Caravan Cycle #1
Published by
Balzer + Bray
,
HarperCollins
Publication date:
October 7th 2014
Genres:
Fantasy
,
Young Adult
Narrator:
Erin Mallon
Length:
13 hrs and 44 mins
480 pagesFormat:
Audiobook
Source:
Publisher
For fans of Laini Taylor's Daughter of Smoke and Bone series and Leigh Bardugo's Grisha Trilogy comes the first book in the Dark Caravan Cycle, a modern fantasy-adventure trilogy about a gorgeous, fierce eighteen-year-old jinni who is pitted against two magnetic adversaries, both of whom want her—and need her—to make their wishes come true.

Nalia is a jinni of tremendous ancient power, the only survivor of a coup that killed nearly everyone she loved. Now in hiding on the dark caravan—the lucrative jinni slave trade between Arjinna and Earth, where jinn are forced to grant wishes and obey their human masters' every command—she'd give almost anything to be free of the golden shackles that bind her to Malek, her handsome, cruel master, and his lavish Hollywood lifestyle. Enter Raif, the enigmatic leader of Arjinna's revolution and Nalia's sworn enemy. He promises to release Nalia from her master so she can return to her ravaged homeland and free her imprisoned brother. There's just one catch: for Raif's unbinding magic to work, Nalia must gain possession of her bottle . . . and convince the dangerously persuasive Malek that she truly loves him.
Affiliate Disclosure: This post contains affiliate links. In plain English, this means that I may receive a small commission (at no cost to you) if you purchase something through the links provided. This small income goes back into my blog, so I can continue to create fun content for you. I appreciate my readers and make it my goal to be upfront and honest. Thank you for supporting my blog!
Audiobook Review:
Wow! Exquisite Captive was an imaginative and lush fantasy filled with mythology, vivid imagery, magic, and romance. Heather Demetrios blends Middle Eastern culture with modern-day Los Angeles in this gripping tale about a young jinni afflicted with memories of her past fighting for her freedom. This story was so fresh and unique and I enjoyed it so much!
Nalia is an eighteen-year-old jinni who was sold on the Dark Caravan, a secret underground operation that sells jinni from Arijinna to the affluent on earth. Nalia has been with Malek for three years. Until recently, Malek has been cruel, locking Nalia in her bottle exposed to iron poisoning for months at a time. Now he's softer and even affectionate towards. She is trapped with him until she grants all of his wishes.
I really liked Nalia's character a lot. She's strong and resilient against. She has seen and done a lot of horrible things that have forced her to grow up a lot. Because of that she's more mature for her age. She is a fighter and will stop at nothing to get back to Arjinna so that she can rescue her brother from the Ifrit takeover. Throughout the novel, Nalia struggles with her past, carrying this immense guilt for
Now for the romance. Nalia's master, Malek, is a wealthy, mysterious businessman who uses Nalia's gifts to get richer. But like I said earlier, he starts treating her differently. He is sweet and caring towards her, taking her on dates. Like Nalia, I had conflicted feelings towards Malek. He's a man of immense power, who had the means to banish Nalia to her bottle at any time. Between him and Raif, he's definitely the darker, bad boy of the two. He loves her and desperately wants him to love her back, but it's clear she's so confused she doesn't know which way is up. I loved being able to feel her internal struggle. Boy did I feel it, especially after the scene in her bedroom. Is this YA? Whew!
Meanwhile, Nalia meets Raif a lower caste free jinni who came to Earth specifically to find Nalia, a girl he is determined to hate. He is the leader of a revolution to overthrow the evil rulers of Arjinna and, like Malek, he also needs Nalia to do something for him. As the last surviving member of the Ghan Assouri (the former ruling caste of Arjinna), Raif doesn't exactly want to be around her, given the fact that her people killed his father.
What I loved about the relatioship between Nalia and Raif was slowly it developed. Raif reluctantly and slowly fell in love with Nalia. As he saw what her life was like with Malek and what she's had to sacrifice, his prejudices and hatred chipped away. He saw her for the young, sweet jinni she was instead of this horrible monster he had built her up to be in his head.
This book is very love triangle-esque. It has all the makings of a love triangle. One girl is torn between two men. She is conflicted over which one to choose. But it's a little more complicated than your normal love triangle recipe. You'll see…
While I was immediately entranced by the world, I found the beginning of the book to be really slow. This book is told in third person, which doesn't bother me, but the long narrative passages slowed down the pacing.
3 stars
* I received a copy of the audiobook from the publisher in exchange for an honest review.
Amazon: US • UK • CAN | iBooks | GR