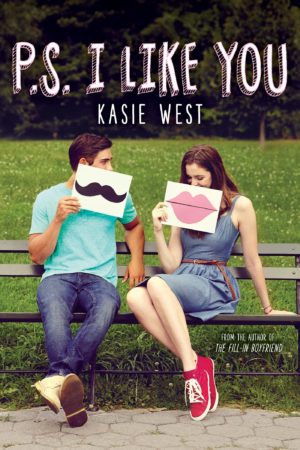 P.S. I Like You
by
Kasie West
Published by
Point
,
Scholastic
Publication date:
July 26, 2016
Genres:
Romance
,
Young Adult
304 pagesFormat:
ARC
Source:
Publisher
What if the person you were falling for was a total mystery?

While Lily is spacing out in Chemistry one day, she picks up her pencil and scribbles a line from one of her favorite songs on the desk. The next day, someone else has written back to her on the desk! Soon enough Lily and the mystery student are exchanging notes, and lyrics, and even sharing secrets. When Lily finds out that her anonymous pen pal is a guy, she's flustered -- and kind of feels like she's falling for him. She and her best friend set out to unravel the identity of the letter writer -- but when the truth is revealed, the guy is the LAST person Lily could have ever imagined it to be. Now that Lily knows the truth, can she untangle her feelings and gather the courage to listen to her heart?

From beloved author Kasie West (The Distance Between Us) comes an utterly charming story about mixed messages, missed connections, and the magic of good old-fashioned secret admirer notes.
Affiliate Disclosure: This post contains affiliate links. In plain English, this means that I may receive a small commission (at no cost to you) if you purchase something through the links provided. This small income goes back into my blog, so I can continue to create fun content for you. I appreciate my readers and make it my goal to be upfront and honest. Thank you for supporting my blog!
This is the second book I've read from Kasie West. What I like about her is that you know what you're going to get before you crack open the book: a really cute young adult romance that will make you smile. P.S. I Like You is like being engulfed in a nice warm hug.
Bored out of her mind, Lily starts writing lyrics to one of her favorite songs in Chemistry. She doesn't expect anyone to respond to her, but someone does. Soon, Lily and her pen pal secretly start exchanging letters and the subject matter turns personal. It doesn't take long for her to start to really like the guy on the other end. While she could easily find out who sits in her same chair in the other class, she likes not knowing. She has a few ideas who it could be and one very strong hope of who it isn't. Cade Jennings has been Lily's nemesis for years ever since he gave her the nickname "Magnet" in gym class. Now, the two can barely breathe the same air without getting in a fight.
I really liked how much family played an important part in this story. Lily has two little brothers and an older sister, so her house was never quiet. Her best friend is an only child and lives in a tranquil palace in comparison. And Lily's mysterious pen pal doesn't quite have the luxury of a stable home environment. His dad left him years ago and his mother is pretty much absent. I really wish that his side of the story had been explored a little bit more. We got a great backstory for him and little resolution.
The romance in this book was really sweet and built up really nicely. I don't want to tell you who the hero is but it really isn't that much of a surprise. I liked seeing Lily fight her feelings in this one. She dates a couple of guys in this one briefly before she realizes that she can't fight what her heart wants. There weren't any crazy twists and turns or silly drama, just straight up cute young adult. Though, I would have liked a little more depth. It took me quite a while to get into this book but in the end I'm glad I read it.
* I received an advanced copy from the publisher in exchange for an honest review.