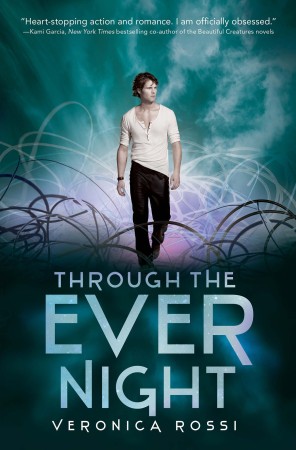 Through the Ever Night
by
Veronica Rossi
Series:
Under the Never Sky #2
Published by
HarperCollins
Publication date:
January 8, 2013
Genres:
Dystopian
,
Dystopian Romance
,
Young Adult
352 pagesFormat:
eBook
Source:
Borrowed
It's been months since Aria last saw Perry. Months since Perry was named Blood Lord of the Tides, and Aria was charged with an impossible mission. Now, finally, they are about to be reunited. But their reunion is far from perfect. The Tides don't take kindly to Aria, a former Dweller. And with the worsening Aether storms threatening the tribe's precarious existence, Aria begins to fear that leaving Perry behind might be the only way to save them both.

Threatened by false friends, hidden enemies, and powerful temptations, Aria and Perry wonder, Can their love survive through the ever night?

In this second book in her spellbinding Under the Never Sky trilogy, Veronica Rossi combines fantasy and dystopian elements to create a captivating love story as perilous as it is unforgettable.
Affiliate Disclosure: This post contains affiliate links. In plain English, this means that I may receive a small commission (at no cost to you) if you purchase something through the links provided. This small income goes back into my blog, so I can continue to create fun content for you. I appreciate my readers and make it my goal to be upfront and honest. Thank you for supporting my blog!
Book Review:
The second book in Veronica Rossi's young adult dystopian series was a solid second book but it didn't hold my interest throughout like the first one did.
I had to jump right into this book after finishing Under the Never Sky! You try reading it and not wanting to started Through the Ever Night immediately! This book picks up at the exact second book one stopped. The beginning just made me feel happy, like being enveloped in a large love hug.
Aria has changed so much from the fragile person she was in the very beginning of book one. Now, she's trying to win over the members of the Tides. Perry is their Blood Lord—their leader—but the most of tribe's members are not taking to her so kindly and don't want her there.
In order to protect Perry's position in the tribe, Aria decides that they should keep their relationship a secret from everyone. Forced to hide how they feel about each other is a small problem compared to the food shortage and general unrest in the community. Aria has to make a sacrifice, one that doesn't make Perry very happy.
Much like the first book, the novel's strength is the characters—Perry, Aria, Cinder, and Roar. I still find Perry to be just so wonderful and honorable. I loved how there was no stupidity or forced conflict between the characters. I can't stand it when that happens.
Roar has been in love with Perry's sister, Olivia, for ages and that feeling never went away even when she was promised to someone else. I loved getting bits of their love story in this installment. Like Perry, he was honorable, sweet, and really funny. Between the guys in this series, he's definitely the comedic relief.
I have to applaud Rossi for not creating a love triangle between Roar, Perry, and Aria. She'd primed the characters for that to happen in book one, what with Scires traditionally marrying other Scires, Auds marrying Auds (Perry is a Scire and a Seer. Both Roar and Aria are Auds). But she didn't go there. Woohoo!
What I didn't enjoy as much about this one was how much focus there was on the time in the Tides. It really made the story drag and slowed down the pacing quite a bit to the point where I was skimming passages. 🙁
* I borrowed this book from my local library.