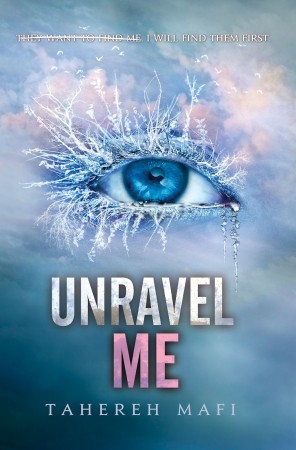 Unravel Me
by
Tahereh Mafi
Series:
Shatter Me #2
Published by
Harper Teen
,
HarperCollins
Publication date:
February 5, 2013
Genres:
Dystopian
,
Young Adult
Length:
11 hrs and 57 mins
461 pagesFormat:
eBook
Source:
Purchased
tick
tick
tick
tick
tick
it's almost
time for war.

Juliette has escaped to Omega Point. It is a place for people like her—people with gifts—and it is also the headquarters of the rebel resistance.

She's finally free from The Reestablishment, free from their plan to use her as a weapon, and free to love Adam. But Juliette will never be free from her lethal touch.

Or from Warner, who wants Juliette more than she ever thought possible.

In this exhilarating sequel to Shatter Me, Juliette has to make life-changing decisions between what she wants and what she thinks is right. Decisions that might involve choosing between her heart—and Adam's life.
Affiliate Disclosure: This post contains affiliate links. In plain English, this means that I may receive a small commission (at no cost to you) if you purchase something through the links provided. This small income goes back into my blog, so I can continue to create fun content for you. I appreciate my readers and make it my goal to be upfront and honest. Thank you for supporting my blog!
Book Review:
I wish I would've have loved this book. But honestly, it left much to be desired. I found much of the plot and character lacked development and a cohesive continuation from the first book. The romance between Juliette and Warner felt forced, and the method by which the author manufactured Juliette's attraction to Warner (by severely weakening Adam's character in the process) was lazy.
The first half of this book was so incredibly slow. The author made me detest Adam and Juliette as characters. I kept waiting for things to turn around, but really the only good thing about the first half was Kenji. The latter part of this book was marginally more gripping for me due to Warner's presence (he was someone to distract me from Adam and Juliette).
What was so great about Shatter Me was the interesting premise and three distinct interesting characters. Warner was a great villain with many facets and an alluring mystery surrounding him. Adam was wholeheartedly a good and strong character, both in emotional and physical strength. Despite being psychologically tested and isolated for nearly a year, Juliette was resilient and defiant. However, in Unravel Me there was absolutely no character growth for Adam or Juliette. Honestly, they were weak, whiney, and, irritating. These three characters were absolutely ruined in this book and that made me so sad!
Love triangles themselves do not bother me in the least. I don't hate on them for their existence. But like I said earlier, to me the author did nothing to build Warner as a love interest. She just made him this mysterious man and then made the reader strongly dislike Adam. By ruining Adam's character, it was all too convenient for Warner to pop in and steal Juliette's heart.
My favorite thing about Unravel Me was Kenji. Not only he the most consistent character in the series so far, he's also the glue that holds everyone together. He's Adam's best friend, he's like a brother to James, and he has an unwavering faith in Juliette's power. He brought so much to the story—humor, stability, and a cohesiveness. I am worried about his mortality in book three, however. It seems like the good die young in books. Please don't kill Kenji. I will self-combust with grief and despair (dramatic? probably).
I may read book three, but I'm a little scared to just because of my opinion of this book. I fear that the focus will be too much on the Juliette's choice of guy rather than the impending war.
2 stars