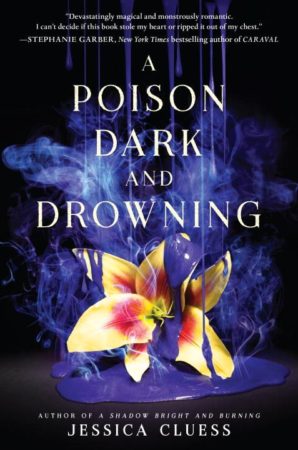 A Poison Dark and Drowning
by
Jessica Cluess
Series:
Kingdom on Fire #3
Published by
Random House Books for Young Readers
Publication date:
September 19, 2017
Genres:
Fantasy
,
Young Adult
432 pagesFormat:
eARC
Source:
Publisher
The magicians want her to lead.
The sorcerers want her to lie.
The demons want her blood.
Henrietta wants to save the one she loves.
But will his dark magic be her undoing?

In this seductive and explosive second book in the Kingdom on Fire series, Jessica Cluess delivers her signature mix of magic, passion, and teen warriors fighting for survival. Hand to fans of Victoria Aveyard, Sarah J. Maas, and Kiersten White.

Henrietta doesn't need a prophecy to know that she's in danger. She came to London to be named the chosen one, the first female sorcerer in centuries, the one who would defeat the Ancients. Instead, she discovered a city ruled by secrets. And the biggest secret of all: Henrietta is not the chosen one.

Still, she must play the role in order to keep herself and Rook, her best friend and childhood love, safe. But can she truly save him? The poison in Rook's system is transforming him into something monstrous as he begins to master dark powers of his own. So when Henrietta finds a clue to the Ancients' past that could turn the tide of the war, she persuades Blackwood, the mysterious Earl of Sorrow-Fell, to travel up the coast to seek out strange new weapons. And Magnus, the brave, reckless flirt who wants to win back her favor, is assigned to their mission. Together, they will face monsters, meet powerful new allies, and uncover the most devastating weapon of all: the truth.
Affiliate Disclosure: This post contains affiliate links. In plain English, this means that I may receive a small commission (at no cost to you) if you purchase something through the links provided. This small income goes back into my blog, so I can continue to create fun content for you. I appreciate my readers and make it my goal to be upfront and honest. Thank you for supporting my blog!
The follow-up to Jessica Cluess's magical young adult fantasy, A Shadow Bright and Burning (read my review), is equally as compelling and dramatic. A POISON DARK AND DROWNING continues Henrietta Howel's journey in the magical society of the Order, but she harbors a secret to protect her and the man she loves. Unspoken romance, secrets, lies, and tons of magic are just some of what you'll find in this fantasy series.
For me the Kingdom on Fire series isn't one that breaks new ground or blows my mind. But what it might lack, it makes up for in its setting and imagery. While reading this installment, I kept getting Wuthering Heights/Jane Eyre vibes with hints of Harry Potter-esque nods. The marriage of these literary giants was electrifying and so entertaining!
The series turns the heavily used "chosen one" trope on its head. Henrietta may not be the girl brought forth to save the world, but she sure as hell will try. That's what I really liked about her character. In this book, she knows who she is and what she wants and isn't afraid to go after it. Despite what limitations Victorian society places on her as a woman, she defies societal norms and refuses to conform.
"Despite everything – your lies, your wounds, I cannot help but love you. I'm helpless against it."
I mentioned in my review of the first book that I was excited to see where Cluess took the love triangle. I really liked Blackwood's character—he's sort of like a brooding Mr. Darcy. Rook and Henrietta's storyline is very reminiscent of Healthcliffe and Cathy. Could that comparison foreshadow the future of their relationship? I guess we'll find out in book 3.
While I still hold tight to my prediction on where she'll take the love triangle, I did not like the love square that was a strong plot point in this book. It's clear who Henrietta truly loves and her feelings are unwavering. But then we have Blackwood making his intentions clear and then a third guy who wants a stab at Henrietta's heart. This may not be the series for those who are opposed to this type of romantic journey.
The strong point in this book is the dark and ominous tone against the backdrop of Victorian England and a strong and fearless female heroine. The romantic plot lines in this book definitely have moments that will pull at your heartstrings, but some readers may be frustrated at Henrietta's man magnet abilities.
* I received an early copy from the publisher in exchange for an honest review. Receiving this book for free did not affect my opinion. Thanks to Random House Books for Young Readers for the reviewing opportunity.