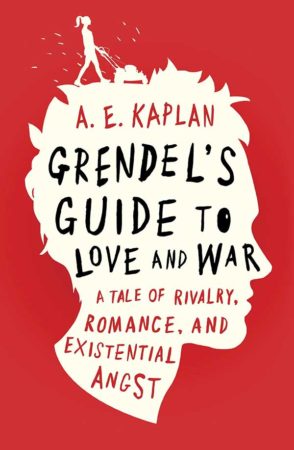 Grendel's Guide to Love and War
by
A.E. Kaplan
Published by
Knopf Books for Young Readers
Publication date:
April 18, 2017
Genres:
Humor
,
Young Adult
320 pagesFormat:
eARC
Source:
Publisher
The Perks of Being a Wallflower meets Revenge of the Nerds in this tale of a teen misfit who seeks to take down the bro next door, but ends up falling for his enemy's sister and uncovering difficult truths about his family in the process.

Tom Grendel lives a quiet life—writing in his notebooks, mowing lawns for his elderly neighbors, and pining for Willow, a girl next door who rejects the "manic-pixie-dream" label. But when Willow's brother, Rex (the bro-iest bro ever to don a jockstrap), starts throwing wild parties, the idyllic senior citizens' community where they live is transformed into a war zone. Tom is rightfully pissed—his dad is an Iraq vet, and the noise from the parties triggers his PTSD—so he comes up with a plan to end the parties for good. But of course, it's not that simple.

One retaliation leads to another, and things quickly escalate out of control, driving Tom and Willow apart, even as the parties continue unabated. Add to that an angsty existential crisis born of selectively reading his sister's Philosophy 101 coursework, a botched break-in at an artisanal pig farm, and ten years of unresolved baggage stemming from his mother's death…and the question isn't so much whether Tom Grendel will win the day and get the girl, but whether he'll survive intact
Affiliate Disclosure: This post contains affiliate links. In plain English, this means that I may receive a small commission (at no cost to you) if you purchase something through the links provided. This small income goes back into my blog, so I can continue to create fun content for you. I appreciate my readers and make it my goal to be upfront and honest. Thank you for supporting my blog!
If you're a fan of John Hughes and all of the fantastic teenage posses of the 1980's then you're going to want to read this GRENDEL'S GUIDE TO LOVE AND WAR. Set in the present day, Tom Grendel, his best friend Ed, and Tom's crush Willow, get into mischief and mayhem, and I enjoyed every second.
Tom and his dad live in a quiet neighbor that's primarily populated by elderly folk. This works out perfectly for Tom's dad, an Iraqi war vet, whose PTSD is less likely to be triggered in this usually peaceful environment. Tom adds to his college fund by mowing the lawns around the neighborhood, drinking tea so sweet he has to chew it, and taking the time to talk to ladies who don't get many visitors.
But Tom and his dad's peaceful serenity is disrupted when the Rothgar's make next door their new home and turn the neighborhood into party central. Tom is quite acquainted with Rex and Willow Rothgar and their mother due to their summer visits. Rex is a piece of work and is basically Tom's arch-nemesis. Willow is Tom's long-time crush but he doesn't have the nerve to tell her how he feels.
I love it when a character just charms the pants off me. Tom Grendel was that character for me. He was funny, a little self-depreciating, and just so darn endearing. Tom and his friends come up with fun and creative ways to get rid of his annoying new neighbors. Admittedly, some of this was a little exaggerated but I think this was all for the sake of comedic relief and I enjoyed it. This book was a quick read that was full of heart and I'd recommend it if that's what you're looking for.
* Thanks to Knopf Books for Young Readers for sending me an early copy for review.