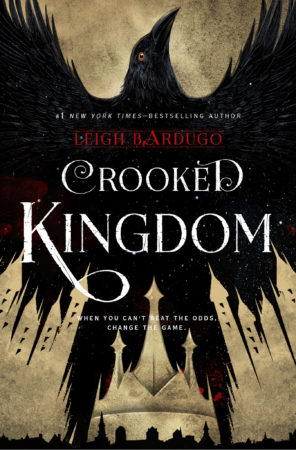 Crooked Kingdom
by
Leigh Bardugo
Series:
Six of Crows #2
Published by
Henry Holt and Company
,
Holt Books for Young Readers
Publication date:
September 27, 2016
Genres:
Fantasy
,
Young Adult
Narrator:
Brandon Rubin
,
Elizabeth Evans
,
Fred Berman
,
Jay Snyder
,
Kevin T. Collins
,
Lauren Fortgang
,
Peter Ganim
,
Roger Clark
Length:
18 hrs
560 pagesFormat:
Audiobook
,
Hardcover
Source:
Purchased
Kaz Brekker and his crew have just pulled off a heist so daring even they didn't think they'd survive. But instead of divvying up a fat reward, they're right back to fighting for their lives. Double-crossed and badly weakened, the crew is low on resources, allies, and hope. As powerful forces from around the world descend on Ketterdam to root out the secrets of the dangerous drug known as jurda parem, old rivals and new enemies emerge to challenge Kaz's cunning and test the team's fragile loyalties. A war will be waged on the city's dark and twisting streets—a battle for revenge and redemption that will decide the fate of the Grisha world.
Affiliate Disclosure: This post contains affiliate links. In plain English, this means that I may receive a small commission (at no cost to you) if you purchase something through the links provided. This small income goes back into my blog, so I can continue to create fun content for you. I appreciate my readers and make it my goal to be upfront and honest. Thank you for supporting my blog!
Crooked Kingdom was the book I was most looking forward to reading this year. The depth and edge-of-your-seat suspense that Leigh Bardugo delivered in Six of Crows was nearly absent in Crooked Kingdom. Uneven pacing and lack of character growth was Crooked Kingdom's downfall.
Kaz and the dearly beloved gang of misfits are back in Crooked Kingdom minus one of their own. After they band together to claim back their missing member, they scheme to take down the Barrel's crooked businessmen, Jan Van Eck and Pekka Rollins. But outsmarting these ruthless men isn't easy when their plans are thwarted at every turn.
Until this book, all of Leigh Bardugo's novel had exquisitely paced and beautifully crafted story arcs with fully developed and fully realized characters. I really wanted to love this book as much as I have loved her previous novels, but I couldn't because it was just not good. I have so many things I want to say to explain my feelings, I don't even know where to start. I'm going to point out some of the bigger problems I have.
Uneven pacing and lack of plot cohesiveness
Crooked Kingdom took a long time to get going. While it was fun to be back in the lives of a cast of characters I've grown immensely fond of, it took more than a third of the book to pass before things got interesting. Even as I read further in the book, there was very little plot action that I could grasp on to and get excited about.
In the last book, the focus was on breaking into an impenetrable prison, a plot point that lends itself to some pretty exciting stuff. There was a clear path and goal in the distance for the reader to see that was suspenseful and there was a sense that it was building to something great.
If Crooked Kingdom were a pair of pants, they would be made of several patches of mismatched pieced-together fabric.  There was no tangible objective in mind. In fact, the plot here felt very piecemeal and patched together. As soon as the gang would achieve one goal, they were onto something else. It felt very unnatural and had a feel of "and then we're doing this and then we're doing this and then we're doing this" rather than "we are doing this to achieve this final goal" (which was what Six of Crows felt like). The whole book felt very unfocused and scattered: Is messing with the sugar the goal? The auction? The ships coming to and from the port? The moth-people Shu?
Transitions were jarring
The chapter transitions and shifts in point of view in Six of Crows flowed beautifully and were virtually seamless. They felt natural and were conducive to the story's thrilling nature. The same cannot be said of the transitions in Crooked Kingdom. With each chapter change it was like the plot would take one step forward and two steps back. These shifts often would go back in time and then lead the reader back to where the previous chapter left off. This only served to stall the plot more and felt incredibly jarring.
The multiple plot conveniences were really annoying.
Kaz's modus operandi is never revealing his whole plan to anyone, feeding details to his gang on a need-to-know basis. He was constantly one step ahead of his gang and his enemies. But it got really old really fast when he was winning and pulling one over on everyone every single time. It was especially irritating when these grandiose plans seemed to be written in after the fact, serving merely as plot conveniences. It just amounted to lazy storytelling. Others may have found these revelations to be wonderful "plot twists," but it only made me more frustrated with the direction of the story.
Kaz's character shows little vulnerability or weakness
Kaz's character is one of the highlights of this duology. Bardugo crafted his character with so much depth and room for change and growth. Outside of his vulnerability around Inej, he was invincible and it didn't make him seem like a real person.
I don't know how many of you watch The Walking Dead, but I was hoping for a Rick/Negan moment where Kaz is just stripped bare of his arrogance and sure-footedness. I thought for sure there would be a scene in this book where one of Kaz's plans and cons would go terribly wrong, where he didn't have a plan. But that never happened, which was disappointing.
Lack of tension and character development
In Six of Crows, Bardugo had so much to build on and work with, like introducing the reader to the characters, developing them and crafting the complicated relationships. There was so much wonderful tension that moved the plot forward with great characters, outside of the prison break-in plotline. There was very little development of these characters in Crooked Kingdom, aside from what was already accomplished in the previous book.
The tension between Nina and Matthias was gone because they were together now, so some new tension needed to be manufactured. Cue Nina's drug addict storyline. Her struggles with jurda parem only appeared when it was convenient and she was magically okay in other moments. To drum up some more tension between these two, the author really played up Matthias's rigid adherence to following the rules of his country, but it felt forced.
Focus on uninteresting characters
Personally, out of all the characters in Six of Crows, Jesper and Wylan were my least favorite. I didn't dislike them, but I didn't feel like they were as compelling. Outside of what we already knew, I wasn't interested in spending much time with them outside of what was necessary to move the plot forward in Crooked Kingdom.
But what we got in this book was a lot of page time with both of them. The budding attraction between Jesper and Wylan was something Bardugo took and ran with in this book. But I felt nothing between them. Their chapters were so long and frequent that I just became bored.
The one-liners: Can you not?
I love good banter and humor. That's one of the things I loved about Sturmhond in Siege and Storm: he was the comedic relief in the midst of danger and possible death. But the constant quipping and zingers spewing from Kaz and Jesper quickly became monotonous and not funny.
If Jesper making Wylan blush were a drinking game, I'd be blacked-out drunk by 45%. Also, there was a scene towards the end of the book that was meant to be incredibly emotional, yet Nina is making jokes? No, just no.
The way things ended…
I really didn't like the way the book ended. This is the final book in the duology and the author chose to end it through the eyes of a character the reader doesn't like. I wish we could have gotten more finality with one of our beloved Dregs but Pekka Rollins? No, thank you.
Final thoughts
There were some enjoyable moments peppered throughout the book. The bathroom scene with Kaz is arguably the best scene in the whole book, heavy with feeling and so many unspoken words. I also really liked the Inej chapter in the beginning where she ponders her value to Kaz. But these few moments weren't enough to get me to where I could say, "I liked this book."
Many readers may have enjoyed the cameos from characters from the Grisha trilogy. But really, they served little purpose to the overall story and felt like the author was just trying to win over readers' favor.
I've been very vocal about my genuine enthusiasm over this release. I kept my expectations in check. But considering I've read and loved her four previous novels, I truly thought I would enjoy this book. Crooked Kingdom wasn't the worst book ever; it just wasn't good. I hold Leigh Bardugo to a very high standard, as I've seen what she's capable of. She's an immensely gifted writer and storyteller. Crooked Kingdom was a far cry from what it could have been, and I'm so sad!
Audiobook Comments:
I switched back and forth between the book and the audiobook. I listened to the audiobook exclusively for probably the last third. Since I found this book to be extremely slow, the narrators' performances made me feel a little more interested in the book. Elizabeth Evans's narration of Nina's chapters was exceptional, my favorite of all the narrators. I didn't like the narrator for Wylan at all, and his voice for Kaz was almost laughable.
Listen to a Audiobook sample:
* I purchased the audiobook and hardcover book myself. I also borrowed the e-book from my local library.