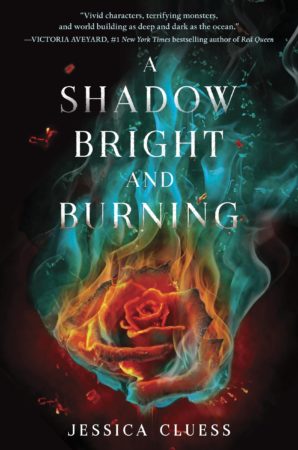 A Shadow Bright and Burning
by
Jessica Cluess
Series:
Kingdom On Fire #1
Published by
Random House Books for Young Readers
Publication date:
September 20, 2016
Genres:
Fantasy
,
Young Adult
Narrator:
Fiona Hardingham
Length:
12 hrs and 49 mins
416 pagesFormat:
Audiobook
Source:
Publisher
I am Henrietta Howel.
The first female sorcerer in hundreds of years.
The prophesied one.
Or am I?

Henrietta Howel can burst into flames.
Forced to reveal her power to save a friend, she's shocked when instead of being executed, she's invited to train as one of Her Majesty's royal sorcerers.

Thrust into the glamour of Victorian London, Henrietta is declared the chosen one, the girl who will defeat the Ancients, bloodthirsty demons terrorizing humanity. She also meets her fellow sorcerer trainees, handsome young men eager to test her power and her heart. One will challenge her. One will fight for her. One will betray her.

But Henrietta Howel is not the chosen one.
As she plays a dangerous game of deception, she discovers that the sorcerers have their own secrets to protect. With battle looming, what does it mean to not be the one? And how much will she risk to save the city—and the one she loves?

Exhilarating and gripping, Jessica Cluess's spellbinding fantasy introduces a powerful, unforgettably heroine, and a world filled with magic, romance, and betrayal. Hand to fans of Libba Bray, Sarah J. Maas, and Cassandra Clare.
Affiliate Disclosure: This post contains affiliate links. In plain English, this means that I may receive a small commission (at no cost to you) if you purchase something through the links provided. This small income goes back into my blog, so I can continue to create fun content for you. I appreciate my readers and make it my goal to be upfront and honest. Thank you for supporting my blog!
Set in London during the Victorian era, A SHADOW BRIGHT AND BURNING is a decent beginning to Jessica Cluess's Kingdom on Fire series. While the characters and plot are both rather generic, the darker setting and bits of action pulled me in.
Henrietta is thought to be the "chosen one" to save London from the Civil War between the Seven Ancients and the sorcerers, a sort of good versus evil situation. But later it's revealed that she's not what everyone thought she was. (this isn't a spoiler, guys, since it's in synopsis)
What I liked about this novel was the setting and how completely the author drew me in into the historic period and held my attention. I can't think of the last book I read that was set in this period, a detail that really added to the novel's dark, ominous tone. For those of you wanting a book with good balance between plot action, magic, and romance, you should give this book a try. The author doesn't delve too heavily on any of these things, so it's a nice readers looking for fantasy-light. 😉
There is a love triangle in this novel, but I have a feeling where this one is going. If the author goes there, I think it would be a nice little surprise and twist from the normal path. The love triangle isn't the focus of the novel, nor is it the type where the girl is torn between two guys and all she can think about is kissing them amidst turmoil and war (thank god).
This book had a ton of potential and I'm hoping the next installment will up the ante. Those who do read a ton of fantasy may find the plot irritating and the characters less vibrant. The heroine of the same type found in many fantasy novels (the one with special abilities who will save everyone), which I don't find problematic by itself.
But what I took issue with was the fact that Henrietta lacked any true distinctive, defining characteristics. She came across as selfish and immature at times (she named her magical stave Porridge). The same can be said of the other main characters—Rook, Blackwood, and Magnus. All of these characters seem to be the same sort of stock character meant to fit a role in this trope.
The other thing that really bothered me is that Henrietta reveals that the headmaster at her school had not only beaten her but sexually molested her for years. I think this was put in there to show Henrietta's resilience but it wasn't dealt with at all. It was just dropped in there as a character trait and then not mentioned again. How did the affect her? I don't know because the author does nothing with it. Can we please stop putting sexual abuse in novels to give a character a desired trait?
Audiobook Comments:
Fiona Hardingham delivers a wonderful performance in this one. I've listened to her a few times before and I really love her style. None of the character's voices are obnoxious and she delivers a completely entertaining experience. She doesn't read the novel flat, injection humor and emotion into her delivery. If you're looking to listen to this book, you'll be happy with the narrator!
*  I received this audiobook from the publisher in exchange for an honest review.