What I'm Digging is a feature in which I share things I'm loving with you. This can range from jewelry to clothes to home decorations. Anything goes! Oh and there is always a book featured that I enjoyed!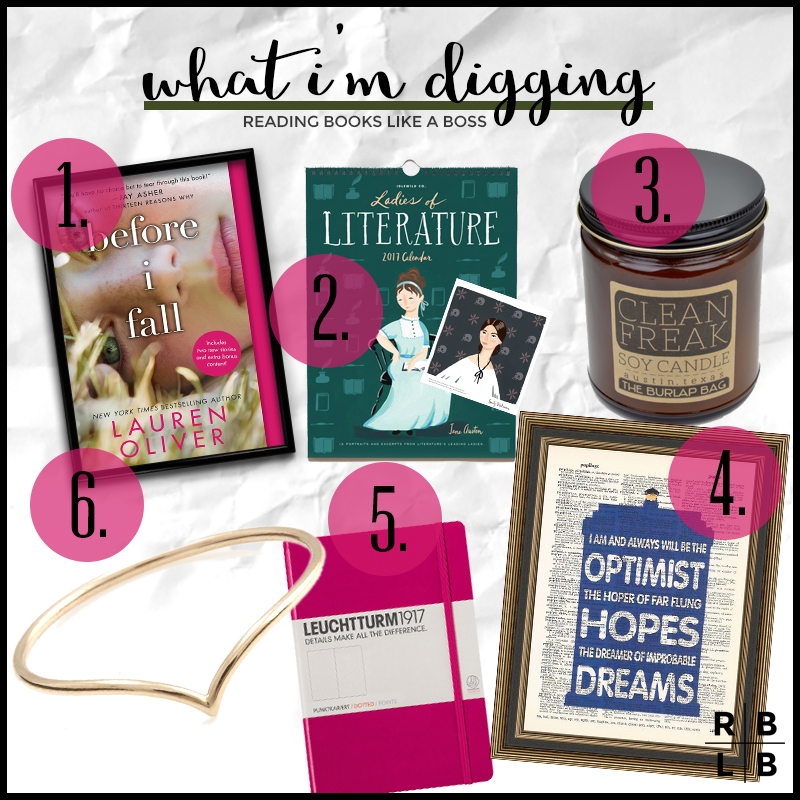 Affiliate Disclosure: This post contains affiliate links you can use to purchase the book. If you buy the book using that link, I will receive a small commission from the sale. Thank you! ♥
Sorry guys, it's been since April since I did one of these. Good lord, where has this year gone? I feel like it's flying by!
1.) Before I Fall by Lauren Oliver
On this "What I'm Digging" I wanted to feature one of my favorite young adult contemporary tear jerkers! I read BEFORE I FALL late in the game after I had read her Delirium trilogy. It features a popular girl who dies, only to wake up and relive her last day over and over, each day is a little different. She keeps trying to rewrite her own history in hopes of changing her fate. She comes to realize that she and her friends aren't very nice people and starts to change herself. This one will definitely make an emotional impact.
Oh and did you know it's been made into a movie? I am SO EXCITED! It's set to release in theaters in 2017. No trailer as of yet, but you can check back here for more information. 🙂
Buy the Book on Amazon | Read My BEFORE I FALL Review
2.) Ladies of Literature Wall Calendar
I spotted this calendar in a shop in Lawrence, Kansas a few weeks ago and HAD TO HAVE IT for my office at work. Inside are these awesome hand painted portraits of twelve female authors. The background of each portrait corresponds to each of their novels and style. I freaking love it and can't wait for 2017 to come so I can enjoy it!
Purchase: Idlewild Co. Calendar
3.) Clean Freak Soy Candle
This is yet another find during my short trip to Lawrence. This candle SMELLS AMAZING. Just light it and it will make your house smell like you cleaned but you didn't. 😉
Purchase: Clean Freak Soy Candle
4.) This Dr. Who Quote
I bought a print of this when I was in Lawrence as well. Well not this exact one but it had this quote. It's a quote from Dr. Who, "'I am and always will be the optimist, the hoper of far-flung hopes and the dreamer of improbable dreams."
One of my goals is to actually decorate my office at work. Hence buying this and the calendar. I've been at my current job for almost 4 1/2 years and I've yet to decorate it. Whoops.
My job can be kind of depressing sometimes with the line of work that I do, so I when I found this uplifting quote I knew it was perfect for me and for my clients. 🙂
Purchase: Dr. Who Wall Art (Etsy, Seller: PrintsWithStyle)
5.)  Leuchtturm 1917 Journal
I'm going to start keeping a bullet journal. I've tried journaling in the past and quite frankly I've sucked. #KeepingItReal. One of my favorite bloggers, Modern Mrs. Darcy started bullet journaling earlier this year and she has a lot of tips. Click here to read her post.
Purchase: Leuchtturm 1917 (color: Berry), Amazon
6.) Sarah & Sebastian "Drop Ring"
I was perusing around in Instagram the other day and saw one of my favorite singers (Brooke Fraser) posted a picture of a beautiful and simple ring. It was a Sarah & Sebastian ring. I immediately went on their site and fell in love with their jewelry. It's all very simple and understated but very pretty!
Purchase: Drop Ring, Sarah & Sebastian
What are you digging right now?