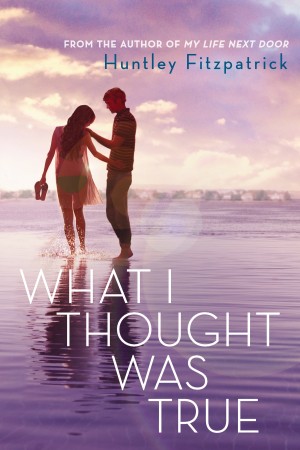 What I Thought Was True
by
Huntley Fitzpatrick
Published by
Dial Books for Young Readers
,
Penguin
Publication date:
April 15, 2014
Genres:
Contemporary Romance
,
Romance
,
Young Adult
422 pagesFormat:
eBook
Source:
Purchased
From the acclaimed author of My Life Next Door comes a swoony summertime romance full of expectation and regret, humor and hard questions.

Gwen Castle has never so badly wanted to say good-bye to her island home till now: the summer her Biggest Mistake Ever, Cassidy Somers, takes a job there as the local yard boy. He's a rich kid from across the bridge in Stony Bay, and she hails from a family of fishermen and housecleaners who keep the island's summer people happy. Gwen worries a life of cleaning houses will be her fate too, but just when it looks like she'll never escape her past—or the island—Gwen's dad gives her some shocking advice. Sparks fly and secret histories unspool as Gwen spends a gorgeous, restless summer struggling to resolve what she thought was true—about the place she lives, the people she loves, and even herself—with what really is.

A magnetic, push-you-pull-me romance with depth, this is for fans of Sarah Dessen, Jenny Han, and Deb Caletti.
Affiliate Disclosure: This post contains affiliate links. In plain English, this means that I may receive a small commission (at no cost to you) if you purchase something through the links provided. This small income goes back into my blog, so I can continue to create fun content for you. I appreciate my readers and make it my goal to be upfront and honest. Thank you for supporting my blog!
Book Review:
What I Thought Was True is an utterly charming young adult romance about what has happened and what's to come.  It's a story about juggling the feelings of first love.  I was captivated from the first page until the last by the characters, the writing, and quiet love story.  The scenes in were so vividly described.  From the crackling of the seashells to the smell of salt in the air, I was transported to a place I've never been with characters I've never met and I long to go back.
Guinevere Castle has a name of fables and fairy tales but her life is anything but one.  She lives on Seashell Island, across the bridge from Stony Bay, in a house with her mother Lucy, little brother Emory, her cousin Nic and Grandpa Ben.  Gwen and her family are islanders and part of the working class who keeps the island looking pristine for the more affluent tourists who call Seashell Island home for just part of the year.
It's summer and for the first summer in a long time, Gwen has decided not to work at her father's restaurant. Looking for a change of pace (and hopefully more free time), she takes a job watching over Mrs. Ellington, a wealthy woman who has just recently fallen and needs company during the day.  I loved Mrs. Ellington!!
Nearly everyone around Gwen is tethered to the island, either by choice or by circumstance. Given her mother's grueling work schedule cleaning houses, she and Nic are often left in charge of Emory, who needs constant supervision due to developmental issues. Gwen is uncertain about what she wants out of her future. She doesn't seem to want to leave the island but she years for something more.
Suddenly, you edge your way to the end of your second ten years and BOOM. Your choices matter. Not chocolate or vanilla, bridge or pier, Sandy Claw or Abenaki. It's your whole life. We're suddenly this close, like Nic said, to the wrong move. Or the right one. It matters now.
Part of her internal conflict is her indecision about her future, the other part involves her heart.  And though she'd rather not admit it, her heart is a little bit broken.  And it's Cass Somers' fault.  Or maybe it's hers.
"The yard boy is everyone on the island, all summer long. Cass will haunt my summer the way he preoccupied my spring."
Part of what made this story so magnetic were the characters, both the main and secondary characters. One of the signs of a great novel is how the author crafts her characters, and this book is a prime example of characters done right.  I could tell you a little bit about each of them.
I know that Grandpa Ben comes hope with lobsters and massive amounts of fish without a license.  He enjoys playing bingo and smokes a pipe.
Lucia works her fingers to the bone cleaning houses, and in the evenings her favorite thing to unwind is to curl up on Myrtle (the family's ratty old sofa) and read a trashy romance novel.
What's important to Nic is Viven, Gwen's best friend, and getting into the Coast Guard Academy.
Mrs. Ellington likes her tea prepared with silver service, lemon, and sugar.  She spends her time with other ladies of the island who all love a good romance novel.
Emory has trouble expressing himself with words, but he understand Dora the Explorer.  Cass Somers is his version of Superman.
I could go on and on.  All of those people are just the secondary characters, and I cared about each and every one.  They all played a pivotal part in the story.  I loved them all.
The Funnies
I chuckled so many times while I was reading this book. There were so many funny situations Gwen found herself in.  But Gwen herself was had a really great sense of humor.
He's also quiet and I can't see his face and that makes me even more nervous, so I that thing I do and blurt out the first thing that comes to mind. "Where you wearing anything under there?"

_______________________________
Next thing you know I'll be sliding down the wall of our shower, sobbing and singing depressing pop songs into my shampoo bottle.
Early on there was a scene that involved Mrs. Ellington, Gwen, Cass, and a bag of lobsters with an unwavering will to live.  I think that scene is where I fell in love with Cass Somers and his caring heart.
The Love Story
But I keep watching him, noticing the small confines of the sailboat and the strange stillness of this moment, things that I hadn't seen before. A tiny white scar that cuts through the left corner of his dark left eyebrow. Faint flecks of green in the deep blue of his eyes. The light pulse beating at the base of his throat. I don't know how long it is that we just look. When I finally turn away, everything on the water seems just the same. Except my sense that something has shifted.
This book was more than a love story, but it was the romance that sucked me in. I was completely wrapped up in all things Cass Somers. He was truly one of the sweetest heroes I have ever read. He wasn't perfect by any means, but he had had the best of intentions at all times.
I love how Huntley Fitzpatrick peeled back the layers on the love story.  In the beginning, you learn that Gwen has a "reputation" on the island; one of the non-island boys even called her a "swim team tradition."  The source of tension comes with the introduction of Cassidy Somers, a non-islander who, instead of working at his father's thriving boat company, is this year's "yard boy" or as Mrs. Partridge likes to call him (and every other working man) "Jose." Gwen bumps into him early on and she wishes she hadn't. These two have a past that is slowing unraveled throughout the novel, informing the reader exactly what happened between the two of them that led to the present awkward situation.
The romantic tension in this book is what propelled me to keep going.  Given what happened in the past, would Cass and Gwen finally get over that?  How do they move on?  If you require a lot of action in terms of the plot, you may not enjoy this book as much as I did.  But I don't really need dramatic plot turns and twists.  This book was more of the quiet variety, focused on the characters, their choices, and how their choices affect them.
Lovers of young adult contemporary romance are sure to be swept away by the beauty of this book like I was.
4 stars