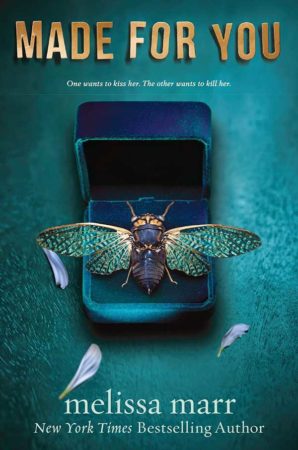 Made for You
by
Melissa Marr
Published by
Harper Teen
Publication date:
September 16, 2014
Genres:
Suspense
,
Thriller
,
Young Adult
368 pagesFormat:
eBook
Source:
Borrowed
Bestselling author of the Wicked Lovely books Melissa Marr's first contemporary YA novel is a twisted southern gothic tale of obsession, romance, and murder. A killer is obsessed with Eva Tilling. Can she stop him, or will he claim her?

When Eva Tilling wakes up in the hospital, she's confused—who in her sleepy little North Carolina town could have hit her with their car? And why? But before she can consider the question, she finds that she's awoken with a strange new skill: the ability to foresee people's deaths when they touch her. While she is recovering from the hit-and-run, Nate, an old flame, reappears, and the two must traverse their rocky past as they figure out how to use Eva's power to keep her friends—and themselves—alive. But while Eva and Nate grow closer, the killer grows increasingly frantic in his attempt to get to Eva.

For the first time, New York Times bestselling author Melissa Marr has applied her extraordinary talent to contemporary realism. Chilling twists, unrequited obsession, and high-stakes romance drive this Gothic, racy thriller—a story of small-town oppression and salvation. Melissa's fans, and every YA reader, will find its wild ride enthralling.
Affiliate Disclosure: This post contains affiliate links. In plain English, this means that I may receive a small commission (at no cost to you) if you purchase something through the links provided. This small income goes back into my blog, so I can continue to create fun content for you. I appreciate my readers and make it my goal to be upfront and honest. Thank you for supporting my blog!
MADE FOR YOU is a book I've been meaning to read for the last three years. When I went to the Romantic Times Convention in 2015, I heard Melissa Marr talk a little about this book. As a lover of young adult, I thought this one sounded intriguing with a psychotic killer masquerading around as a peer to the object of his/her obsession. While I found the premise to be exciting, the novel tries and fails to tackle too many things at once—a romance, a thriller told through multiple viewpoints, and pseudo-supernatural mystery.
The novel is set in a small South Carolina town where reputation, old values, and familial roots very much matter, which added to the novel's ambiance and light-gothic feel. Eva is brutally attacked someone, leaving her with physical and emotional scars. Her former best friend, Nate, hasn't spoken to her in years but during her hospitalization, they become close again. One side effect to the trauma is that when she touches certain people she can see their deaths. But once she's released from the hospital, someone continues hurting teens around her hometown—and one of the targets is her best friend.
The story is narrated from three separate perspectives: Eva; her friend Grace; and the killer going by Judge. The killer's real name is hidden throughout a good portion of the book, which lets the reader play detective for a little bit. While I liked this investigative element, I felt Judge's narrative didn't really add much to the story. In fact, I didn't think any of the narrators were all that compelling.
Judge's narrative is filled with religious extremism and delusional thinking. Once his identity is revealed, I had a hard time believing that this person was able to hide this side of himself (or herself), considering this person was friends with "normal" people in the community.
The romance in this book sort of came out of nowhere. While Nate and Eva were friends as children, the sudden declarations of love seemed out of place and unnecessary in this thriller with supernatural elements. Perhaps if it had been handled more delicately, it could have worked.
Eva's sudden ability to see people's deaths was an interesting added element with a psychopathic teenager with a taste for blood on the loose. It added a sense of urgency to the situation. But it was yet another element that I wished had been given more time, explained further, and fleshed out. Instead, it felt like it was thrown in with little care.
* I borrowed this book from my local library.