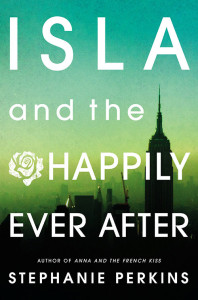 Isla and the Happily Ever After
by
Stephanie Perkins
Series:
Anna and the French Kiss #3
Published by
Penguin
Publication date:
August 14, 2014
Genres:
Contemporary Romance
,
Young Adult
339 pagesFormat:
ARC
Source:
ARC via publisher
From the glittering streets of Manhattan to the moonlit rooftops of Paris, falling in love is easy for hopeless dreamer Isla and introspective artist Josh. But as they begin their senior year in France, Isla and Josh are quickly forced to confront the heartbreaking reality that happily-ever-afters aren't always forever.

Their romantic journey is skillfully intertwined with those of beloved couples Anna and Étienne and Lola and Cricket, whose paths are destined to collide in a sweeping finale certain to please fans old and new.
Affiliate Disclosure: This post contains affiliate links. In plain English, this means that I may receive a small commission (at no cost to you) if you purchase something through the links provided. This small income goes back into my blog, so I can continue to create fun content for you. I appreciate my readers and make it my goal to be upfront and honest. Thank you for supporting my blog!
Review:
Anna and the French Kiss and Lola and the Boy Next Door are two of my favorite young adult contemporary romances.  They are simple love stories told with Stephanie Perkins's signature finesse.  Isla and the Happily Ever After is no exception.  I was hooked from page one with Isla being high on Vicodin (and Josh) until the very last sweet page.
Isla loves reading about adventure, but only from the safety of her dorm room.  She isn't one to take risks.  Isla Martin's life takes a serendipitous turn when she runs into him, Joshua Wasserstein, one summer night at a local New York restaurant named Kismet.  If only she could remember how that evening went down.  She was a little high on Vicodin. But it's not what you think it is.  When little memories come flittering back into her brain, she is mortified.  Why?  Because Josh has been the object of her affection since she was a freshman at the School of America in Paris (SOAP).
Ohmygod what the hell did I do last night?????????
Hahaha!!
We met Josh Wassersten in Anna and the French Kiss, introduced as St. Clair's best friend.  Josh was a year behind St. Clair, Anna, and Meredith.  Now in his senior year of high school, all of his friends are gone.  But there is one person he'd like to know better.  Isla.  He remembers their night in Kismet in vivid detail.  He remembers how she looked soaked in the rain.  He remembers because he drew her, etching her into his memory permanently
Josh is the son of a New York Senator. His family's personal life is heavily scrutinized, but he's not the typical politician's kid. His heart isn't in politics or law, he doesn't want to go to medical school, and he's not the gunner in high school trying to win all of the awards.  Josh is an artist, a brilliant comic artist.  Despite being brilliant, he doesn't take his studies at SOAP very seriously, he goes through life with a sort of laid back nonchalance.
When Josh and Isla see one another at SOAP for the first time since Kismet, it's clear that they like one another.  That night left an impression on both of them.  But neither of them want to admit it—it's like they were playing chicken.  I loved how they were so shy around one another.  Their cute and awkward interactions is one of the things I loved the most.
He lets out a strange laugh. It's near hysterical, but it stops as abruptly as it starts. "So are you dating anyone? Someone else?"
"No. No one since last year."
I fight to keep my voice steady. "And you? Are you seeing anyone?"
"Nope. No one since last year."
Knowing that Isla had such strong feelings for Josh from the beginning, only fueled the butterflies in my stomach.  When she saw him from across the room, I was nervous for her.  I was giddy, excited, drunk in love, sad, anxious, and depressed.  I was all the things.
I can't imagine Josh falling in for someone vanilla.
Not that Josh would ever fall for me.
But I wouldn't want to ruin any chance.
Even though I don't have a chance.
But just in case I do.
Even though I don't.
Isla is set largely in Paris, following Josh and Isla.  I felt all sorts of nostalgic as I read, thinking back to Anna and the French Kiss.  What I love most about young adult romances is simply watching two characters fall in love.  While reading this book, I felt like I was being attacked—attacked by so many swoony moments.  I loved watching Josh fall in love with Isla.  I loved seeing Isla's dream come true through her eyes.  I loved seeing Josh look at her through Isla.
Josh grins. "Just give me your hand."
"W—what?"
"Your hand," he repeats. "Give it to me."
I extend my right hand. And—in a moment that is a hundred dreams come true—Joshua Wasserstein laces his fingers through mine. A staggering shock of energy shouts straight into my veins. Straight into my heart.
"There," he says. "I've been waiting a long time to do that."
OMG THE FEEEEEEEELLLINGSS!!  See?  Stephanie Perkins full-on attacks you with her ninja swoony moments!
"I want a whole lot more of these nights with you, Isla. I want all of my nights with you."
Stephanie Perkins writes real teenagers.  Her characters talk, think and act like teenagers.  She has this incredible ability to draw the reader into her characters' minds and make you feel exactly what their feeling when they're feeling it.  You may not agree with the decisions the characters make, but you can understand them.
Isla and the Happily Ever After is a love story.  But it is more than that, too.  It's a story about making choices, taking risks, and following your heart. It's about figuring out what The Right Way is and sticking to it.  This book was a beautiful ending to a wonderful series. I cannot wait to see what Stephanie Perkins has coming up next!
3 stars
*I received an advance copy from the publisher in exchange for an honest review.