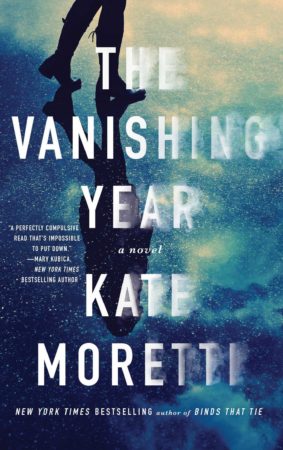 The Vanishing Year
by
Kate Moretti
Published by
Atria
Publication date:
September 27, 2016
Genres:
Suspense
,
Thriller
304 pagesFormat:
eARC
Source:
Publisher
Zoe Whittaker is living a charmed life. She is the beautiful young wife to handsome, charming Wall Street tycoon Henry Whittaker. She is a member of Manhattan's social elite. She is on the board of one of the city's most prestigious philanthropic organizations. She has a perfect Tribeca penthouse in the city and a gorgeous lake house in the country. The finest wine, the most up-to-date fashion, and the most luxurious vacations are all at her fingertips.

What no one knows is that five years ago, Zoe's life was in danger. Back then, Zoe wasn't Zoe at all. Now her secrets are coming back to haunt her. As the past and present collide, Zoe must decide who she can trust before she—whoever she is—vanishes completely.

The Vanishing Year combines the classic sophistication of Ruth Rendell and A.S.A. Harrison with the thoroughly modern flair of Jessica Knoll. Told from the point-of-view of a heroine who is as relatable as she is enigmatic, The Vanishing Year is an unforgettable new novel by a rising star of the genre.
Affiliate Disclosure: This post contains affiliate links. In plain English, this means that I may receive a small commission (at no cost to you) if you purchase something through the links provided. This small income goes back into my blog, so I can continue to create fun content for you. I appreciate my readers and make it my goal to be upfront and honest. Thank you for supporting my blog!
The Vanishing Year called to me after reading its intriguing synopsis about a woman running from her past into the arms of a prominent member of Manhattan's elite. While I will admit that Moretti's story had me glued to the pages to find out what happened, the multiple plot conveniences and coincidences were problematic.
"I've been so many people that I can barely keep track and this singular crazy looking container is all I have to show for it."
Zoe Whittaker ran away from her former life five years ago, with nothing to her name. Now, she's living the dream amongst New York high society alongside her Wall Street tycoon husband, Henry Whittaker. She's kept her former life a secret from him. She wants for nothing, parading around in designer dresses and jet-setting to luxurious vacations. But when she starts to poke around in parts of her past she'd like to learn more about, her past finds her. Someone is trying to hurt her. The more she digs for information about her past, the more danger finds her. What's more, her new husband's personality starts to shift and change adding to her anxiety.
What Moretti does exceptionally well is immediately pulling the reader into the story. The story has an excellent hook that made me want to keep reading, to learn more about Zoe's past and why she was running from it. As this is a thriller, I was suspicious of every character, even our protagonist.
"Ideas are infallible, people are not. Don't confuse the two."
I was expecting more of a thriller focused on a woman who is trying to escape her old life. Instead, this novel is more of a domestic-based thriller, focusing on a new marriage built on a shaky foundation. I don't want to give anything away on that front so you can experience it yourself.
There were several red herrings that were heavily focused on unnecessarily. Many things took up a lot of time and pages that held little value to the story. While this is to be expected in this genre—something bright and shiny to distract you from the real problem—this sleight of hand trick didn't entirely work for me here. There were several things that seemed far too convenient for the plot here. I figured out the twist fairly early on, so perhaps I would have gotten more enjoyment out of the book had it not been so clear.
As far as characters go, the story is told in first person and the reader is in Zoe's head the whole time. I found myself frustrated with understanding the choices she made. Zoe was far too obtuse and oblivious for far too long, past the point of me being to understand her. I really wanted to feel completely attuned to Zoe to where I went along with her decisions, no matter how ridiculous, but I didn't. I also felt like Henry's character was so heavily vilified from the beginning, which kept me from ever liking him. I wish he was written in a way where I could have liked him, even just a little bit. He would say and do horrible things to him and Zoe would (stupidly) forgive him; I never did. I think that could have been really effective.
Despite my issues, I still liked the book. I would recommend this book for people who want a page-turner thriller. Like me, however, you may be left feeling slightly underwhelmed.
* I received an advance copy from the publisher in exchange for an honest review.