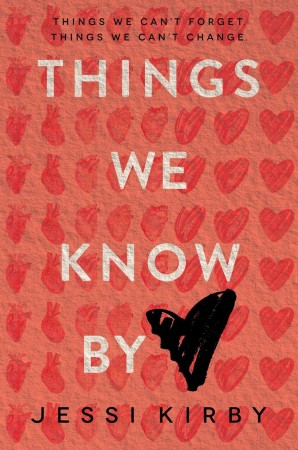 Things We Know by Heart
by
Jessi Kirby
Published by
Harper Teen
,
HarperCollins
Publication date:
April 21, 2015
Genres:
Romance
,
Young Adult
Narrator:
Amanda Wallace
Length:
7 hrs and 10 mins
309 pagesFormat:
Audiobook
Source:
Publisher
Quinn Sullivan lost the love of her life when her boyfriend, Trent, died in an accident their junior year. In an attempt to get closure, she reached out to the recipients of his donated organs. Though some answered her letters, the one Quinn feels matters most - the person who received Trent's heart - has been silent.

Nineteen-year-old Colton Thomas has spent the last several years in and out of hospitals, waiting for a heart transplant. Now that he's finally received a new heart, Colton is regaining strength, and he's walking away from his bedridden past with no intention of looking back. He doesn't want to know about the person who had to die so he could live. He wants only to move forward.

But Quinn can't let it go. Venturing outside the system to find Colton, Quinn takes a risk in hopes of finally laying her memories to rest. But what begins as an innocent conversation quickly becomes an attraction - and to make matters worse, Colton has no idea how they're connected. His zest for life pulls Quinn from her months of sorrow but leaves her torn between honesty and utter betrayal. Because no matter how hard she's falling for Colton, each beat of his heart reminds her of all she's lost.
Affiliate Disclosure: This post contains affiliate links. In plain English, this means that I may receive a small commission (at no cost to you) if you purchase something through the links provided. This small income goes back into my blog, so I can continue to create fun content for you. I appreciate my readers and make it my goal to be upfront and honest. Thank you for supporting my blog!
Book Review
What drew me into Things We Know by Heart was the summary: A girl searches for the donated heart of dead boyfriend and then falls in love with the recipient. It's a charming concept but overall I thought this book lacked the depth I was hoping for and was just okay.
Quinn Sullivan's boyfriend, Trent, died in a tragic accident and donated his organs. After his death, Quinn stopped living and put her plans to go to college on hold. She remained stuck in a constant state of mourning and focused all her energy on reaching out to the recipients of Trent's organs. But the one person she was most excited to meet never wrote written her back: the boy who got Trent's heart. Colton Thomas.
Quinn has followed Colton's sister's blog with the latest updates on Colton's heart transplant. After months of not hearing back, Quinn decides to take matters into her own hands and finds out where Colton lived. This leads her to Colton who lives in a nearby town. The two become friends, while Quinn keeps her identity and intentions a secret.
Colton didn't want his heart condition to define him. He didn't want Quinn to see him as someone weak, which is why he never discussed his problems. The romance between Quinn and Colton built really slowly, which I liked. Quinn's feelings towards Colton grow and so does the enormous amount of guilt she has for lying to him. There was a definite reluctance on Quinn's part to fall for Colton due to the fact that she was lying to him by omission. I liked that even though she knew the beginning of their relationship didn't happen so organically she still fell for him.
This was a charming love story but I didn't really feel completely emotionally invested in the characters or the plot. This story had a great hook: grieving girlfriend falls in love with the boy who receives her dead boyfriend's heart (and he has no idea). But I didn't really feel like much was done with the hook and overall the story and the characters just felt really generic to me. Everything was really predictable, which predictability alone doesn't bother me. But predictability combined with stock characters and generic plot does. The characters didn't feel real to me and felt flat. I would have loved for there to be more meat and more depth to this story.
2 stars
* I received this audiobook from the publisher in exchange for an honest review.