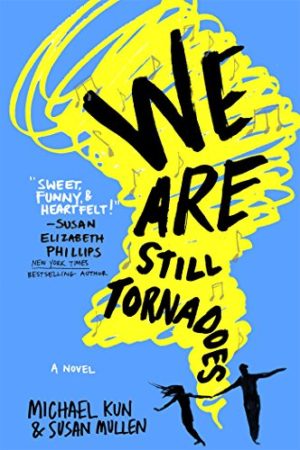 We Are Still Tornadoes
by
Michael Kun
,
Susan Mullen
Published by
St. Martin's Griffin
Publication date:
November 1, 2016
Genres:
Coming of Age
,
Romance
,
Young Adult
304 pagesFormat:
eARC
Source:
Publisher
Growing up across the street from each other, Scott and Cath have been best friends their entire lives. Cath would help Scott with his English homework, he would make her mix tapes (it's the 80's after all), and any fight they had would be forgotten over TV and cookies. But now they've graduated high school and Cath is off to college while Scott is at home pursuing his musical dreams.

During their first year apart, Scott and Cath's letters help them understand heartache, annoying roommates, family drama and the pressure to figure out what to do with the rest of their lives. And through it all, they realize that the only person they want to turn to is each other. But does that mean they should be more than friends? The only thing that's clear is that change is an inescapable part of growing up. And the friends who help us navigate it share an unshakable bond.

This funny yet deeply moving book--set to an awesome 80's soundtrack--captures all the beautiful confusion and emotional intensity we find on the verge of adulthood...and first love.
Affiliate Disclosure: This post contains affiliate links. In plain English, this means that I may receive a small commission (at no cost to you) if you purchase something through the links provided. This small income goes back into my blog, so I can continue to create fun content for you. I appreciate my readers and make it my goal to be upfront and honest. Thank you for supporting my blog!
WE ARE STILL TORNADOES is a coming-of-age young adult novel that centers around two best friends, Cath and Scott. What Michael Kun and Susan Mullen did wonderfully was capturing the beauty of friendship and the importance of having that special someone to lean on when life gets tough. But I had a tough time with the writing style.
If you're wanting a touch of nostalgia with your young adult, then you may want to pick up this book. Set in the 1980's, Cath and Scott's story in Tornadoes is delivered to the reader through letters they write back and forth to each other, with the characters often sprinkling in 80's pop culture references and music.
Cath moves away to go to college at Wake Forest, while Scott stays home to help his dad run the family clothing store and start a band. They grew up across the street from each other, dated other people, and yet never dated each other. Their inside jokes, familiarity and complete comfort with each other was charming and will endear you to them almost immediately.
What I liked the most about this book was just how strong Cath and Scott's bond was. Their families both go through some difficult times in this book. All the while, Scott and Cath lean on each other, their bond and love for each other growing even stronger. Through all of this, they're dating other people, not really even thinking about each other "like that." I liked that their romance wasn't the focus of the story.
The epistolary style was more of a distraction rather than a good literary device here. The letters the characters shared back and forth, perhaps, allowed them to be more honest with each other, since they often had difficult conversations. For the sake of the reader, many of the letters had to relay information and events that the reader didn't have privy to. This seemed really awkward to me, which made the letters (and therefore the story) seem clunky and unnatural. Much of that material, while necessary to the reader, wasn't very necessary to the characters since they knew what happened.
As far as the plot, the ending felt really rushed. The predictability of it all wasn't really an issue for me but rather how suddenly everything was wrapped up. I had a hard time reconciling the choices of some of the characters given their personalities.
* I received an advance copy from the publisher in exchange for an honest review. This did not affect my opinion.