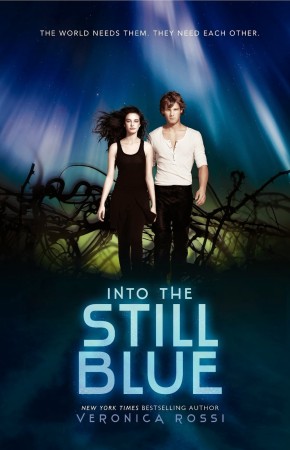 Into the Still Blue
Series:
Under the Never Sky #3
Publication date:
January 28, 2014
400 pagesFormat:
eBook
Their love and their leadership have been tested. Now it's time for Perry and Aria to unite the Dwellers and the Outsiders in one last desperate attempt to bring balance to their world.

The race to the Still Blue has reached a stalemate. Aria and Perry are determined to find this last safe-haven from the Aether storms before Sable and Hess do-and they are just as determined to stay together.

Meanwhile, time is running out to rescue Cinder, who was abducted by Hess and Sable for his unique abilities. And when Roar returns to camp, he is so furious with Perry that he won't even look at him, and Perry begins to feel like they have already lost.

Out of options, Perry and Aria assemble a team to mount an impossible rescue mission-because Cinder isn't just the key to unlocking the Still Blue and their only hope for survival, he's also their friend. And in a dying world, the bonds between people are what matter most.
Affiliate Disclosure: This post contains affiliate links. In plain English, this means that I may receive a small commission (at no cost to you) if you purchase something through the links provided. This small income goes back into my blog, so I can continue to create fun content for you. I appreciate my readers and make it my goal to be upfront and honest. Thank you for supporting my blog!
Book Review:
If there is one thing to say about Veronica Rossi's Under the Never Sky series it's that she was created a wonderful cast of characters that are completely relatable and fun to hang out with while reading. I loved these characters from the beginning of the series to the very end. Roar, Perry, Aria, and yes, even Soren. I loved them all. I think most people who pick up this series will say the same thing.
At its core, this series is a story about family, loyalty, and perseverance. Rossi wove those themes throughout the whole series. What I appreciate the most about this series is that Rossi stayed true to the characters from start to finish. The characters didn't morph into someone else to appease the masses nor did they do stupid things for the sake of manufacturing conflict. She simply created them and let them tell the reader their story.
Into the Still Blue was a solid ending to a trilogy. Though, it didn't really take the reader to unexpected territory, which is fine. The story ended abruptly and I wish the author would have fleshed it out a little bit more. The story had been building to this crescendo for three books and when the characters finally got what they'd been working for, the reader was given only a few pages to catch their breath.
All in all, I would wholeheartedly recommend this series to young adult dystopian lovers. The characterization is done well and the romance is sweet but not ridiculous. The first book in the series was my favorite. Enjoy!
3 stars
* I borrowed this book from my local library