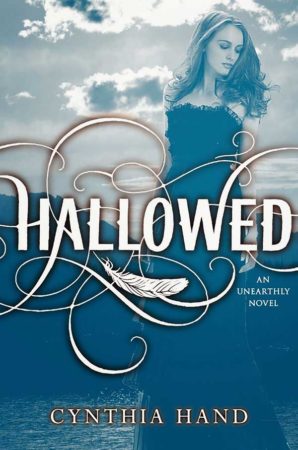 Hallowed
by
Cynthia Hand
Series:
Unearthly #2
Published by
Harper Teen
Publication date:
January 17, 2012
Genres:
Paranormal Romance
,
Young Adult
Narrator:
Samantha Quan
Length:
10 hrs and 17 mins
416 pagesFormat:
Audiobook
For months Clara Gardner trained to face the fire from her visions, but she wasn't prepared for the choice she had to make that day. And in the aftermath, she discovered that nothing about being part angel is as straightforward as she thought.

Now, torn between her love for Tucker and her complicated feelings about the roles she and Christian seem destined to play in a world that is both dangerous and beautiful, Clara struggles with a shocking revelation: Someone she loves will die in a matter of months. With her future uncertain, the only thing Clara knows for sure is that the fire was just the beginning.

In this compelling sequel to Unearthly, Cynthia Hand captures the joy of first love, the anguish of loss, and the confusion of becoming who you are.
Affiliate Disclosure: This post contains affiliate links. In plain English, this means that I may receive a small commission (at no cost to you) if you purchase something through the links provided. This small income goes back into my blog, so I can continue to create fun content for you. I appreciate my readers and make it my goal to be upfront and honest. Thank you for supporting my blog!
While Unearthly didn't resonate as deeply with me as other readers, HALLOWED was completely captivating. I couldn't wait to listen to it every morning on my way to and from work because I was so wrapped up in the story!
Unearthly sets the stage for everything that happens in Hallowed. This book had way more action and pulse-pounding moments than its more understated predecessor. Cynthia Hand gives us hearts aching and breaking all over the place. I almost started crying at the end just because I felt so deeply for the characters. Hooray for great character development! What's going to happen next now that they're all going to college?!
Like Unearthly, Hallowed begins with Clara having a vision. The rest of the novel, Clara is frantically trying to piece together what that vision means, and therefore how to fulfill her purpose, which she's yet to do. In this book, her friends and family are around her and she feels immense sorrow. But is the sorrow her own or that of the evil Dark Wing Samjaises who almost killed her and mother in Unearthly?
Jackson Hole has more angel-bloods than Clara knew about. Her mother is the most amazing secret hoarder of all time. At first, Meg's reluctance to reveal angel-blood information to her daughter annoyed me. I felt like it left Clara and Jeffery wholly unprepared for what's to come for them. But I really came to understand Meg in this book, and love her for the way she raised her kids.
In my review for Unearthly, I talked a little bit about romance and the triangle-y nature of it. This book definitely veers more in the love triangle territory (which I'm not saying is a bad thing). Personally, I'm not rooting for a Clara-Christian happily ever after. But I do appreciate what Hand is doing here. The inner turmoil of Clara following the desires of her heart versus following her destiny definitely makes for an interesting romantic conflict. However, for me personally, the development of her potential love story with Christian just isn't there. As a reader, there is exceedingly more charm, chemistry, and foundation laid for her relationship with Tucker.
Can we talk about how much I love Tucker. I'm a lover of normal romantic heroes. Tucker is just that. He's sweet, caring, and has a good sense of humor. He cares so much for Clara and is extremely selfless. What he gives up in this book because of his love for her is so romantic.
This series tells the story of a girl trying to find her path, which is why so many readers have devoured it. The characters crafted by Cynthia Hand are relatable, real teenagers who are trying to find out who they are…just with a little paranormal twist. I cannot wait to find out how it all ends in Boundless!
* I borrowed the audiobook from my local library.